Cian O'Neill believes Kildare's arduous route through the qualifiers took its toll in their opening Super 8s fixture.
The Lilywhites lost 1-10 to 0-15 to Monaghan, but the Leinster men's performance lack some of the energy of recent weeks at a sodden Headquarters.
They welcome Galway to Newbridge next Sunday with a win required to keep their All-Ireland aspirations alive.
"We have no time to feel sorry for ourselves, we are disappointed with the performance, every one of us. Monaghan fully deserved the victory.," said O'Neill, who made note of Monaghan's less strenuous trip to the last eight.
Kildare, beaten by Carlow in Leinster, had to navigate trips to Derry and Longford before their famous win over Mayo in Newbridge and their round four defeat of Fermanagh.
Monaghan, on the other hand, had facile wins over Waterford and Leitrim before last week disposing of Laois.
"Our route to this point was significantly tougher than Monaghan's so mental stress and tiredness probably played a factor out there today," said O'Neill.
"We hadn't kicked the wides and made the unforced errors we did today. Monaghan are very good at forcing errors but we made a lot of unforced errors and that is what really cost us," he added in an interview with RTÉ Sport's Damien O'Meara.
"You have to factor in what we have done in the last four weeks. Beating Derry in Owenbeg, Longford in Pearse Park, a massive battle against Mayo in Newbridge and then backing it up last week. That takes its toll.
"The qualifiers are great for teams that need a second chance but they are stacked heavily [in favour of] provincial winners and that is probably right as they have done it the right way."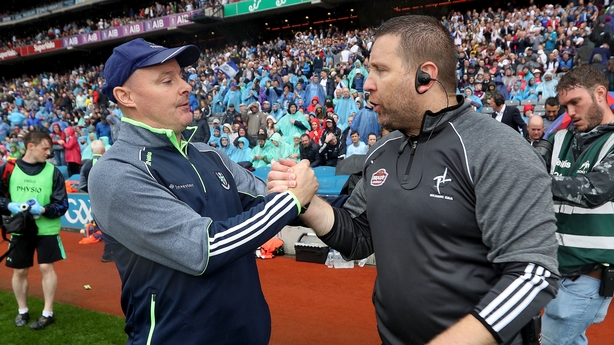 But O'Neill is not wallowing in defeat and is alreayd looking forward to the visit of a second major Connacht force to St Conleth's Park in a month.
"As soon as we get off that bus when we get back to Kildare that disappointment has to go and we have to focus on our roles against Galway at Newbridge."
Monaghan manager Malachy O'Rourke was not 100% satisfied with his side's performance.
"There is potential to improve. I thought we played some good stuff, our link-up play, movement and scores were good. Our defensive play was good a lot of the time, we had some great turnovers.
"I thought at times we did not make the best use of the ball, in the second half for a time we were not clinical enough and lost the ball. There are a lot of areas we want to brush up on."
Next up for the Farney men is the visit of Kerry to Clones. 
"The games get no easier, Kerry is a really tough battle next week. That is why we are in Super 8s we want to test ourselves against all the top teams. We are looking forward to the challenge next week in Clones," he said.
"Kerry are the aristocrats of Gaelic football and always have been. Kerry, if they open up on you, they can be devastating," he added. "This is why we want to be in the Super 8s. You want to measure yourself against the best teams and you can't do that if you are not there."