Gaelic football at the very highest level can be a game that makes us sit up and admire the wondrous combination of pace, power, skill, guile and character.
It isn't always so but most teams that fall short of our expectations do so with the best of intentions. Every player, coach and fanatic wants their team's play to represent the very best values of the game. Contrary to popular belief, it is not a simple game.
One of the great art forms within coaching is empowering players to take control on the pitch and to make decisions in an instant that can affect the momentum of a game in their favour.
Often, talented teams are unable to make strategic decisions on the pitch that maximise their talents or when the way they want to go is barred. These skills of understanding are vital, can be nurtured and usually crystalise through trial and serial error.
It has become accepted truth that Mayo are the county most people will tolerate winning Sam should their own fall short. "Why" isn't really because of the hard luck stories, the nearly days or the sheer complexity of how they have contrived to beat themselves on numerous occasions.
Of course the drama and emotional turmoil of each capitulation adds another layer of sympathy but the real reason this Mayo team are admired is because of "how" they play the game.
How can a team that can seduce neutrals so readily with their raw ability and heart continue to come up short down the stretch, when games are asking to be won?
For most supporters this most recent incarnation boasts a huge portfolio of "players you would love to have". Keith Higgins, Colm Boyle, Lee Keegan, Kevin McLoughlin, Andy Moran, Cillian O'Connor and latterly Paddy Durcan – for example – are athletically superb, ridiculously skilful at high speed and carved from granite. Collectively they display their emotions vibrantly and recognise no route forward other than straight and true.
How can a team that can seduce neutrals so readily with their raw ability and heart continue to come up short down the stretch, when games are asking to be won?
There is an army of sports psychologists with volumes of work which neatly frame the theories of where these great men falter but there may also be technical answers in their playing patterns.
The great teams of our times that were able to climb to the top of the national tree – however briefly – can adapt and play the scenery placed in front of them. The ability to mix your game and ask a variety of questions of opponents is what sets the very best teams apart. One trick rarely, if ever, wins a derby.
For example, Jim McGuinness's Donegal were a renowned running team but often delivered killer blows through periods of direct ball into a variety of target men. Dublin can and will beat you through whatever gate you leave open.
Although it may not be fashionable, target men who can win tough ball and allow their team to use that bluntest of weapons effectively can be the defining characteristic in championship winning teams. Michael Murphy, Kieran Donaghy, Eoghan O'Gara and Dean Rock can underline the point.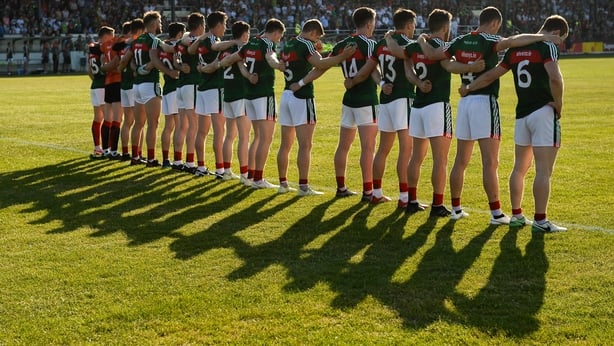 By extension, a key component to getting the balance of strategies correct on the pitch is having decisive architects to make decisions mid flow and adjust the team when required. These are the leaders who often go unnoticed and don't necessarily make the key plays but can recognise the opportunities and communicate clearly.
The two rising teams in the country currently – Kerry and Galway – possess serious running power through the middle third but also have the personnel to kick long and bring a direct game when the opportunities arise.
A question that hangs for both as we approach the business end of the season is whether they can set up to utilise both components of attacking play and whether they can recognise when to adapt when it matters.
Mayo playing their natural game are a force of nature. The lines of running and impact of their key ball carriers driving at teams is an almost irresistible wave and what sets them apart in that approach is how often they can go to the well and go again in any phase of any match.
On occasion they will pop balls in front of the inside pair to race on to for variety and give deep support runners something additional to come off the shoulder of. In their best mood they are the epitome of dynamism with attacking runners like slashing swords.
Five points adrift from Kildare on Sunday and with obituaries being readied, Mayo did what they always do. They stirred themselves. A whirlwind ten minutes of high speed running from the back and a refusal to be bowed turned the momentum of the game and the scoreboard. We expected the revival and we knew exactly how it would come – with Paddy Durcan and Diarmuid O'Connor leading the fight this time.
Charged with additional motivation from the lead-in week, Kildare were not to be subdued and stood toe to toe with the men in green and red. Kildare too ran hard but were also able to open Mayo up with early ball to Daniel Flynn inside.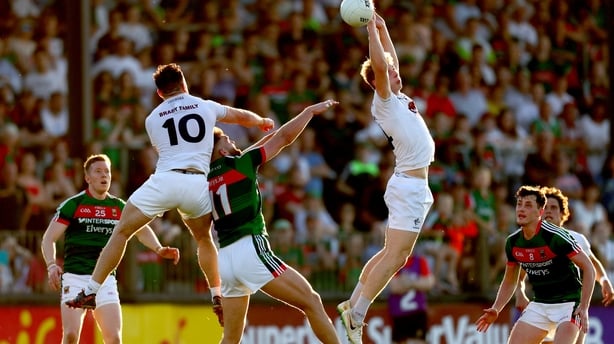 Short of some engine room soldiers as a starting point, Mayo began to show signs of fatigue in the second half and eventually wilted, though as we have come to expect, not without a serious fight.
The game in Newbridge was a microcosm of recent seasons for the serial All-Ireland finalists. They rallied several times to recover weak ground and occasionally ignited with sheer force of will and belligerence. However, it was always the same response in the same manner – driving support runs from deepest defence and placing shooters into space where they could.
That is the style of play that defines this Mayo team. We can all picture our highlight reel of their scores in Croke Park in recent years and many will finish with a devastating burst from Keegan, Higgins or Boyle before the finish.
It's no secret that Mayo have struggled with defence in recent years. In basic terms, well organised and populated defences remove offensive space that they need, firstly to expose weak tacklers one on one and secondly to release their inside duo as they loop around the initial drive for shots. Their response is to run harder and to overwhelm and it can be a debilitating approach.
In defence, Mayo's instincts create similar problems. They have never fully embraced the idea of a covering player and neither operator of choice in recent years – Boyle and McLoughlin – have the natural qualities to be effective in dealing with emerging danger.
Their defenders invariably must cope with opponents in isolation, without the comfort of reinforcements and all the while their cover player waits to come into the line as a counter attack launch pad. Too much energy is spent individually in dealing with opposition attacks and too often one mistake costs a score.
Mayo need to add the personnel to accommodate a direct approach when it is required
Their brilliance on top form cannot be doubted but their flow state is so high octane that it physically cannot be sustained and gives competitive opponents windows in every game to exploit and create bursts of scoring. There will always be a natural shelf life to that type of game as it is dependent on individual players' capacity to maintain energy levels and motivation of a freakishly high standard.
If Mayo are to return seriously with another challenge then they have to develop a defensive approach that allows them to absorb attacks more efficiently.
More fundamentally, their attacking game must allow the team to breathe occasionally. In simple terms, they will need to add the personnel to accommodate a direct approach when it is required and empower the decision makers to on the pitch to know when it's possible.
Strategy cannot simply end at a team's most effective approach. Winning games consistently requires variety and efficiency.
Building effective strategies with and without the ball requires talented players but knowing what is needed and when, requires game smart decision makers and nurturing those generals can be a lifetime in development.