It's as you were for both Antrim and Kildare after the Saffrons eased to a 12-point win at the Athletics Ground in their promotion / relegation shoot out.
A commanding victory sees Antrim retain their Joe McDonagh Cup status next season, while Christy Ring champions Kildare are consigned to another year in the same competition.
It was a nightmare start for the Glensmen when, after just three minutes of play, Kildare's Jack Sheridan made a blistering run down the left flank, setting up Paul Divilly who sliced home into the top corner of the net.
With his side trailing, the usually clinical Neil McManus looked uncharacteristically rattled, and could only watch on as several of his efforts sailed wide.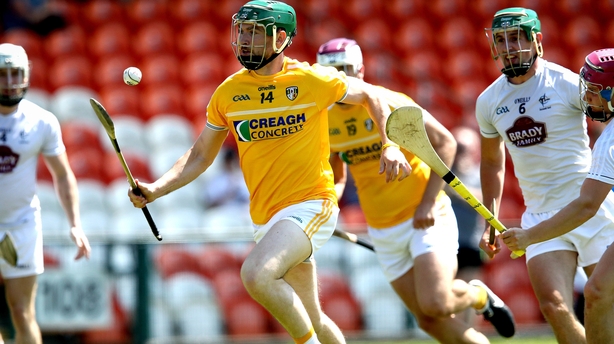 But it was a point from Conor McCann which got Antrim's account rolling, before a slick point from Keelan Molloy drew the sides level after ten minutes.
The scorching heat necessitated a water break after 20 minutes, and it was an ideal opportunity for Antrim to regroup; just moments after play resumed, a brilliant individual effort from McManus saw him break clear of the field, and fire home for his first goal.
James Burke's frees kept Kildare in touch, but on the half hour mark Conor McCann beat Paddy McKenna to claim a goal and establish a solid lead for the Saffs.
It went from bad to worse for the Lilywhites when McManus scored his second goal of the game on the stroke of half time to secure a six-point advantage at the change of ends.
A goalless second half saw a free scoring Antrim side afforded plenty of space and possession, and Kildare's dreams of promotion slipped away from them with a sense of inevitability.
Burke and Divilly tried in vain to keep the game competitive, but Kildare's full-forward line, who didn't register a score between them, couldn't find the goal they desperately needed to spark life into the tie, and in truth had very little to threaten the Antrim defence with.
Exceptional second half performances from McManus and Keelan Molloy sealed Kildare's fate by a comfortable margin and ensure that Antrim avoid the drop.
Antrim: R Elliott, A Graffin, J Dillon (0-01), R McCambridge (0-01), P Burke, M Donnelly, C McKinley, S McCrory, E Campbell, K Molloy (0-07), N McManus (0-06f, 2-03), N Elliott (0-02), C Carson, C McCann (1-01), E O'Neill (0-01)
Used Subs: D McKinley for R McCambridge (50), J McNaughton (0-01) for M Donnelly (62), E McCloskey for E O'Neill (66), S Rooney for S McCrory (71), D McCloskey for C Carson (73)
Kildare: P McKenna, C Gordon, J Doran, P Sullivan, E O'Neill (0-01), M Moloney, K Whelan (0-02), N O'Muineachain, B Byrne, J Burke (0-05f), P Divilly (0-02f, 1-04), B Deay (0-02), M Delaney, M Fitzgerald, J Sheridan
Used Subs: C Bonus (0-01) for B Deay (53), D Cahill for K Whelan (53), S Gainey for J Burke (57), B Cormack for M Delaney (60) S Walsh for E O'Neill (65),
Referee: David Hughes (Carlow)