Dublin football star Noelle Healy felt compelled to sympathise with all the members of the Mayo team at the end of last year's TG4 All-Ireland senior final.
She took the time to shake each player's hand individually as they tried to process the result which saw Dublin emerge as victors after a tight contest, which was ultimately settled by a late goal rush.
It wasn't a pre-planned gesture on her part but Healy could identify with how they were feeling, having experienced the lows of losing an All-Ireland final on three consecutive occasions.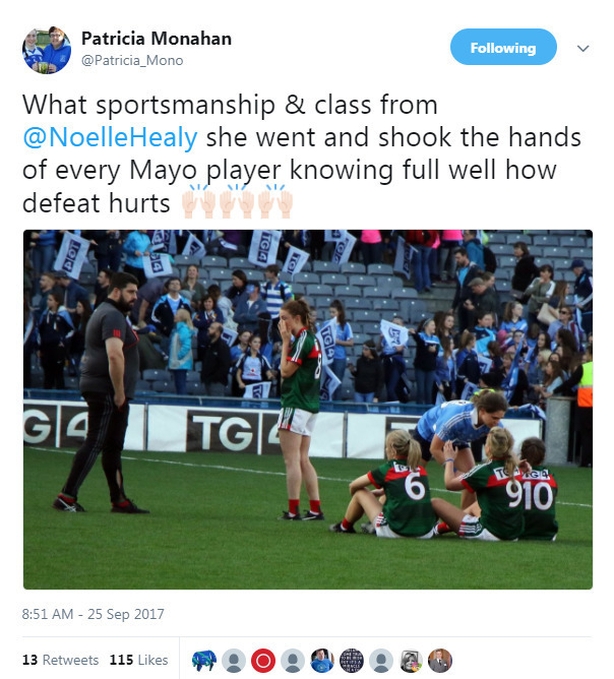 Image of tweet published with the permission of account owner Patricia Monahan.
She wanted to bring some comfort to the Mayo team in the same way that Cork opponents did for her after previous finals.
"I just remember being in that position when players like Breige Corkery or Bríd Stack came to me," she told RTÉ Sport at the launch of a new app called FitrWoman in Croke Park.
"I remember thinking that they were able to take stock of the occasion and come over and realise that while they're feeling brilliantly, there's people who had probably had the worst day of their life and are feeling pretty down about it.
"For them to come over and just to say well done and check in, it's something that did... it's a very small gesture, but it did mean a lot. To be able to pass that on - I don't know if they felt the same way about it - but it's just something that you want to do."
2017 was an exceptional year for Healy, on both a personal level as well as the success she enjoyed with Dublin.
The St Brigid's player collected her third All-Star after a string of impressive performances in the Dublin attack which included her trademark pacey runs through the heart of defences.
She was subsequently named the TG4 senior Players' Player of the Year at the annual All Stars banquet and capped off the season by earning a nomination for the RTÉ Sportsperson of the Year, keeping company with fellow GAA stars Rena Buckley, Joe Canning and Andy Moran.
It was personally fulfilling for her to accept all those accolades but some of the most important people in her life couldn't be there to celebrate the achievements.
All you need to know: Leinster women's SFC final
"My parents were away the night of the All-Stars - both retired so were touring around Australia - they were on a very bad phoneline to me from the Outback somewhere in Australia to say well done. That's the nicest, to be able to share that stuff with them. It's a different team almost that you have. From that point of view it's really nice.
"But look, you don't win any of that stuff if it's not for your team. That could have been any of us on any day as well. We have such brilliant players and to be able to play with them is what gets the performances out of you and training against them.
"That's what we say all the time. There's a lot of individual awards that go around and we always say that you're not going to get any of that if it isn't for the team and for the people around you, that's the most important thing."
Healy's achievements are heightened by her ability to manage her inter-county commitments with her intense work as an anaesthetist.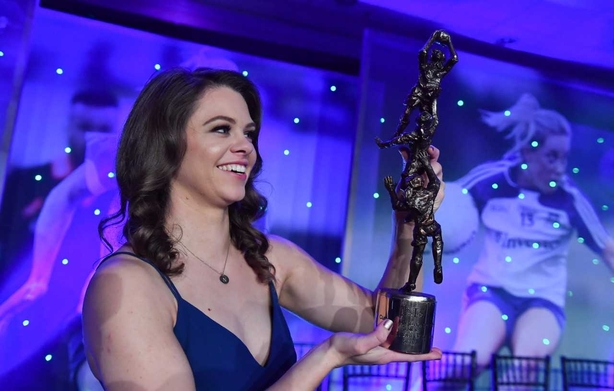 Part of her job involves putting patients under anesthetic and helping them feel at ease before they go for surgery. She was always interested in surgery and other strands of work in medicine, and she was drawn to this specific area on account of the practical work involved.
There were times over the years when people cautioned her that she wouldn't be able to combine her workload with playing inter-county football, but they have to come to realise how important it is for her to keep going.
"It's really interesting as well, there's a lot of physiology and anatomy which I've always been interested in. When I was a student, I noticed that there was a lot more female consultants in it than there would have been in surgery. From that, it looked like it was a career that women could do. Be it for good or for bad, it influenced my choice a bit because it seemed that it was more manageable, that you could have that balance be it with a family or whatever.
"You meet people and they say, 'Oh, you mustn't be very good with people' or 'You mustn't like your patients if they're asleep most of the time'. You've very, very short interactions with patients but they're very nervous and anxious by the time they come up.
"You kind of need to be able to reassure them and talk and communicate with them and with families as well -- working on the intensive care unit, there's a lot of difficult conversations which you need to be able to have as well. I'm still junior enough so haven't had too many of them but that's coming down the line."
The landscape is slightly different for the Dublin ladies in 2018. Now that they have vanquished their demons and conquered the All-Ireland summit, they have something of a target on their backs.
They appear to be handling their new position at the top of the pile quite well at this remove, having won a first ever Division 1 ladies National League title earlier this season.
Dublin were somewhat fortunate to be in a position to contest that final against Mayo after Galway gave them a scare in the semi-final. Mick Bohan's charges needed a last-minute Nicole Owens goal to edge them past the Tribeswomen before they accounted for Mayo in Parnell Park, where Healy pocketed 1-01 from play.
"We always just try to improve ourselves as players and Mick is brilliant for that, for kind of making sure that we're reaching our own standards," she says of Dublin's relentless pursuit to improve in 2018.
"He's set the bar a little bit higher again. He comes out and tells us what he wants us to work on and improve on.
"We're just trying to focus on that and individually, we just want to be the best players that we can be. We've all been given stuff to work on and improve on. And then as a team, we've had a lot of new players that have come in this year.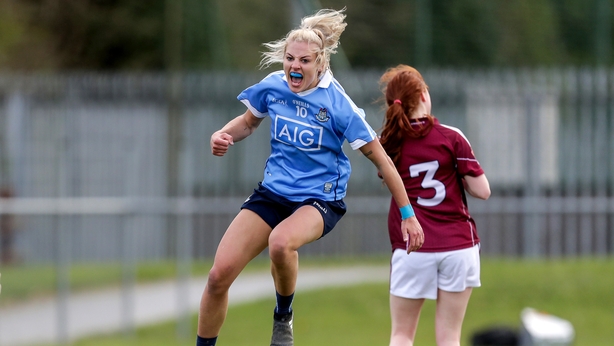 "We have a new team in here so then at the same time as well, there's a lot of players who weren't involved last year. You would be conscious that you don;t want to be talking about, 'Well, last year we did it this way...' It's a new experience for them and it's a new team as well. You don't want them to feel like .. there last year as well... it's a new journey for them and you have to appreciate that as well."
But that silverware is safely stored away, and Dublin must now turn their attention to the Leinster senior championship, which unfortunately has been reduced to a two-team competition due to other teams dropping down to the Intermediate grade.
This leaves just Dublin and Westmeath to battle it out for the crown, with the Sky Blues seeking a seventh successive title later today.
It's a long wait to get their championship campaign underway but Healy reports that Dublin made good use of their break by playing club championship games.
The introduction of the new round-robin stages in the All-Ireland senior championship presents a new challenge for Dublin, but for now, Healy's not looking past Westmeath in Netwatch Cullen Park.
"You want to play as many matches as you can. It makes it more of a journey towards it. I think when you just arrive at a Leinster final, you don't know if you've really earned it. But there's nothing we can do about that.
"We just have to be happy that we're in it, in a senior Leinster final again with a chance to hopefully win seven in-a-row. That would be a really special thing to achieve as well.
"The Leinster final is probably one of my favourite days of the year. I absolutely love it. I don't know if it's a combination of the weather being good, it's in July, it's a nice time of the year. I think it's really, really special.