One of the most difficult aspects of the modern game to appreciate for people who maintain a strictly traditional outlook is how changes to how teams line-out have resulted in the virtual redundancy of conventional positions.
There are no longer 'sides', nor half or full degrees of the attacking or defensive divisions. Many teams have developed bespoke terminology for their defined roles, irrespective of numbers worn or where they stand for the throw-in, such is the detail in the tasks players are assigned.
What does remain is broad consensus on man markers, covering players, defensive and attacking middle-third players and a variety of more structured attacking roles, but the practicalities of each of these are hugely nuanced and programmed by a team's overall gameplan.
Broad conformity to the current counter-attack trend in football has familiarised everyone with the need for adaptable players who can execute a variety of roles depending on where the flow of the game takes them.
Specialist man markers - or conversely inside forwards that never venture out of their natural habitat - exist only in the slow learners' class. Everyone must now be able to contribute in every facet of the game as the need arises.
Dublin are of course the standard bearers for this outlook, having evolved a defence-first template worthy of the 'Total Football' approach they have been tagged with. Their in-game attitude needs little explanation. You will as often find their assigned markers (or nominal defenders) creating scores as you will their celebrated forwards closing down shooting space within range of their own goal.
While Donegal's offensive patterns are now more varied, that doesn't take away from the defensive shape off which they attack
The game is more dynamic and urgent than it has ever been and at the highest level there isn't a moment for reflection when action is needed.
Players that can react and flourish under any playing responsibilities are now the marquee men. Whilst notoriety remains for the finisher who can eke out scores in minimal space, masters of all aspects of the game like Lee Keegan, James McCarthy, Brian Fenton and Eoghan Bán Gallagher are now our game's most valuable assets.
DONEGAL'S STATE OF FLUX IS A DIFFICULT CONUNDRUM
On the evidence of Sunday's Ulster final and their journey to it, Declan Bonner and his coaching staff have invested their time since the end of the Allianz League finetuning a further evolution of the position-fluid game we have come to expect.
Throughout the contest they tortured Fermanagh with constant variations and role interchange within their gameplan.
It proved to be the perfect antidote to the underdogs' rigid approach with and without the ball, as their players constantly found themselves in unfamiliar defensive positions performing uncomfortable tasks and unable to adapt sufficiently.
While Donegal's offensive patterns are now more varied, that doesn't take away from the defensive shape off which they attack.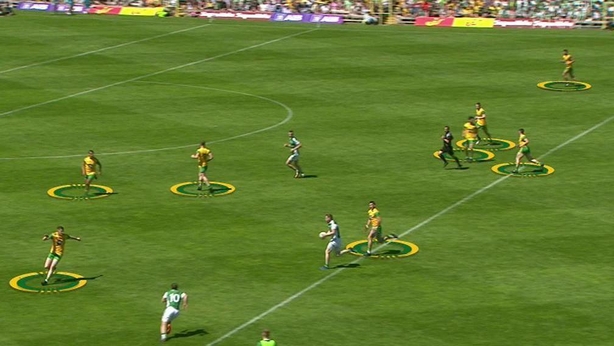 Their tacklers press the opposition build-up heavily in their own half, with the security of two anchors dropped behind. Hugh McFadden sits like a Libero behind the entire defence and Frank McGlynn waits as the first security guard behind a notional half-back line. These comfort blankets allow their team-mates to aggressively hunt turnovers to initiate the next counter.
Of course, like all of their roles, the personnel are fluid and that is crucial to their effectiveness.
In the opening minutes of the game, Stephen McMenamin was stationed to play alongside Eoghan Bán Gallagher and Paddy McGrath with all three man marking the Fermanagh forward threats.
In what was obviously a premeditated ploy to wrong foot their opponents, all three broke into pivotal attacking positions ahead of the ball, tracked by their men as they knew they would be.
In that first ten minutes, Fermanagh turned ball over several times to the realisation that their front men were deep in defence. Alarmingly, in two early Donegal attacks Sean Quigley was the last line of defence for Fermanagh, man marking McMenamin in front of goal.
To emphasise the versatility of their roles, Gallagher was the most effective playmaker on the pitch throughout the afternoon.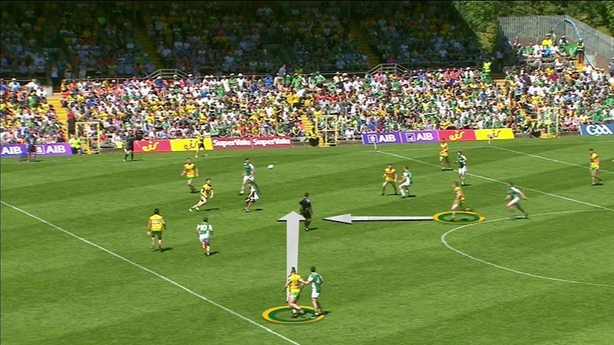 This is one example of Donegal's capacity to seamlessly realign into different roles across the pitch but, crucially, to still execute their play without missing a beat.
Three successive Fermanagh attacks midway through the first half witnessed three different Donegal players in the pivotal deep cover role. Most interestingly, in the three subsequent counter attacks McFadden – the nominal deep cover – operated not just in his assigned role, but as a middle-third runner and as an inside forward.
This unpredictability can be a major asset for Donegal and if they can maintain their confidence in it through the bigger tasks ahead, it will underpin a serious assault for Sam Maguire.
This ever changing landscape projects further evolutions of the game that will require mastery of the whole array of offensive and defensive skills from players.
Specialist positions are disappearing and pigeon-holing players at any age or development stage will place a ceiling over their long-term effectiveness.
Instead, more than ever the challenge for coaches is to copper fasten strengths while steadily building on weaknesses. There is already very little room for skill-deficient players in county football and the standards will only continue to rise.