Mayo manager Stephen Rochford has ruled Seamus O'Shea out for the foreseeable future after the midfielder suffered a serious shoulder injury in Saturday's win over Tipperary.
O'Shea fell awkwardly in the 1-19 to 1-11 round two All-Ireland qualifier win over Tipperary and had to be helped off the field shortly before half-time having been given oxygen on the field by medics.
At the time Mayo were struggling in Thurles, but they pulled themselves together and a strong showing in the closing quarter saw them win by eight points.
They go into the pot for Monday's round three draw and O'Shea is unlikely to feature in that game – and he may be gone for the season.
"Shoulder injury, possible dislocation – probably a dislocation, actually," said Rochford, speaking to RTÉ Sport.
"It was unfortunate, but that probably goes back to an earlier point – not really a good pass, he went in for it and fell awkwardly on his shoulder. That definitely rules him out for the foreseeable future."
Mayo's resources are now stretched thin, with both of their first-choice midfielders on the long-term absentee list.
Tom Parsons dislocated his knee in the Connacht quarter-final defeat to Galway and now O'Shea too is out, leaving them without the partnership that started the last two All-Ireland finals.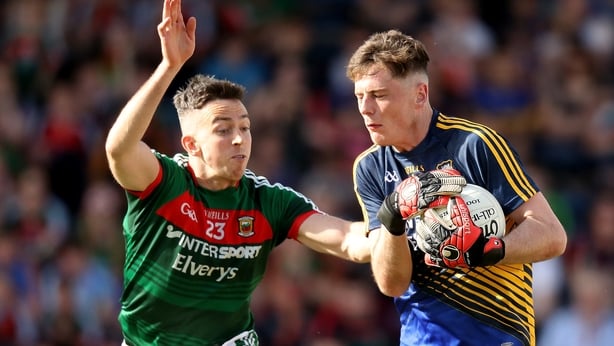 Rochford was upbeat about Mayo's performance, despite their first-half slump and this latest injury blow.
"I thought we opened up quite well, but then seemed to lose our focus and our skill-execution wasn't as good as it had been in the opening period," he said.
"Tipperary scored 1-02 off three turnovers and that would have been very disappointing. I thought though when we had to go about it in the second half, we went on to score 1-08 without reply and close out the game in really comfortable fashion.
"That's what the qualifiers do – they tend to test not just your physical resolve, but your metal resolve as well. To have Lee (Keegan) back in his first start in over three months; himself, Diarmiud O'Connor, Aidan (O'Shea), Kevin McLoughlin really led the line in that second half as well as our full-back line."
Mayo's comeback was sparked by a lucky goal from James Durcan, whose point effort fell short and ended up in the net.
Rochford acknowledged the good fortune, but insists that his side were well on the road to recovery at that stage.
He said: "We had been creating some chances going through the middle and James had an opportunity just before that where he blazed it over the bar, but I felt that even without the goal we were creating the chances and you'll take the bit of luck when it comes your way as well."