By Brendan Graham
Wexford 3-15 Dublin 3-12
Wexford opened up their Leinster U-21 HC campaign with an efficient 3-15 to 3-12 victory with super sub Mikey Dwyer scoring two goals in the second half for Tom Mullaly's side.
Coming into this game the momentum was well and truly with Dublin as they are fresh off the back of their third successive Championship victory with their most recent win coming last weekend beating Westmeath narrowly by three points on a scoreline of 2-13 to 1-13 with Donal Burke's two goals proving crucial to Dublin's victory.
Tonight's game was Wexford's first Championship outing of the season so prior to the game the talk in the stands was mixed amongst fans and stewards with neither too sure what to expect from their team.
Both teams took quite a while to settle down with Wexford putting two early shots wide through Joe O'Connor and Aaron Maddock and Dublin also contributing to the early wides through Colin Currie and Donal Burke.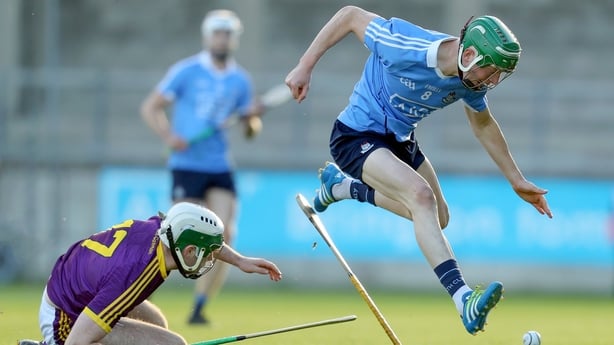 It took seven minutes for the opening score of the game and it came from Joe O'Connor finding himself space in the middle of the field and tapping over to get Wexford off the mark.
Two minutes later and Wexford doubled their lead with Aaron Maddock putting over a huge score from inside his own half to settle Wexford down well.
Dublin got themselves on the board minutes later with their first score of the game coming from a Colin Currie free before two quick Donal Burke points meant Dublin lead 0-03 to 0-02 with ten minutes played.
After taking quite a while to settle into the game the hurling improved once the scores started going over and Dublin forward Colin Currie converted his second free of the game to give the home side a two point lead.
A lovely cross field ball when Ian Carthy found Stephen O'Gorman in the corner with a pin point cross field ball, O'Gorman turned his man and put the ball calmly over the bar to leave Wexford just a point behind.
Dublin had the ball in the net straight from the puckout when Colin Currie shot from distance to put four points between the sides before Joe O'Connor responded from the puckout with another Wexford score to leave just three between the sides once more as Dublin led 1-04 to 0-04 after twenty minutes.
Dublin were dealing well with the Wexford forwards and winning most of the breaking ball in the heart of defence playing smart hurling and ensuring they didn't give Wexford anything easily.
Three quick points in succession from Donal Burke and Colin Currie gave Dublin a healthy six point lead as we entered the final ten minutes of the first half.
Dublin were finding scores a lot easier to come by and finding space for themselves more effectively as well.
As well as Dublin were playing, Wexford showed they also weren't going to give the Dubs anything easily either and Wexford responded well to the Dublin goal with four points in succession, four frees from Seamus Casey to leave just two points between the sides again.
Credit to Wexford for how well they responded after the Dublin goal, upping their work rate and winning themselves free's by pushing up and putting a lot more pressure on the Dublin half back line.
Cian O'Sullivan got his first score of the game for Dublin on the half hour mark when a Colin Currie free came back off the post for O'Sullivan to gather the dropping ball and slot over for his first point of the game and extend Dublin's lead to three heading into half time on a score line of 1-08 to 0-08.
Wexford started with blistering pace in the second half with Joe O'Connor getting a goal inside ten seconds of the second half starting jinking inside his man and sending an unstoppable low shot past Dara Perry to level the game and give Wexford the dream start to the second half.
Points were then exchanged between Colin Currie and Seamus Casey to leave the teams level at 1-09 apiece just minutes into the second half.
Dublin free taker Colin Currie put the home side back in front from a close range free after half back Eoghan Conroy was pulled down as he advanced towards goal allowing Currie to slot over from straight in front of goal to give Dublin a one point lead again before Wexford's free taker Seamus Casey put over another free for his sixth of the game and Wexford's tenth point of the game and leave the teams at 1-10 apiece.
Another Casey free left Wexford finding themselves in front for the first time since the fifth minute of the game with Dublin really struggling to get going in the second half.
Wexford made the most out of Dublin's tired start and had the ball in the back of the net through substitute Mikie Dwyer who was only on the field a few minutes. Eoghan Conroy made a superb block to deny Dwyer initially but he persevered and powered home the rebound to give Wexford a four point lead with fifteen minutes remaining.
The goal gave Wexford real confidence as the decisions in the game started to swing the way of the purple and gold.
A Dublin free which came back off the post was immediately sent down the field and turned into a Wexford score by Seamus Casey after some lovely link up play between himself and Mikie Dwyer who was making a real impact since coming on as a sub, a real turning point in the game you would feel leaving Wexford in front by 2-12 to 1-10.
Dublin and Colin Currie had the umpire reaching for his green flag as we entered the final ten minutes of the game with Colin Currie shocked but delighted to somehow find himself with the sliothar in hand as the high ball beat every one of the defenders with Currie quickest to react to put the ball into the net and leave just two points between the sides.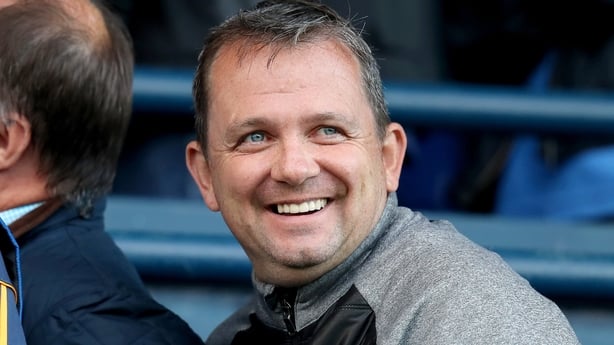 Wexford again responded well to Dublin's goal with two quick points in succession from Seamus Casey giving Tom Mulally's men a four point lead again before an Eoghan Conroy free left just a goal in the game with five minutes remaining.
End to end stuff and a fantastic game of hurling for the fans and the green flag was raised again this time for Wexford. Mikie Dwyer's second goal of the game and a superb long range shot by Rory Higgins left Wexford leading by 3-15 to 2-11 with the game entering the final minutes.
Another Colin Currie free and a Eoghan Dunne goal for Dublin in the last minute of the game left the final score at 3-15 to 3-12 giving Wexford an impressive three point win to get their Championship well and truly underway.
Dublin: Dara Perry, Shane Howard, Paddy Smyth, Donnacha Ryan, Eoghan Conroy 0-1, Conor Burke, Daire Gray, Fergal Whitely, Conor Ryan, Ciaran Dowling, Paul Crummey, Ronan Hayes, Cian O'Sullivan 0-1, Donal Burke 0-3, Colin Currie 2-7.
Subs: Cillian Costello for Cian O'Sullivan 44, Lee Gannon for Ciaran Downling 50, Cian Hendricken for Shane Howard 52, Eoghan Dunne 1-0 for Ronan Hayes 57.
Wexford: James Henebery, Sean Barden, Darren Byrne, Conor Firman, Aaron Maddock 0-1, Damien Reck, Ian Carthy, Shane Reck, Rowan White, Joe O'Connor 1-2, Rory O'Connor, Liam Stafford, Stephen O'Gorman 0-1, Oisin Foley, Seamus Casey 0-10
Subs: Gary Molloy for Conor Firman 25, Rory Higgins 0-1 for Sean Barden 30 Mikey Dwyer 2-0 for Oisin Doyle 45.