Stephen Attride will do all he can to support his team-mates against Dublin on Sunday as the double skull fracture victim watches on from the sidelines on a big occasion for his county.
Attride suffered the horror injury in the final moments of the victory over Carlow, and also had to have stitches, after colliding with an opposition player when bravely challenging for possession.
It means he is unlikely to return to football for at least six weeks, but he will be with their panel in Croke Park to offer his backing.
"It's still pretty sore," the captain told RTÉ Sport.
"Unfortunately I will be missing at the weekend. I'm gutted and disappointed. But anyway I can help the team in preparation, I'm more than happy to do it. I'll be lending a hand to the lads of course. Anything I can do to help the lads I will.
"There is a buzz around, it's not too often Laois gets to a final. Walking around Laois you would notice it. It's great to see and it does a lot for football in the county.
"We had a meet and greet in O'Moore Park earlier this month and it was great to see young people coming to support the team. It was great to see the excitement and enthusiasm."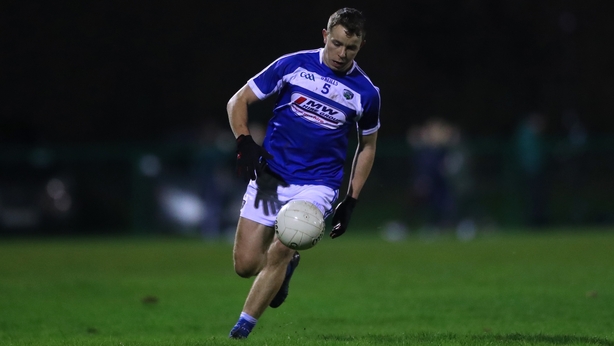 Attride scored a goal against Dublin in 2016, which makes it even more disappointing that he cannot follow it up this weekend by trying to repeat the feat.
"It was a good team move. Niall Donagher hit a cross field ball to Donie (Kingston). Even though he was well marshalled, he got the ball off to me.
"The game was nearly over at that stage but a goal against Dublin is a great thing to have on your CV."
That was one fond memory for Attride, but he is ambitious, and wants to see his team-mates not limit themselves to a few good moments in the Leinster decider, despite being huge underdogs.
While admitting it will be a huge task for Laois, he recalls matches when a defensive approach did not work against the Dubs for other counties, and wants to his side play to their own strengths.
"We've had a successful year so far and Dublin are a different proposition to what we've played thus far.
"They have had a very good year up to now. We're just going to concentrate on ourselves. That's all we can do. It's a step up but we'll do our best.
"Dublin's record in Leinster and All-Ireland speaks for itself over the last few years. We're going to give them the respect they deserve, but I think you have to go out and attack them. A lot of teams have gone defensive in playing them and I don't think that is really the answer. I respect them, but we have to attack them.
"Not many people give us a chance but we'll come up with a game plan based on our strengths and try to exploit Dublin weaknesses, if they have any. We will be looking to exploit any weakness they show."