Kick-out strategy ultimately decided the Connacht Final on Sunday and Roscommon's seeming obliviousness to its importance led them blindfolded into kicking their own ball away throughout the second half.
In addition, Galway were able to correct a serious malfunction in their defensive structure at half time and both factors combined to deny their opponents possession and attacking momentum.
Because it is one of the few times when you can easily manipulate the opposition shape, well organised teams now realise the attacking opportunity that exists off the keeper's tee.
For example, sucking the entire defence, midfield and even half forwards towards their own goal in patterns that may generate a shorter kick are often the precursor to a long delivery clearing everyone into the forward line and space.
Prior knowledge and good timing can create serious attacking options from a well-directed break off those deliveries.
Similarly, a shorter get out for any team doesn't necessarily signal a lack of attacking ambition.
If your opponent refuses to be moved or opts to flood where longer kick outs will drop then working the shorter options gives you go forward momentum, overlaps and a break out route to exploit a static middle third.
Galway used a version of the first pattern successfully on Sunday. Shane Walsh, though hugely impressive close to goal made some of his most effective contributions off Galway's long kick outs.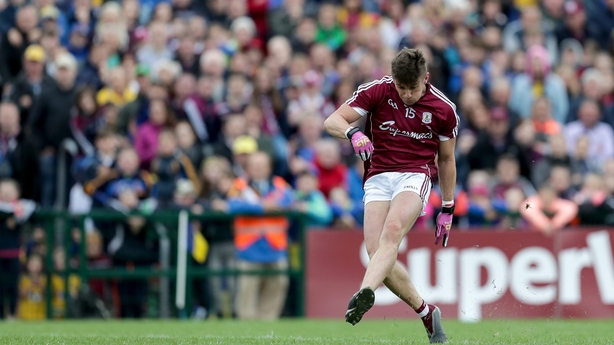 To set up he drifted into his own half back line and turned to attack the drop area. His role here wasn't necessarily to win breaks but rather to receive the ball off those who did as he drove through.
Galway managed to get Walsh on those balls regularly and with the Roscommon defence pushed up to compete, he was devastating cutting deep into opposition territory.
A variation of this approach created Galway's first score of the game. A shorter get out ball got the Tribesmen moving forward and Walsh exploded onto the initial break from his deeper starting position to make ground and fire a point from distance before Roscommon could scramble any defensive cover.
Roscommon should have paid attention for several reasons, not least of which was that imitation would have been their solution to the imminent kick out siege they would face.
The eventual winners were able to mix their approach well over seventy minutes but ultimately found Roscommon's soft spot with the long game.
In some ways the 2017 champions did themselves no favours by holding their own off their long kick outs into the breeze in the first half, primarily through Cathal Compton.
This opening position was presumably taken to avoid the higher risk strategy of chipping short and building out into the breeze.
Whatever the reasoning, it created a mind-set that everything should go long with the breeze in the second half – a strategy that would completely derail their challenge in the game.
Kick outs aside, Galway's defensive structure were asked all of the right questions by Roscommon in a first half performance that built a platform for them to climb a direct stairway to the inaugural "Super Eight" top table this year.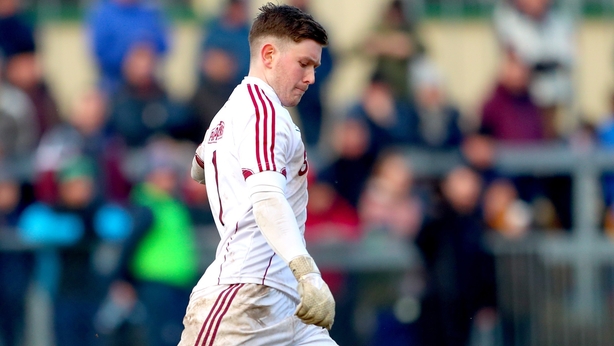 Smart movement of the ball just outside the familiar tackling perimeter that Galway like to employ should have invited a wave of pressure but instead, lead superbly by Enda Smith and Conor Devaney, Roscommon created space and time to find the killer pass and consistent openings – in particular for Diarmuid Murtagh inside.
This was a test Galway were bound to meet and it's difficult to believe they hadn't prepared for a scenario where their opponent would feed their creative players possession outside their normal tackling reach.
The problem was solved at half time with the shape loosened slightly to ensure pressure on the ball further out and protect their markers from the quality of passing that had unhinged them throughout the opening passages of play.
The worry for Kevin Walsh is that the players didn't solve this on the field but rather had to wait for direction.
Their hope will be that the lesson is well learned before more ruthless challenges ahead that will probably have their jugular opened before half time arrives if they produce the same lack of defensive urgency and initiative.
Half time may have been a little more comfortable on the face of it for Kevin McStay. The recipe was set for success.
Roscommon might have reasonably expected there to be more space in the Galway defence for their creative passing and running to exploit and they had the assistance of the breeze to add to their reassurance.
Unfortunately Galway had two major responses ready that would completely eliminate their first half effectiveness and Enda Smith was central.
After Compton's departure, Smith was deployed deeper to try to reinforce midfield. In the primary role he was ineffective as Tom Flynn commanded the sector in the air, leading his team's overall stranglehold throughout the second half.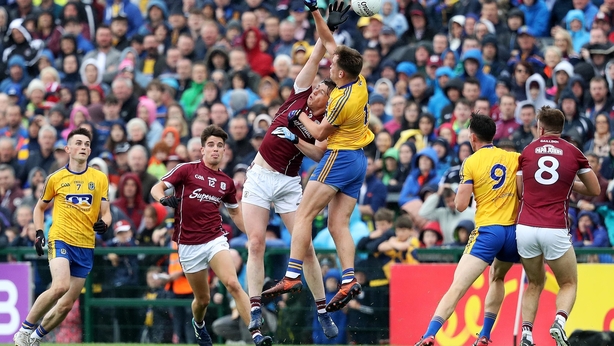 Smith was swamped and crucially was not able to get on ball in those advanced areas he had been so effective in before the break.
Roscommon continued to kick long to where the Tribesmen were dominant and in addition to their increased tackling intensity in the same area, Galway now had completely cut off the previous supply lines for any attacks.
Before regrouping for the qualifiers, Roscommon will have to establish a) why they were so overwhelmingly beaten in the possession contest in the second half and, b) why they continued to kick one long kick out after another to their opponents' dominant middle third.
That they retained only 30% of their own kick outs in the second half and didn't contemplate a change in strategy should sound several alarms.
After a strong league campaign, Connacht silverware verifies a continued upward trajectory for Galway as they prepare for an assault on the All Ireland series but questions remain.
Roscommon strategically identified a weakness in their hitherto sound and well manned defensive shield. At first glance they were able to identify the problem and fix it but the reality is that Roscommon weren't able to get enough possession to test the patch on this occasion.
Galway will know there are tougher challenges on the horizon and will surely relish the opportunities.
However, to prevail they must adapt quicker on the pitch to find solutions as required and as with any successful team, the players must be the first responders.