Eddie Brennan and Anthony Daly are confident that Clare's David Reidy will have the red card he was shown in Sunday's game with Limerick overturned, clearing him to play in the Munster SHC final.
Reidy was sent off by referee James Owens after an incident involving Limerick's Tom Condon shortly before half-time in the Banner's win at Cusack Park, Ennis.
Condon was dismissed for jabbing the butt of his hurley into Reidy's midriff and he was joined on the line by the Clare man after Owens consulted with his umpires at that end of the ground.
"It's a coming together – David Reidy runs into Diarmuid Byrnes, I don't think they even seen each other and he just winds Diarmuid Byrnes," explained Anthony Daly on The Sunday Game.
"Tom Condon is looking out the field, he doesn't know what happened behind him and all of a sudden he comes back.
Eddie Brennan added: "You'd expect a little bit more from Tom Condon. Tonight he'll be mad with himself.
"I want to know who is talking to James Owens on his headset to tell him to go in and consult with his umpires. I'm very curious as to why David Reidy got a red. I don't see anything wrong with him and Diarmuid Byrnes coming together.
"When Tom Condon comes in from 20 yards away and hops off you, comes at him a second time, you're entitled to defend yourself and I don't see a strike from him or anything that deserves a red card."
Clare are likely to challenge the sending-off, which carries an automatic one-game ban, in a bid to have him free to face Cork in the Munster final on 1 July.
"I think that will be rescinded; I'll be shocked if it's not," said Daly.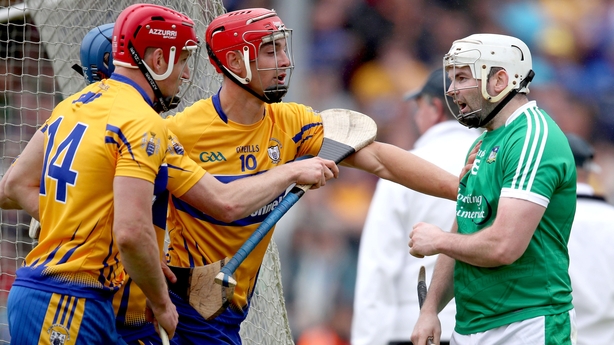 Condon will be banned for one game too if his red card isn't overturned, meaning he will miss out on Limerick's All-Ireland preliminary quarter-final against either Westmeath or Carlow on 7 July.
The teams that fill the top two spots in their respective provinces go forward to the Leinster and Munster finals. The winner of those games go direct to the All-Ireland semi-finals with the losers into the quarter-finals.
The third place teams face off against the finalist from the tier two Joe McDonagh Cup at the preliminary quarter-final stage.