Donegal 9-21 Armagh 4-08
By Louise Gunne at Brewster Park
Donegal were in breathtaking form as they put Armagh to the sword by 28 points in Brewster Park to clinch back-to-back TG4 Ulster senior titles.
Their full-forward line combined for 8-11 of their total with Yvonne Bonnar finishing with 4-6, all from play. Geraldine McLaughlin scored 3-03 and 1-02 came from Eilish Ward.
All six Donegal forwards got on the scoresheet along with their two midfielders in what was a near faultless display.
The first half was a pulsating affair that yielded six goals and 20 points in end-to-end action.
There was little between them for most of the opening half and they were actually level in the 21st minute 1-7 to 2-04.
Donegal led 1-06 to 0-03 after the first quarter, Bonnar with an early goal in the fourth minute to put them in front 1-01 to 0-01 after Aimee Mackin, who was well marshalled throughout, had opened the scoring with a point from a free in the first minute.
Bonnar hit 1-04 of that first 1-06 for the Tir Chonaill side but it looked like their opening quarter's hard work had come undone when first Kelly Mallon, punishing Donegal for a mistake in their own half when goalkeeper Roisin McCafferty was caught well out of position, finished to the back of the net after 17 minutes before Aimee Mackin finished superbly from the penalty spot just four minutes later minute after Mallon was brought down.
That levelled the game but thereafter it became one-way traffic as Donegal upped the ante.
McLaughlin's 22nd minute point was crucial and from there until the half-time whistle they outscored their opponents 3-05 to 0-03 while also having Therese McCafferty in the sin-bin.
McLaughlin followed up her point with a goal, but it was two goals in the space of a minute in injury time that gave Armagh an insurmountable half-time deficit. Donegal stretched their lead to 10 points, 4-11 to 2-7 and the champions went in with a 4-13 to 2-07 advantage.
Donegal added an unanswered 1-04 after the resumption, Bonnar with a 34th minute goal while it was the 44th minute before Armagh registered their first score of the half through a Caroline O'Hanlon point.
Bonnar completed her hat-trick in the 48th minute, after McCafferty had denied Mackin from the penalty spot minutes earlier.
As the game entered injury time, a well struck O'Hanlon penalty had slightly reduced the deficit back to 7-19 to 3-08 but in almost 10 minutes of injury time — with the stop clock in force —McLaughlin completed her own hat-trick as they finished the game with 12 players with Emer Gallagher, McLaughlin and Katy Herron picking up yellow cards in separate incidents.
Blaithin Mackin scored Armagh's fourth goal in the 66th minute and player of the match Bonnar wrapped up an historic day for the Tir Chonaill side with her fourth goal with the last action of the game.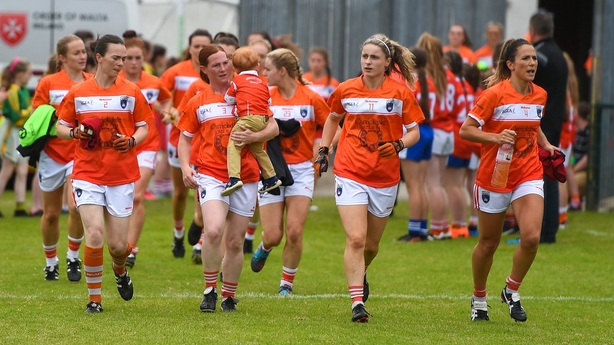 Scorers for Donegal: Y Bonnar 4-06, G McLaughlin 3-04 (0-1f), K Herron 0-04, N Hegarty 1-01, K Guthrie 0-01, E Ward 1-02, SJ McDonald 0-02, A McDonnell 0-01
Armagh:C O'Hanlon 1-03, (1-00 pen), A Mackin 1-02 (1-0pen, 0-02f), B Mackin (1-01), K Mallon 1-01, A McCoy 0-01

Scorers for Donegal: R McCafferty; T Doherty, N McLaughlin, E Gallagher; T McCafferty, C Hegarty, D Foley; K Herron, A McDonnell; K Guthrie, N Hegarty, SJ McDonald; G McLaughlin, Y Bonnar, E Ward. Subs: R Friel for N Hegarty (46), N Carr for D Foley (48), B Gallagher for E Ward (49), K McKinney for T Doherty (50), B McLaughlin for SJ McDonald (62)

Armagh: C O'Hare; S Marley, C Morgan, S Reel; M Tennyson, T Grimes, B Mackin; C McCambridge, C O'Hanlon, M Moriarity, F McKenna; L McConville; A Mackin, A McCoy, K Mallon. Subs: M Sheridan for S Reel (39), M McGuinness for F McKenna (44), N Reel for A Mackin (52), S Grey for S Marley (60), N Murphy for K Mallon (62)

Referee: Brian McCallion (Tyrone)
Weekend results
Saturday June 16:
All-Ireland U14 A final: Cavan 4-06 Dublin 2-09
Sunday June 17:
TG4 Ulster Ladies SFC final: Donegal 9-21 Armagh 4-08
TG4 Ulster Ladies IFC final: Tyrone 6-22 Down 1-06
TG4 Leinster IFC semi-final: Wicklow 3-12 Longford 0-04
TG4 Leinster IFC semi-final: Laois 2-11 Wexford 1-13
TG4 Munster IFC final: Clare 7-15 Limerick 1-03
All-Ireland U14 B final: Mayo 7-10 Tipperary 3-14