Waterford hurling manager Derek McGrath is undecided on his future and will take some time before deciding whether or not to return for a sixth year in charge of the Déise.
Last year's All-Ireland finalists bowed out of the Championship with a close fought 1-23 to 1-20 defeat to Cork, their fate already decided after no in in their opening three games of the new round robin provincial championship.
Beset by a spate of injuries and without home advantage due to the condition of Walsh Park, McGrath's young charges failed to hit the heights of 2017 and their high point was an unfortunate 2-22 apiece draw with Tipperary that saw their opponents awarded a goal that should never have been. 
It is widely expected McGrath will walk away as his term is at an end, but speaking to RTÉ Sport after today's game in Semple Stadium he said he has to take some time to decide what to do.
"I have been involved with some of these lads since they were 12, it is a 15-16 year sojourn, not just a five-year sojourn. There is huge mental fortitude needed to go through that time after time, give the immersion that fellas put into it," he said.
"We will consider all avenues."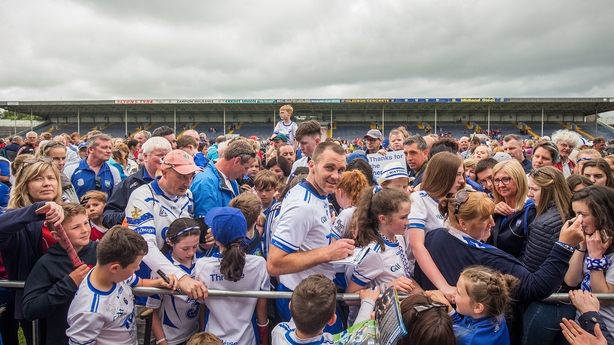 Another man whose Waterford future is in doubt is Michael 'Brick' Walsh, who today broke Brendan Cummins record for consecutive championship appearances, with his 74th straight game for the Déise.
McGrath said hnouring Brick's achievement with a good performance was one reason he has not given his own future too much thought.
"My complete focus today was on Brick - I am very close to Brick, and he has given us everything he has over the last 5 years - and secondly on the performance so I haven't deciphered or registered in my own mind space where it is going.
"Given what has happened in the last five weeks. The litany of what we have had to endure. So it will take a little bit of time for contemplation. That is probably not the answer you want to hear. Just some contemplative time and space to consider everything with family and friends," explained McGrath, who ranks Walsh alongside John O'Shea, John Treacy, Niamh Briggs and Sean Kelly in the pantheon of Waterford sporting greats.
"The best team player I have ever seen play with Waterford, an absolute treasure to work with. the most humble man you will ever meet, a winner, absolute guile in everything he does, his hurling, his versatility. I couldn't say enough about him.
"Honesty lies at the heart of everything he does."