Ross Munnelly has praised the "bravery" shown by the Laois captain Stephen Attride who suffered a double skull fracture in their Leinster SFC semi-final victory over Carlow on Sunday.
Attride was stretchered off in the closing minutes of the fixture in Croke Park after he threw himself on a breaking ball which resulted in his head accidentally colliding with the leg of Carlow player Ciaran Moran.
The act prevented Carlow from going on the attack, but also resulted in the Killeshin club player suffering the terrible injury which was confirmed today.
"It was just an unbelievable level of bravery from him in the last couple of minutes when Carlow were potentially on a counter-attack," Munnelly told RTÉ 2fm's Game On.
"Unfortunately there was a collision that left him in a bad way but it is what it is at this stage.
"Thank God Steve is fit and well, that's the main thing that he was responsive so fast after. We'll be fully behind him in the next two weeks and after that. I think in the circumstances of the way the game was yesterday and the type of game that it was - that epitomised our performance.
"That commitment when the game was on the line and those small inches that we had to win."
Munnelly revealed that he once coached Attride when he was playing on a DCU Freshers team, and credited his piece of defensive play for helping them secure the win against the in-form Carlow outfit.
"Right to the very end [we were] led by our captain. It was an outstanding piece of bravery and for reasons like that we got over the line and we're in a Leinster final.
"His career will continue to develop long after this. This will only be a minor setback for him."
Laois now face the unenviable task of taking on the reigning Leinster and All-Ireland champions Dublin, who are aiming to win an incredible eighth consecutive provincial crown.
This will be the county's first senior Leinster final appearance since 2007, where they lost to Dublin by six points.
Munnelly remarks that Laois were in a "bad place" last summer after suffering relegation to Division 4, but says that the team regrouped over winter to focus on securing promotion out of the bottom tier, and rejuvenating themselves in time for championship.
"We've backed ourselves and we're building a nice team. The management team have been fantastic with the group of players and helping to build confidence and belief in what we're doing. We're just taking it one step at a time.
"For us to have won three championship games in-a-row in Leinster at this point in time gives us great confidence. We know what we're building towards and it doesn't happen over night but certainly as a player when you're playing with a renewed sense of confidence, and you can feel it within the group, it does make things an awful lot easier.
"We've had our own achievement in getting to the Leinster final and now we've to knuckle down and get a performance so we obviously just focus on ourselves.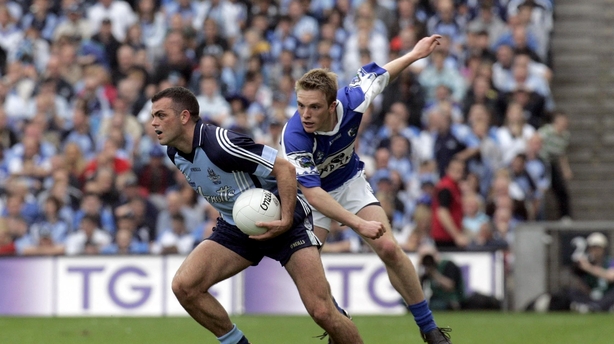 "It's irrelevant to the group what other people say and do and think and that's the way it has to be. That's just the way the game is."
Bernard Flynn was also speaking on the show, and while he praised the efforts of Laois to get themselves back to the provincial final for the first time in 11 years, he also expressed his frustrations regarding Carlow's defensive style of play.
"The biggest disappointment was Carlow's performance in Croke Park. They've got so many claps on the back and so many plaudits. I was expecting an awful lot more.
"Eight points when you go up there against Laois and they failed miserably. By all accounts allegedly, it was pretty shocking to look at and Laois just about deserved it but just a shame they [Carlow] couldn't actually perform on the big stage with all that happened this year.
"For the life of me why a team like Carlow couldn't go out and not be so defensive and have a good cut, it wouldn't have taken a huge amount. It drives me bonkers. A little bit more bravery."