Tom Parsons is facing further surgery on his knee but is starting to feel some improvement, four weeks after sustaining the horror injury in Mayo's Connacht SFC quarter-final defeat to Galway.
Parsons was stretchered off and was later diagnosed to have suffered multiple ruptured ligaments, hamstring and calf muscle tears and a dislocated knee.
"It was definitely rough the first week," he told RTÉ Sport's Darren Frehill. "The support from people all around the country has helped.
"You don't really know (what the injury means) until you get your first surgery. I've had the first set and thankfully to date it's been fine.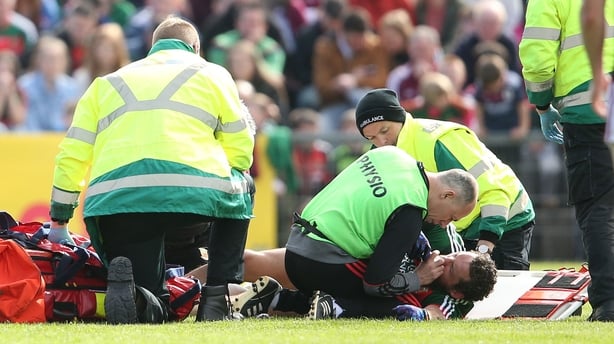 "I've improved a lot the last two weeks. I am getting a little bit more mobile and I can manoeuvre around the house and get out.
"I can do a little bit of exercise and aided walking. That helps because you feel like you're progressing but I am conscious that I have more surgery to go.
"Early September, I'll be going back in under the knife to finish the work. Then I'll really feel that I'm on the road to recovery.
"From there on, in it's full rehab and exercise."
Shout out to Club & Mayo stalwart @TomParsons_8 & his beautiful wife Carol on this their wedding day. Best wishes from all in the club. pic.twitter.com/a89OYwc0R7

— Charlestown GAA (@CharlestownGAA) December 2, 2017
Parsons' wife Carol is a physiotherapist, which is proving useful in his recovery.
"We were just married in December. So when they say 'for better or worse', here's the worst!" he joked.
"There were a few reality checks (like) when you need assistance getting showered and in and out of bed but she's fantastic.
"She's a physiotherapist as well and that's a big help because it needs work every day. You need to take a professional approach to get an injury like this right.
"I've got a really good support network between my wife, my medical team in Mayo and surgeon in Santry. That combined team with my family and friends is really important so I have every chance."
The Charlestown man was given a hearty ovation from the Mayo fans at their qualifier win over Limerick on Saturday.
He admitted it was strange to be attending as a fan but said the supporters' encouragement eased his initial nerves.
"Travelling up to the game I had this sick feeling in my gut. Seeing the guys come off the bus and going into the dressing room and I'm going the opposite way to the stand.
"It was nearly a reality check 'oh I'm not going to play today' but I had a magic reception from the Mayo supporters and it was really welcoming.
"It settled me and I felt really at home and enjoyed the game then. The players put in a big performance.
"It was really good for me to get a game and get out of the house. It can be tough the first time you meet people in your sporting environment again but for me it was a special experience."
A heroes reception for Tom Parsons from the Mayo faithful as he is here in Limerick to support his team mates. #inthistogether #mayogaa pic.twitter.com/uiFOK4utzo

— Mayo GAA (@MayoGAA) June 9, 2018
That comfortable victory at the Gaelic Grounds put Mayo into round two of the qualifiers, where they have been drawn against Tipperary.
Parsons is hoping his team-mates can match last year's 10-game run to the final in his absence, and maybe even end that long wait for Sam.
"It would be magic to see the lads go all the way.
"But I know the guys are very focused at the moment. We've got our draw with Tipperary in two weeks' time, which is a tough one away to a very good team.
"It will certainly be one game at a time and if there's one thing we've learned over the past two years, that's the best approach.
"There are teams in the back door you wouldn't have played before and venues you wouldn't be familiar with so it's going to be challenging."