At face value, the contrast between Sunday's Leinster semi-finals in Croke Park in terms of style of play could not have been more stark but the starting point for most teams are never that far apart.
We are now firmly in the era of counter-attack football and, when you look a little closer, the teams have more in common than you might first anticipate.
The consensus will be that Dublin cruised into another final with their now expected flowing game, punctuated by accuracy and efficiency with every movement.
The appetiser before the main event has been likened to an arm wrestle between two brawlers, both of whom would lack the quality to trouble the perpetual champions irrespective of the result.
Of course those summaries have truth attached and the masses headed down Jones' Road Sunday evening content with the understanding that Dublin were, as ever, the attacking aristocrats and Carlow the game's bogey man that ruined our day.
A couple of minutes into their game on Sunday, Dublin lost possession while on the attack down the left flank. As Longford steadied to consider what to do next the entire Dublin full forward line retreated, as choreographed, goal side of their opponents' half-back line, leaving their markers behind, while their half forwards squeezed back in front of their own half backs.
Everyone went to work from this starting point and as the Midlanders meandered upfield, every Dublin forward tracked runners and hunted tackles.
The game was fresh and the champions' danger sirens were still on high alert. Within 30 seconds the entire Dublin 15 were inside their half, 12of whom were inside their own 45 – working hard to cut the oxygen from Longford's attack. You would expect nothing less.
A couple of minutes into their game on Sunday, Carlow had squandered possession for the first time. A lone forward held his ground and forced Laois to work for a few seconds to make sure they retained the ball before considering building forward.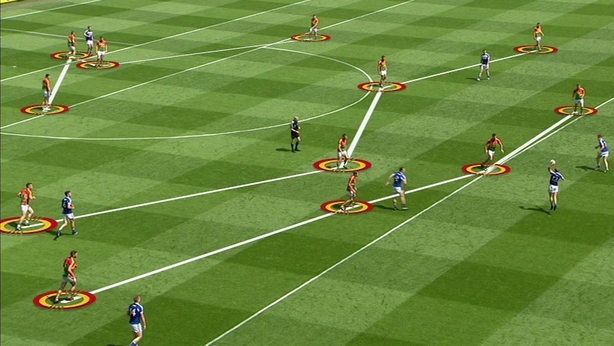 As this happened, Carlow retreated quickly en masse to set up their very specific zonal defence inside their own 45. The remaining two forwards chased to close Laois down and within 20 seconds the entire Carlow 15 were inside their own half.
There is an obvious difference in the two approaches. Firstly, the aesthetics couldn't be more silk and chain mail but, more fundamentally, Dublin coaches are able to give their players guidance and starting points from which to work off and trust them to make good decisions and apply themselves in a collective effort to win the ball back for the team.
This is high energy and requires high levels of concentration. In addition, if anyone either opts out or doesn't get it done, someone sitting on the bench soon will.
Carlow obviously do not yet have that luxury. Space in their defence for opponents to kick early ball into, or break away from sleeping trackers into, is potentially very damaging for them so why would they leave anything to chance? 
A more crude tool to achieve the same outcome is applied.
Counter-attacking football has blazed a path across the Gaelic football landscape since its most recent incarnation was unleashed by Jim McGuinness at the turn of this decade.
Of course it is not a new approach but rather a more refined, and offensively and defensively strategic version, of what had often gone largely unnoticed before.
"Pat Spillane wore the studs off his sponsored Adidas boots to track possession to the ends of the earth if necessary"
The great Kerry golden years team looked to win possession back from attacking opponents through a huge work-rate and application of the logic that bodies in space limits your opponents attacking options and creates turnovers.
Jack O'Shea usually occupied the penalty spot behind his defence when opponents attacked – Colm Cavanagh may be familiar with the idea – and Pat Spillane wore the studs off his sponsored Adidas boots to track possession to the ends of the earth if necessary.
As is now largely understood, the reward for energetically denying the opposition time and space to create is ultimately to create space in your own forward line. My old college coach Dessie Ryan would sum this up succinctly… "Good defence is the best form of attack".
It is almost certain that we would not now have the same all conquering version of the Dubs without the foundations that Pat Gilroy built. That was a team built on defending well and, in particular, a half-back line that never left their positions no matter how inviting the attacking opportunity.
The lazy tag of 'blanket defence' has become the go-to-phrase for those who don't have the inclination to understand that if you don't defend properly and plan for counter-attacking quickly, you will need to come up against a similarly ill-prepared or significantly less-talented opponent to expect to win matches.
Imitation of successful peers can bring improvement but in reality, teams must evolve sound playing principles around their own strengths to find a gameplan that will generate real progress, both with and without the ball.
How do you counter attack effectively after you get your work done defensively? The answer to that question is long, varied and different for all teams but the short answer is through the individual strengths of your players.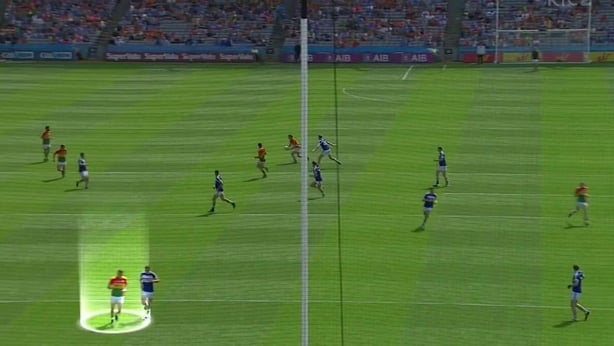 The fashionable word for turning defence into attack effectively is "transition". The great Meath team of my childhood counter attacked brilliantly through long, accurate kicking. It was effective not only because they had quality kickers but also brilliant ball winners in the forward line. These were their individual qualities and the approach now seems logically simple.
There is still very much a time and place for this today as teams move towards pressing for turnovers in the middle third. The Donegal of earlier this decade counter attacked almost entirely through the hand with pods of sprinters that cut open any unprotected defence.
What sets today's Dublin team apart is that it can counter on you any way that suits in any given movement. Their medium kicking is crisp and accurate and in Dean Rock, Paul Mannion and Con O'Callaghan they have attackers with hunger for movement to hit and play off.
They also understand the effectiveness of their running power and how it can get them out of danger into comfortable field position before going again. One example of this is how they use Jack McCaffrey when he is on all cylinders – he breaks wide and fast from his defensive position and everyone ahead empties the channel he will run into.
Carlow do not have the riches available to Dublin but they make the most of what they do have in attack. They have pace all over the field and are obviously conditioned physically and mentally to break immediately at top speed and to support the ball with smart lines of running.
It is high-octane but energy-sapping endeavour. Because Laois were complicit on Sunday in leaving so much space in their defence, the Carlow men very nearly did enough. Their running created several goal chances and scoreable frees that, on another day, would have done the trick.
The challenge for Carlow going forward – like every team – is to develop the options they can use. There was occasional evidence of effective direct ball to the inside line as a plan B but Division 3 and beyond will require more.
Coaches at all levels should look to the individual qualities of their players to dictate how they counter attack. One of the most often repeated fundamental errors of gameplan development is to try to re-educate players into roles alien to their physical attributes and decision-making capacity.
Attacking patterns that harness the specific individual strengths of the players and match the football culture of the group will ultimately maximise the effectiveness of any team.
Read Aidan O'Rourke's coaching column every Monday on RTÉ.ie/sport and the News Now app.