Cillian O'Connor led the way with a haul of 3-09 as Mayo blitzed Limerick to get their journey through this year's qualifiers off to the best possible start.
Mayo led by 1-10 to 1-01 at the break and kept a big margin between them before blitzing Limerick in the final quarter.
At one stage they rattled in 4-3 without reply in a devastating display with Footballer of the Year Andy Moran coming on to finish two goals.
There was a hint of a possible upset when Sean McSweeney blasted home a fourth minute penalty after Danny Neville was fouled.
But Mayo's composure was never rattled and three points from play from O'Connor settled them. He hit 1-06 in the first half, and showed great leadership and hunger throughout.
He landed a 45 to edge Mayo into a lead they never looked like surrendering and James Durcan and Aidan O'Shea quickly added points to push three in front.
Iain Corbett eased the pressure with a point from the right a minute later but Mayo took over again.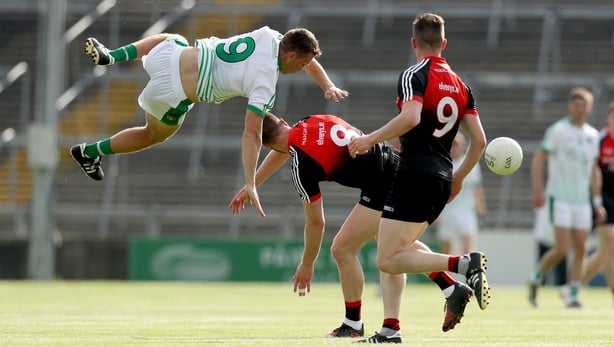 O'Connor added a free and then finished to the net to push Mayo 1-7 to 1-1 in front after 30 minutes.
They added three more before the break to lead by 1-10 to 1-01 at the break.
Mayo drafted in Lee Keegan for his first action since being injured in the league against Tyrone and the 2016 Footballer of the Year looked sharp when introduced.
Mayo continued to pick off points and led by 1-14 to 1-3 after 49 minutes. Limerick rallied and impressive sub Seamus O'Carroll got the first of his two goals but there was never any hope of a real comeback as Mayo led by 1-16 to 2-7 before they cut loose in the final 16 minutes.
Mayo struck 4-3 without reply in a devastating eleven minute spell with O'Connor completing his hat-trick with two goals in three minutes.
He set up a goal for Moran who quickly got a second in a game where Lee Keegan made a welcome return to the Mayo side for his first action since being injured against Tyrone in the league.
Limerick had the final say when O'Carroll got his second goal from a penalty.
But it was a near perfect evening for the Mayo supporters who made up the bulk of the 8,230 crowd and they will now wait and see who they will face in the next round.
But this was a clear message from Stephen Rochford's men that they have the appetite for the long journey again this summer through the back door.
Mayo: David Clarke; Chris Barrett (0-01), Ger Cafferkey, Eoin O'Donoghue; Colm Boyle (0-01), Keith Higgins, Paddy Durcan (0-02); Séamus O'Shea, Aidan O'Shea (0-02); Stephen Coen (0-01), Kevin McLoughlin, Cian Hanley (0-01); Evan Regan (0-01), Cillian O'Connor (3-09, 0-05f, 0-01 45), James Durcan (0-01).
Subs used: Lee Keegan for Boyle (46), Jason Doherty for McLoughlin (48), Conor Loftus for S O'Shea (52), Andy Moran (2-00) for Higgins (53), Caolan Crowe for Hanley (57), Shane Nally for O'Donoghue (63)
Limerick: Donal O'Sullivan; Séan O'Dea, Gareth Noonan, Paul Maher; Paul White, Iain Corbett (0-02), Cillian Fahy; Darragh Treacy, Josh Ryan (0-02, 0-02f); Danny Neville (0-01), Michael Fitzgibbon, Peter Nash; Seán McSweeney (1-0, 1-0 pen), Jamie Lee (0-01), Jim Liston.
Subs used: Seamus O'Carroll (2-01, 0-01f, 1-00 pen) for McSweeney (36), Killian Ryan for Liston (48), Pádraig Scanlon for Lee (52), Gordon Browne for Treacy (57), David Connolly for Nash (65), Tony McCarthy for Corbett (69).
Referee: Niall Cullen (Fermanagh).