Kildare bounced back from their Leinster Championship disappointment with a workmanlike performance to see off Derry by eight points at Owenbeg on Saturday.
Cian O'Neill's side did not endear themselves to the home crowd with some cynical second half tackling at times but Derry's inability to close off Kildare's runners cost them dearly with the visitors able to manage the latter stages with some comfort following a late red card for Derry's Mark Lynch.
Kildare suffered a blow even before throw-in when Paddy Brophy picked up a nasty looking hand injury and had to be replaced by Keith Cribben in the Lilywhites' starting 15. With Cribben's inclusion, it meant two changes for the visitors from the team that started against Carlow.
There were two changes also for Derry as Liam McGoldrick replaced the injured  Brendan Rogers and Jack Doherty came in for Michael Bateson from the side that started in the Ulster Championship against Donegal.
A breathless opening half which saw 22 scores began in frantic fashion with McGuigan turning superbly to pop over an Oak Leaf opener but the Derry defence was far too open and Fergal Conway got the first of four first half points from play soon after to level.
Mark Lynch and Chrissy McKaigue were alternating the sweeper role but Kildare were still finding too much room around the edges.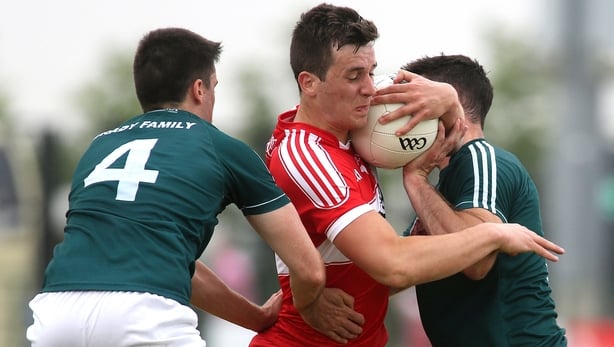 That said, things were working much more smoothly at the other end were Shane McGuigan was a constant thorn in the Kildare and it took only four minutes for the home side to grab thier first goal.
McGoldrick it was who picked a path through the Kildare defence before off loading to McGuigan. The Slaughtneil man's angle wasn't great but he rolled a lovely finish under Mark Donnellan with Enda Lynn on the line but it looked to have crossed the line before he got a touch.
That was the good as far as Derry were concerned but the bad wasn't far away and on eight minutes barely a hand was placed on Flynn as he picked up possession and ran an arc through the Oak Leaf defence to blast a superb finish past Ben McKinless for a 1-3 to 1-1 lead.
And the scores kept coming as two points from Paul Cribben took the lead to four before the Lilywhites lost captain Eoin Doyle after he cynically dragged Cassidy to the floor as the Derry midfielder was set to go clear.
The sides traded scores once more before Derry found another path through the visitors defence and this time Cassidy was the catalyst. The Slaughtneil man broke the defensive line superb, drew the cover and off loaded to End Lynn at just the right moment to allow the Greenlough forward time to advance and smash a great finish into the roof of the net to tie the game at 2-03 to 1-06.
Kildare finished the first half stronger , if only because they took their chances, Tommy Moolick, James Murray, Conway (0-02) and Kevin Feely ensured a 1-12 to 2-07 half-time lead, Jack Doherty, Emmet Bradley, Sean Leo McGoldrick and Lynn the Derry scorers.
Derry introduced Rogers and Ternece O'Brien at the interval and could have hit the net inside seconds when Emmet Bradley's shot was blocked by Kildare keeper Donnellan before Mick O'Grady superbly block McGuigan's follow up on the line.
With a couple of dubious decisions going in Kildare's favour they took full advantage, hitting 1-3 in seven minutes to take control, Niall Kelly grabbing the goal with a flicked finish with his hand after a brilliant pass from Kevin Feely.
That left Derry with a mountain to climb and needing goals to come back within striking distance. The Oak Leafers threatened briefly at times but Kidare always managed to reply to any Derry scores to kill the home momentum.
The visitors were also guilty of some cynical fouls which went unpunished by referee David Coldrick until, after Emmet Bradley had been dragged to the floor by David Hyland, the ensuiing melee ended with a black card for Hyland but also a red for Derry's Mark Lynch.
The Banagher player's departure signalled the end of Derry chances and the end of a disappointing season.
Scorers for Derry: S McGuigan (1-1), E Lynn (1-2), E Bradley (0-5, 5f), P Cassidy (0-1), J Doherty (0-2), M Lynch (0-2, 2f), SL MCGoldrick (0-1)
Scorers for Kildare: F Conway (0-4), D Flynn (1-1), N Kelly (1-1), P Cribben (0-2), K Feely (0-2, 2f), T Moolick (0-2), K Cribben (0-1), J Murray (0-1), M Donnellan (0-1, 1 forty-five), D Slattery (0-1), N Flynn (0-5, 2f) , J Byrne (0-1),
Derry: Ben McKinless; Paul McNeill, Kevin Johnston, Michael McEvoy; Liam McGoldrick, Christopher McKaigue, Sean Leo McGoldrick; Conor McAtamney, Padraig Cassidy; Jack Doherty, Emmet Bradley, Patrick Coney; Enda Lynn, Shane McGuigan, Mark Lynch.
Subs: James Kielt for S McGuigan (Blood sub) 32mins -  reversed HT; Brendan Rogers for P McNeill, HT; Terence O'Brien for C McAtamney, HT; Carlus McWilliams for P Coney, 42mins; James Kielt for S McGuigan, 51mins; Michael Bateson for L McGoldrick, 59mins; Niall Toner for SL McGoldrick, 71mins;
Red Card: M Lynch 65 mins
Kildare: Mark Donnellan; Peter Kelly, David Hyland, Mick O'Grady; James Murray, Eoin Doyle, Kevin Flynn; Kevin Feely, Toomy Moolick; Fergal Conway, Paul Cribben, Keith Cribben; David Slattery, Daniel Flynn, Niall Kelly.
Subs: Neil Flynn for K Feely, 47mins; Chris Healy for K Cribben, 59mins; Eanna O'Connor for N Kelly, 67mins; Fionn Dowling for F Conway, 71mins;
Yellow Card: K Flynn, 51mins; T Moolick, 58mins; E O'Connor, 73mins;
Black Card: E Doyle 15mins (replaced by Johnny Byrne); D Hyland, 65mins (replaced by M Hyland)
Referee: David Coldrick (Meath)