Will Tipperary's 'ghost goal' end up knocking Waterford out of the Championship? There's a strong possibility it will.
It's very unfair and something has to be done.
I think we hear 'it's human error' and 'these things happen' too often. That won't be any comfort to Waterford if it costs them a place in an All-Ireland quarter-final.
Guys are giving their whole life to this, sacrificing eight or nine months to get ready for the Championship, and for something like that to cost them a massive result and potentially their season, it shouldn't be happening.
I know we're an amateur organisation but at this stage we surely have enough refs in the country that they can be the umpires rather than associates of the match referee.
The decision at the weekend was ludicrous. The umpire that gave the goal was in no position to judge it, and the umpire who was standing right beside Austin Gleeson gave no indication he thought it was over the line.
Goal for Tipp? Controversy as @TipperaryGAA get to within a point after this goal is awarded #rtegaa #TheSundayGame pic.twitter.com/10iMxPkudb

— RTÉ GAA (@RTEgaa) June 3, 2018
The fourth official on the sideline had a monitor. There's no reason why he couldn't be miked up to the referee. A quick replay, tell him it's no goal and we move on.
All these Championship games will have cameras there, whether it's for live broadcast or the Sunday Game that night, which means there should be access to a monitor.
In my own time playing with Kilkenny, Hawk-Eye saved us in the drawn 2014 All-Ireland final. I've no doubt that the umpire would have given John O'Dwyer's free at the end as a point without it because the crowd behind the goal were celebrating.
Of course, even if they had had Hawk-Eye in Limerick it wouldn't have made a difference because it only works for points, but something needs to be brought in to stop this from happening again.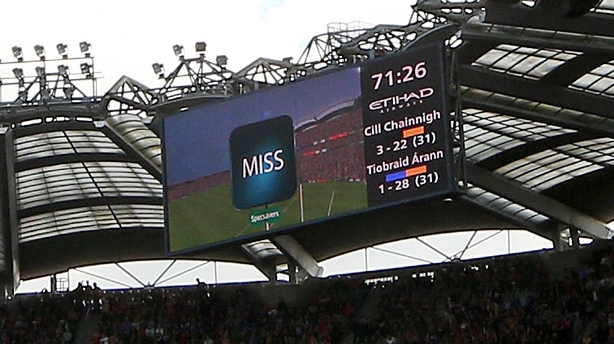 I wouldn't only reserve video replays for goals either.
It works in rugby, you stop the play for 30 seconds or so to decide whether an offence merits a yellow or a red card.
In the club All-Ireland semi-final, two Na Piarsaigh players were sent off against Slaughtneil and missed the final. If it had have been reviewed they probably wouldn't have seen the line.
I don't see why we can't try it.
Tribesmen streets ahead of the competition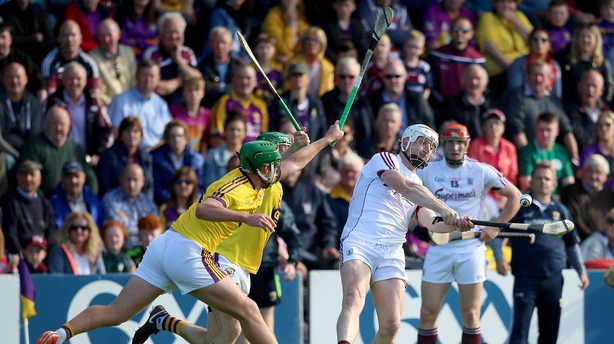 It might be early to say it but it already looks like Galway's All-Ireland to lose.
Micheál O'Donoghue must be delighted looking at how the teams are going at each other in the Munster championship.
Those intense games will take a lot out of the players and the tank could be half-empty by the time they get to the knockout stages.
Galway haven't really had a hard game yet. Neither Kilkenny nor Wexford seemed to take too much out of them and they're still really fresh.
They haven't picked up any injuries, assuming the reports that Joe Canning's knee is fine are accurate.
You can't imagine Kilkenny or Wexford will be particularly looking forward to playing them in a Leinster final because I can't see them winning.
Last-chance saloon for Tipp and Waterford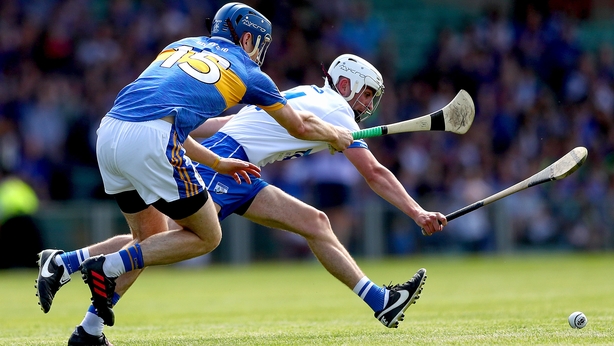 Tipperary and Wexford are out for the fourth weekend in a row and it will be interesting to see how that affects them.
Did Davy have one eye on Nowlan Park against Galway last weekend? I think they'll be hit the ground running against Kilkenny and that has the makings of a great game.
Tipp's fitness levels are clearly there from how they have finished the last two games. It's just the starts that have caught them.
They can blow hot and cold but you'd have to wonder if everything is right in the camp, the way that they've hurled. Maybe they're on the road too long and that great team is coming to end? We'll know after Sunday.
If they give Clare the lead they gave Cork and Waterford, I don't see them doing it again. They've already gone to the well once too many times and gotten away with it.
Having said that, if they do manage to qualify, you still wouldn't put it past them making it to an All-Ireland final.
Waterford showed that they are as good as anyone when they go 15 on 15. They went with youth, 12 or 13 of the players who won the U21 All-Ireland, and on their day they can be a match for anyone.
The injuries they have are unfortunate but they have to go again.
If they can leave the disappointment of the Tipp game behind them, and Derek McGrath throws off the shackles, they can put it up to Limerick.