Colm McGurk takes a rather different approach to managing Derry hurlers to some of the men he played under for club and county.
He recalls John Brennan's 'blood and thunder' as he guided Lavey to a county football title in 1988 after a long spell in the wilderness, as well as the man who took over from him, Brendan Convery.
"We were expecting something a bit more scientific from Nero, that was what we called Brendan, when he took over from John Brennan," explained McGurk.
"And for the first training session we were all gathered at the pitch and he turned up with a tractor and trailer. He told us to jump in and off we went."
Five minutes later he unloaded his cargo at the base of Scullion's Hill and proceeded to run the guts out of his players. After he was finished, he put them back into trailer, took them to the local pub and they enjoyed an almighty session.
"We got home and it was crazy and we all ended up on the beer on the Monday in Dungiven. They put us up on the back of a lorry and drove us about the town!"
Those few minutes on the back of a tractor were the start of a successful journey that ended in Lavey winning the 1991 All-Ireland title. And it was a trip with some colourful pitstops along the way, but we'll come to those later.
First, let's start at the start. McGurk was the 12th of 13 children born to Hugh A and Catherine in a south Derry house full of sport and politics.
The youngest of the 13 McGurks, Ciaran, is a keen historian and he's researched the family's fascinating past, unearthing a treasure trove of facts and stories.
Their grandfather Anthony was interned in Frongoch in Wales along with Michael Collins in the wake of the 1916 Rising. Anthony was a committed member of the Irish Republican Brotherhood and though he took no part in any military action, it wasn't for the want of trying.
The Rising went ahead despite an order for it to be cancelled. This didn't stop McGurk and he was on his way to Dublin to join in when he was lifted by the Royal Ulster Constabulary in Maghery, County Armagh.
McGurk ended up on the opposite side to Collins in the Civil War, but again he wasn't involved in the fighting as he was interned for nearly two years on the prison ship Argenta, which was moored in Belfast Lough and held Republicans British authorities feared could become involved in the conflict.
Colm's grandmother Catherine never hid her beliefs either and one Sunday when the local parish priest condemned the activities of the internees, she stormed the pulpit and gave him a piece of her mind.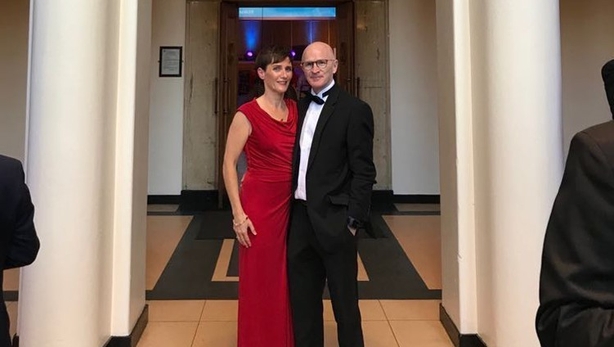 While Anthony was in Frongoch, two of his brothers who had emigrated to Canada and joined the Royal Mounted Police were fighting for the British crown in Europe in the conflict that would come to be known as World War I.
McGurk, now 51, grew up in a time of huge political unrest in the north of the island and he credits his parents with keeping their children from becoming involved in the conflict. "Our mother in particular was very proactive," he said.
The three eldest children Anthony, Aileen and Joe were in Belfast and becoming active in the civil rights movement of the late sixties that culminated in the 1972 tragedy of Bloody Sunday in Derry.
In '69 they were part of a civil rights march from Belfast to Derry, which their father pulled them out of when they passed through Lavey, thus saving them from being part of one of the earliest incidents in the Troubles.
Several hundred Loyalists, aided by off-duty B Specials - an armed, part-time police force - and watched by the Royal Ulster Constabulary, viciously attacked the marchers from the high ground surrounding Burntollet Bridge.
"The hunger strikes were on when I was in school and there was a lot of absenteeism around that time. We got a few days off whenever one of them passed away and we would have gone to the funerals locally - Thomas McElwee and Francis Hughes in Bellaghy and Kevin Lynch in Dungiven," said McGurk.
"Our mother always ensured that we went to school and that made a big difference. She abhorred violence of any kind. Thankfully the country is a lot better place now."
The story has come full circle, in a way, with McGurk's award-winning architecture practice, set up in Magherafelt in 1995, now designing the James Connolly Visitor Centre in West Belfast which is due to open next year, an interpretative centre dedicated to the Irish socialist revolutionary.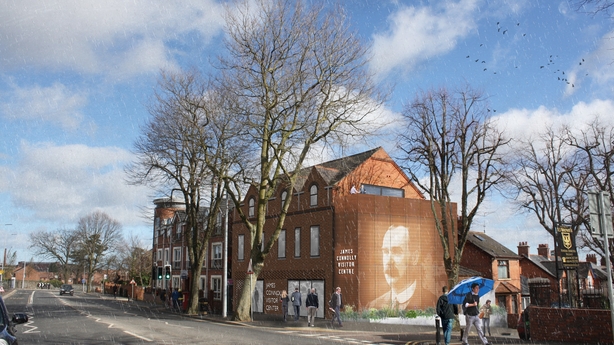 McGurk soldiered on playing with Lavey past his 40th birthday when a back injury left him in a cast from waist to armpits for three months, forcing him to hang up his boots. He finished up with some stories to tell though.
In 1991 Lavey beat Salthill-Knocknacarra in the All-Ireland club final with his brothers Ciaran, Johnny, and Hugh Martin beside him on the field and Paddy, Seamus and Anthony on the bench, the last getting a run before the end.
Anthony, at 42 years old, was the eldest, and he won All Stars in defence in 1973 and in attack in '75. Ciaran was youngest at 24.
"We had matured by '91 as a team and we wanted to give a good account of ourselves on the biggest stage," said McGurk.
"It was an ambush! I was supposed to be helping out and I was pressed ganged into the job!"
"We rode our luck and had a right battle with Naomh Columba from Glencolmcille in Ballybofey in the Ulster quarter-final.
"Against Sarsfields from Armagh in the semi-final we got a late, late winner and one of their lads buried Seamus Downey so I buried him. There was a bit of a free-for-all, but the Ulster Council didn't deal with it until after the Ulster final. Four of us ended up getting two months and we used call ourselves the Sarsfields Four!
"Because the Ulster Council didn't deal with it quickly we were able to play in the Ulster final against Kingcourt and the All-Ireland quarter-final against Tir Chonaill Gaels in London - they were like an All Star team. They had James McCartan (Down), Mattie McGleenon (Tyrone) and John Cunningham (Donegal).
"They were three points up late on when there was a bit of a ding-dong. We were finding ways to win games we shouldn't have won. James McCartan was soloing up the touchline and I still maintain he was showboating so I put him over the line and next thing you know there's a row.
"We couldn't believe it when the referee threw the ball up, we won it, went 60 yards up the field and Anthony ended up putting it into the net. We beat them in extra-time!"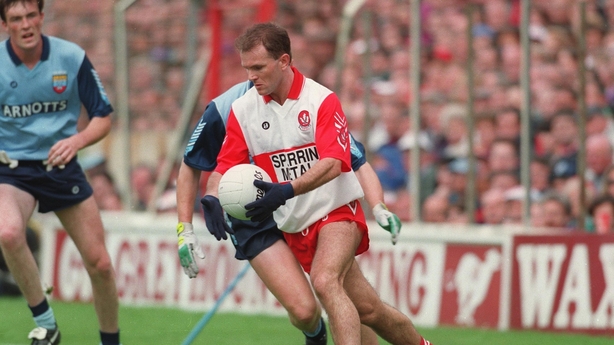 The semi-final win over Thomas Davis from Dublin and the defeat of Galway's Salthill-Knocknacarra in the final were less controversial, but no less enjoyable for Lavey.
Two years later Derry climbed to the top of the hill for the first, and so far, only time. McGurk played a few games in the League in '93, but broke a couple of ribs and once he got himself back fit never got a look in again.
He was on the bench as his brother Johnny kicked his famous point against Dublin in the All-Ireland semi-final.
"That was nearly as good as winning the final for us," remembered McGurk. "We got home and it was crazy; we all ended up on the beer on the Monday in Dungiven. They put us up on the back of a lorry and drove us about the town!"
"When Coleman and Mickey (manager and trainer Eamonn Coleman and trainer Mickey Moran) found out they fairly tore strips off us on the Tuesday night…
"The homecoming to Maghera after we beat Cork in the final was just special. It was long after midnight before we arrived home because we'd stopped along the way, the town was still choked with people.
"We stopped off in Drogheda and Dundalk and when we got to the Moy Plunkett, Donaghy came on to the bus with beer for us all. We'd had some battles with him for Tyrone and it was a wild decent thing for him to do. I'll never for get that.
"We were put into an open-top double-decker bus in Maghera and I worried it might topple over going into the Glen carpark there were so many people around it - it was hairy. It was wild. I'll tell you - I was glad to get work after a while because I had my final professional exams that November and I'd my dissertation to do."
McGurk's greatest days on the pitch were as a footballer, but he was always a hurling man at heart, the seeds planted at the Christy Ring Summer School in 1981 in Cork. He won an All-Ireland B title with Derry in 1996. He was part of the Oak Leaf County team that pushed Offaly, All-Ireland champions just two years previously, all the way in the 2000 All-Ireland quarter-final.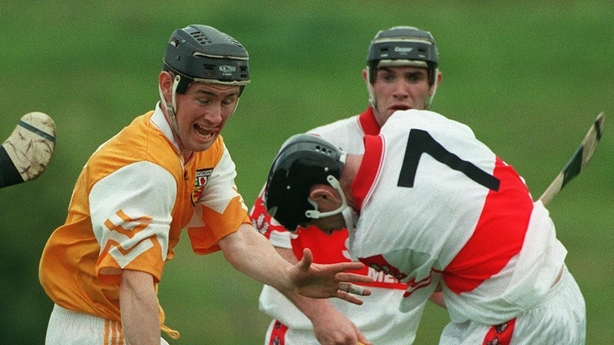 His firm had been sponsoring the Derry Senior Hurling Championship for a decade or so when he agreed to help county chairman Brian Smith find a new manager in late 2016.
"It was an ambush!" he roars laughing. "I was supposed to be helping out and I was pressed ganged into the job!"
Derry won the Nicky Rackard Cup at the first time of asking last season, though the year was tinged with sadness when his father-in-law Frank Kearney, who was also the man who managed Derry when his brother Anthony won his All Stars, died.
This Sunday McGurk's men take on Kildare in the Christy Ring Cup semi-final having beaten Down the last day with 14 men by seven points to overturn a negative points difference of 13 and squeeze into the knock-out stages.
McGurk warns that hurling in Ulster remains in a very precarious state, with Derry relying on Slaughtneil's dual players and Cian and Naoise Waldron, who were part of Cuala's recent back-to-back All-Ireland club wins and are eligible for the county thanks to their Loup-born mother. But he remains ambitious.
"We were ranked at 29th when we took over," he says, the 'we' referring to his right hand men Mickey Glover and brother Joe. "Our ambition was to turn us into a top tier team. The introduction of the Joe McDonagh Cup hasn't altered our ambition."