Galway eased through to a fourth successive Leinster SHC final after Joe Canning guided the defending provincial and All-Ireland champions to a commanding victory over Wexford in front of a 14,500 attendance at sunny Innovate Wexford Park on Saturday.
Canning, in his 50th championship outing for the Tribesmen, contributed 0-12, including a couple of sideline-cuts, to leave Wexford facing a straight fight away to Kilkenny next weekend to determine the other provincial finalist.
But Wexford can afford the luxury of a draw as they hold a 14-point advantage over the Cats in the score-difference.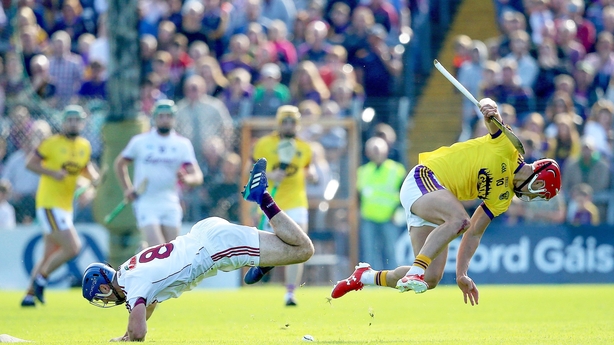 Galway carried their imperious form from last weekend's victory over Kilkenny into the Wexford showdown and raced clear by 1-1 to 0-0 inside 90 seconds.
Conor Cooney drew first blood before Conor Whelan lashed a rebound to the net after wing-back Pádraic Mannion had broke through to force a save from 'keeper Mark Fanning.
While the gap extended to five points, the home side, despite losing out physically, fought back earnestly and shared the next 12 points to be adrift by 1-8 to 0-6 after 24 minutes, with Rory O'Connor hitting three scores for Wexford while Canning (4) was to the fore for the defending champions.
Conor Cooney and captain David Burke extended the gap to 1-10 to 0-6 after 28 minutes. But while Canning pointed a line-ball, Wexford maintained hope at half-time as they broke within 1-12 to 0-9 after late incisions from O'Connor (2) and Paul Morris.
Wexford boss Davy Fitzgerald displayed obvious irritation with the refereeing of Johnny Murphy as he had an animated conversation with the Limerick official on the half-time whistle.
Galway showed no signs of letting up though as Canning went inches wide with a gilt-edged goaling opportunity shortly after the restart.
But sharpshooter remained prominent with six more scores – including another sideline cut – as the All-Ireland champions established firm control by 1-19 to 0-12 after 58 minutes.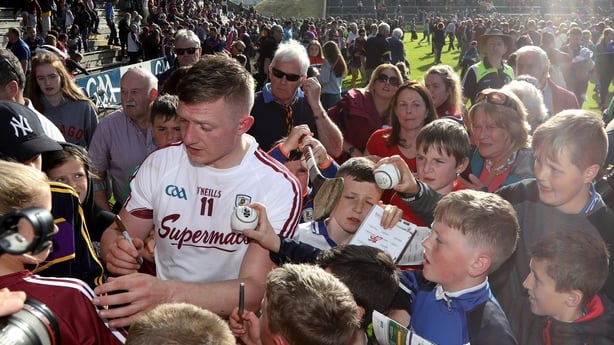 Wexford were game, but they could never establish the cutting edge to find a route back into contention as Galway prevailed with some comfort despite losing defender Adrian Tuohey to a red card in the closing stages for lashing out at Harry Kehoe.
Galway: James Skehill; Aidan Harte, Daithi Burke, John Hanbury; Pádraic Mannion, Gearóid McInerney, Adrian Tuohy; Johnny Coen, David Burke (0-2); Joseph Cooney (0-1), Joe Canning (0-12, 8 frees, 2 line-balls), Cathal Mannion; Conor Whelan (1-2), Jonathan Glynn, Conor Cooney (0-4).
Subs: Paul Killeen for McInerney (temp., 45); Jason Flynn (0-1 free) for Glynn (54); Niall Burke (0-1) for J Cooney (58); Brian Concannon for C Mannion (66); Seán Linnane for Hanbury (68); Davy Glennon for Canning (69 inj).
Wexford: Mark Fanning; Simon Donohoe, Liam Ryan, Damien Reck; Diarmuid O'Keeffe, Matthew O'Hanlon, Pádraig Foley (0-1); Kevin Foley, Shaun Murphy; Jack O'Connor, Rory O'Connor (0-12, 10 frees), Lee Chin; Aidan Nolan (0-2), Conor McDonald, Paul Morris (0-2).
Subs: Conor Firman for Donohoe (half-time); Liam Óg McGovern for J O'Connor (48); Harry Kehoe for K Foley (51).
Referee: Johnny Murphy (Limerick)