I was lucky to have won three All-Ireland titles with Tyrone – days I will remember for the rest of my life. The sense of satisfaction and enjoyment that I and my team-mates got from bring Sam Maguire back to Tyrone made all the hard work so worthwhile. Moments to treasure.
Indeed, it is with some regret that I now look back and feel that as a team that we didn't enjoy our Ulster success that bit more or some of the other key championship games that we played. Every match that you win should bring with it some level of joy. 
Inter-county Gaelic football is a serious business now. There seem to be little room for enjoyment, amid all the technical advances and what is expected of players and management in terms of their time.
Thankfully in 2018 we have the Carlow footballers.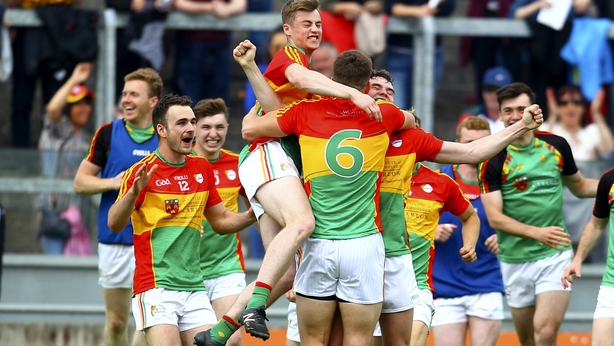 After they got promotion to Division 3, the team had a few bottles of beer as they made their way home on the team bus. Obviously, I'm not encouraging players to go on the rip, but when Tyrone were chasing All-Irelands we would allow ourselves some 'down time' but we knew when enough was enough.
It's almost frowned upon now for players to have a sensible amount of down time
Carlow, under Turlough O'Brien, have been on the rise for well over a year now and it would appear that the players respect management enough to ensure that it is just a few bottles of beer.
O'Brien's side have been the feel-good story of the season so far and, unless somebody comes out of the clouds and reaches an All-Ireland semi-final, that adulation should stay with them.
Take Dublin out of Leinster and you'd have a fascinating championship. Carlow would be among the favourites to win it this year after their deserved victory over Kildare.
The side are achieving something special and they clearly want to enjoy it. This 'rising' is something that the county has never experienced before. It may not happen again.
Credit must go to Turlough O'Brien and Steven Poacher for instilling a belief that has seen Carlow build up much momentum on the back of their five-match championship run in 2017, promotion this spring and a Leinster semi-final to come.  
Their opponents Kildare had no momentum coming into last Sunday's encounter. Okay, they lost some matches narrowly in their relegation from Division 1, but that winning feeling was gone. Carlow had a head of steam built up and so it didn't matter how many divisions were between the sides.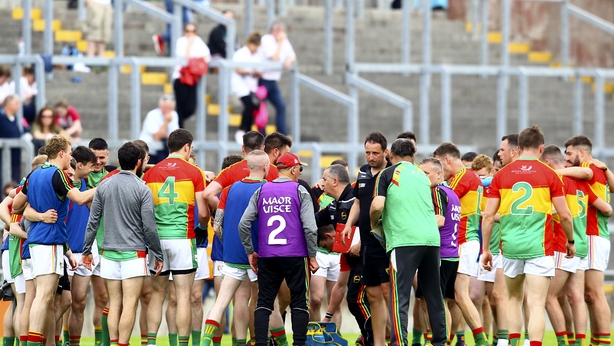 Again, I go back to the enjoyment factor, and O'Brien's side clearly are enjoying their football and I think this is helping them get results.
Carlow's latest scalp saw them hit 2-14 from 16 attempts. Do the maths and it will tell you that they registered no wides. That level of accuracy may be a one-off, but if you look at the way the game is gone, teams aren't encouraged to take those low percentage shots.
It shows us that Carlow are well coached and well drilled.
Last weekend also revealed that the side didn't panic coming down the stretch.
When you are the underdog, more often than not a certain fear can creep in late on, you realise that you are on the cusp of something special and such fear can take hold in a negative way.
Carlow never panicked at O'Connor Park and it was they who finished the game strongly, scoring a second goal to put the seal on things.
And then the scenes at the end of the game. Joy unconfined. We need more Carlows.
Monaghan's credentials will again be tested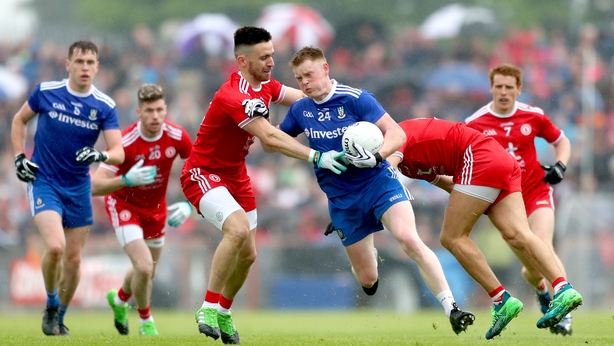 In one of my earlier columns I predicted that Monaghan could end up in All-Ireland semi-final this year.
The nature of their win over Tyrone backed up the view that they could have a long summer.
Even since the draw was made last autumn, Malachy O'Rourke would have targeted the game. The mission was accomplished; the box was ticked, onwards to the next assignment after eliminating the holders.
Fermanagh are next in line. It can be difficult to maintain that mental sharpness when the favourites tag is on your shoulders, though coming hot on the heels of the Tyrone victory, should ensure that minds will be focused.
Fermanagh will be extremely well organised by Rory Gallagher and Ryan McMenamin. They will keep the game close for a long while, though their aggression in the tackle will be penalised with the likes of Conor McManus and Rory Beggan around to peg ball over from all angles.  
Fermanagh won't want to concede too many fees. Ultimately, Monaghan's firepower will be the difference and another step taken on where they want to be this summer.  
Follow Fermanagh v Monaghan (2pm) on Sunday via our live blogs on RTÉ.ie and the News Now app, with live coverage on The Sunday Game and exclusive radio commentary on RTÉ Radio 1.