In recent years, a new cliche has taken the hurling world by storm.
Since about 2015, hurling fans and pundits have been observing Galway and remarking in wonder that "what's different about Galway this year is that they're not so heavily reliant on Joe Canning up front".
To the literal minded, non-hurling obsessives among you, the above sentence probably stands as somewhat curious.
You might reasonably think that, by definition, a phrase consisting of the words "what's different about Galway this year is that they're not so heavily reliant on Joe Canning" probably shouldn't survive for so many years.
But survive it did - and how.
It was clearly something that pundits and fans kept on seeing anew.
All last year, during their glorious run to the All-Ireland, practically every analysis of Galway hurling began with the observation that Joe 'finally' had a supporting cast worth its salt up front. He no longer had to bear the scoring burden on his own. He was free at last.
As a billboard worthy hurler and one of the few players recognisable to casual fans and those who normally only take an interest in Gaelic football, Canning has been the inspiration behind ubiquitous cliches before now.
"Contrary to popular belief, Galway's forward division hasn't been solely reliant on Joe Canning for scores for quite a few years now"
The earlier one - 'why don't they just leave him on the edge of the square?' - remains the original and best Joe Canning-related stock phrase.
Between 2009 and 2015, it was the "the trouble with Arsenal is that they always try and walk it in" of the hurling world.
This writer tended to advise those non-hurling aficionados nervous about being rumbled on match-days to shout that at the big screen at reasonable intervals and it usually served them well.
Contrary to popular belief, Galway's forward division hasn't been solely reliant on Joe Canning for scores for quite a few years now.
Galway, for instance, reached an All-Ireland final in 2015 and Canning didn't get an All-Star.
It was in that year that Johnny Glynn disclosed that the claim (namely, that the Galway forward line consisted of Joe Canning and five struggling A N Others) was "bulls**t" live on national television but still the message never quite sunk in.
There was a time when Galway were excessively reliant on Canning, the most vivid example being his 'real' championship debut against Cork in Thurles in 2008, a match which evidently left a deep impression on fans everywhere.
It was Galway hurling's final year of trying to make a go of life outside any provincial structure, their last season of being asked to begin their campaign as if they'd already lost a match.
A 19-year old Canning hit 2-12 - a fair portion of it from play - and convinced the great Diarmuid O'Sullivan that he was nearing the end of the road.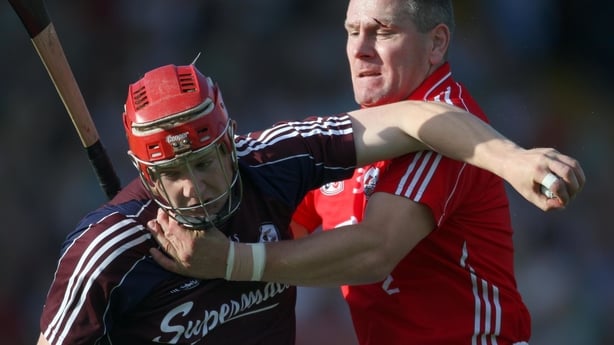 But the rest of the Galway team managed a combined tally of 0-03 and they ended up beaten by a Cork team at odds with their manager and thought to be on their last legs.
Ger Loughnane, soon to be sacked by the Galway county board, admitted to reporters afterwards that his team would have taken an almighty pasting had Canning not been in such scintillating form and kept them competitive.
Much later, in an interview with Vincent Hogan for the Irish Independent, Canning himself said that scoring 2-12 might have been the worst thing he ever done as "it set standards different to everyone else".
By 2012, the year when Galway battered Kilkenny in the Leinster final and became proper All-Ireland level contenders again, Canning was still carrying the bulk of the scoring load.
But that wouldn't be uncommon among free-takers and the likes of Damien Hayes, David Burke, Niall Burke and Cyril Donnellan were all good for chipping in with scores from play.
And by 2015, Canning's ropiest season form-wise, it was the likes of Cathal Mannion and Johnny Glynn and even a very youthful Conor Whelan who were shining brightest in the forward line.
When the history of Joe Canning's career is written, this might be recorded as the difficult middle period. Iconoclasts were finding their voice at that stage. Ger Loughnane described Canning as the 'Billy Beane of hurling' (which was fairly harsh but full marks for the Moneyball reference).
One would have to be wary of delving too deep into armchair psychoanalysis - Joe has brutally cut down people who've written about him before - but there was a suspicion that the moniker of best hurler never to win an All-Ireland had begun to hang a little heavily around the neck.
Certainly, both Galway supporters and rival supporters treated him as a man apart.
Every time Canning was blocked or dispossessed in a game, the guttural roars emanating from opposition supporters always tended to be that bit louder and more frenzied than when a normal player was stripped of the ball.
Every time Canning tossed in a missed free, the jeers from the opposition terrace resounded much louder than for the mishaps of other free-takers.
He appeared, to outsiders at least, to be labouring under a pressure unknown to most players.
But that was then and this is now.
We're living in a new dawn when Galway are All-Ireland champions.
The worst of that nagging pressure has lifted.
As Martin Amis said when asked to imagine what winning the Booker Prize might mean, the pressure is gone, replaced by a feeling of serenity that "they can't get you now".
("They" being the critics, presumably. Poor Mart never did win the Booker but as an aspirant centrist Dad, I'm adamant that he should have).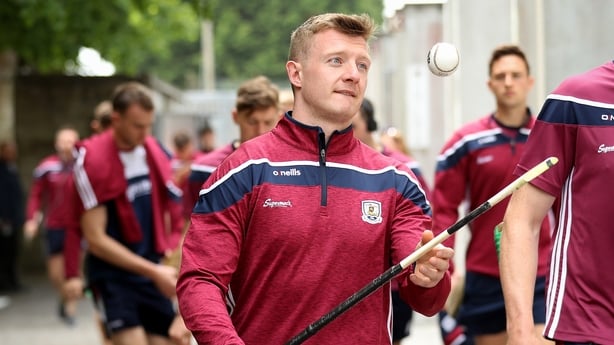 On Sunday, Canning delivered one of his finest championship displays for Galway this decade. He hit four majestic points from play and executed an abundance of flicks and tricks - not of the performing seal variety but ones intended to put his team-mates into space.
In the context of a congested and suffocating match, it was a showtime performance.
It suggested that, with that dreaded tag of best hurler never to win an All-Ireland flung from his neck, Canning could be poised to play some of his best hurling in his early thirties.
With Galway's forward line now nationally recognised as a thrilling ensemble, the great cliche of 2015-17 - "they're not just relying on Joe this year" - has been retired. He doesn't have to contend with such talk anymore. (Sadly, the phrase "there's no show like a Joe show" doesn't look like it's going anywhere unfortunately).
There is a chance to play with real freedom in the years he has left.
As it goes for Canning, so it could go for Galway too.
When Clare won in 2013, they turned up a fattened pale imitation in subsequent years. It's early days yet but Galway, by contrast, seem liberated and intent on winning more.
They've won minor All-Ireland titles by the bucket-load since the early 1990s and there is a hunch that this could be a hurling superpower ready to emerge.
A testing visit to Wexford Park - presumed to be another fortress ground - awaits next weekend but it's highly likely now that both counties will progress beyond Leinster anyway.
Canning turns 30 later this year and players are retiring younger and younger but with Galway busy cementing their status as the best team in the country, there's a glorious chance to add more All-Ireland medals before his time runs out.