As Dublin's Leinster championship stroll against Wicklow ticked towards half-time, Ciaran Kilkenny collected a cushioned pass after drifting diagonally out from full forward. Turning outside he sized up his options and immediately realised the tracking full-back was his only obstacle to goal he drove hard at and through the defender's soft outside shoulder into "major" territory and duly finished.
The movement, mindset and skills of the finished article. Brilliantly ruthless.
Recently I attended an inter-county U17 championship match and left with a number of questions for myself as a coach, based on specific aspects of how the game developed in front of me.
Both defences – particularly the last line – were reinforced by a second and third layer of tackling, which paid particular attention to the main threat in the opposition attack.
In four out of every five attacks at both ends the build-up was slow and if the ball was ever delivered to the attacker everyone wanted to see on the ball they were inevitably double and triple teamed. The players in question and their team-mates knew the drill… recycle, change the point of attack, probe for a gap and add pace and a change of angle.
Tough work for the players and similarly so for those of us watching.
"The fault is much more fundamental and reaches back further into the development of players"
Ten minutes in and a rare gift arrived in the way of a dispossession and efficiently fast counter-attack that bounced possession in front of the inside forward racing out from goal with only his direct marker in tow.
He collected the ball halfway through an arcing run and the full-back scrambled to stay close with an air of panic as team-mates who were too far away raced in vain to help.
I sat up in my seat for the first time as the gliding attacker seemed to know just what was on. With more dash than he has injected at any stage before he planted his foot and headed towards the retreating defenders...
Before recycling, changing the point of attack, probing for a gap and adding pace and a change of angle.
As disheartening as it was to witness, I realised it was not really the fault of this growing footballer. Nor can I say that it was really fault outright of the coaches running that team. The fault is much more fundamental and reaches back further into the development of players.
Anyone who pays attention to this type of detail in a game will recognise that what was missing in the attacker's game in that instant was decision-making.
He will have spent many hours honing all of the skills that he needed in that moment in a championship match wearing his county colours in front of the big crowd.
These are the scenarios kids dream of at these games peering in awe out across the wire from the confines of the stand. He will have executed what should have happened next hundreds of times in training and games for his club, school and county.
So why didn't he plant his foot and drive at the flailing full back like he normally does? Like Ciaran Kilkenny does? Decision-making. He didn't recognise the opportunity and he wasn't on his own.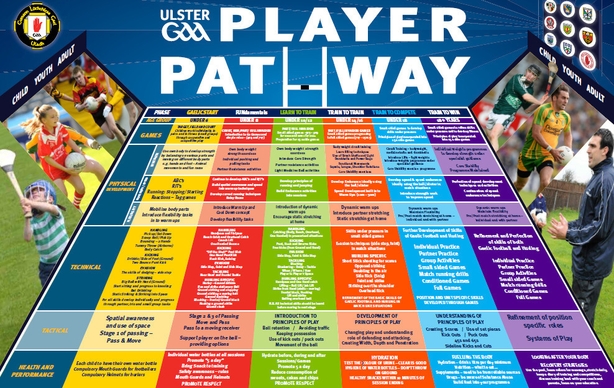 Coaching Gaelic football with kids in recent years has become a logical join the dots process followed closely by a version of "Colour by Numbers" that sets out a framework of learning which, adhered to diligently, will produce players highly competent in all of the skills needed to play the game well.
This is a necessary exercise to retain the attention of children and parents with so much sporting choice.
Like all governing bodies, the GAA has an Athlete Development Model for Football and Hurling that outlines in some detail the stages that coaches are charged with bringing every child through as they travel their playing path under our care.
The core of these models are basically the same and after a focus on fundamental movements and skill execution building blocks they move players through the recognised stages of "Train to train", "Learn to compete", "Train to compete" and "Train to win".
The elements of athletic and skill development are clear and detailed but the glaring deficiency in our model of development is what ultimately equips Ciaran Kilkenny or that 16 year old getting his first taste of championship football in a county jersey to express himself and reach for his potential.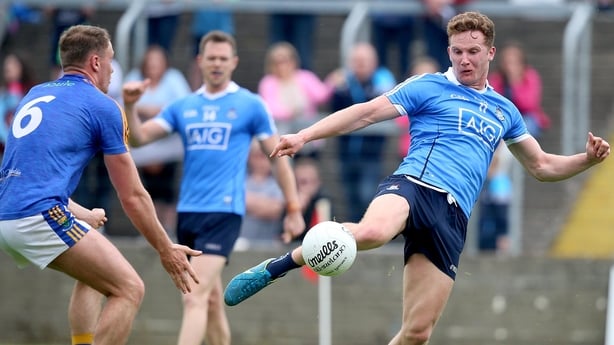 Position specific roles and systems of play are not mentioned in our model until the "Train to win" section, which apparently is applicable to players over the age of 18 – years too late to introduce strategic thinking for the complex and morphing game that young footballers are experiencing right now.
If you want a comparison that illustrates how little emphasis we put on the development of mental skills of the game and the various elements of decision-making, the long-term athlete development model for "Tackle football" (Gridiron) includes the following details in the skill delivery objectives for 12 – 16 year olds: Reading offensive and defensive formations to make adjustments, understanding offensive and defensive strategies, increase the variety of positional tactics, goal setting, visualisation, self-talk, etc.
Awareness of game-plan strengths and weaknesses, comprehension of why space is friend and foe, understanding of roles and broad tactical nous are the last 10% (at least) in players' performance armoury at the very highest level. 
Let's call this quality "game intelligence". It is often said that this is natural or cannot be taught, which is nonsense.
"We are living in interesting times and contrary to the hollow shrieks that the game is dying, it is actually in a steady state of flux"
It's not easily defined but coaches should know the environmental factors key to developing it. For example, young players who are exposed in practice to game scenarios with various solutions of varying worth will learn to analyse on the pitch and act on their instincts. And so players can adapt to the game and influence their team's performance tactically. They may not even know they have this capability but the coaches should.
Boiled down to the basic component, players must be encouraged to make informed decisions both for themselves and the team and when that is achieved you have created a better footballer and initiated the organic growth of that other quality some people say can't be learned – leadership.
There are many facets to planting the seeds of game intelligence in the skillset of developing players and at a very early stage, encouragement to think about why and anticipate outcomes should be woven into every aspect of coaching.
Perhaps the most powerful tool at any coach's disposal in building game intelligence is reflection and discussion with the player.
"Why did you?", "What else might you have done?" and "What might have happened if you had…" are three potent discussion starters that evoke emotion and imagery on the part of the player. Delivered well, these conversations can equal the worth of several training sessions.
This aspect of coaching has never been more important.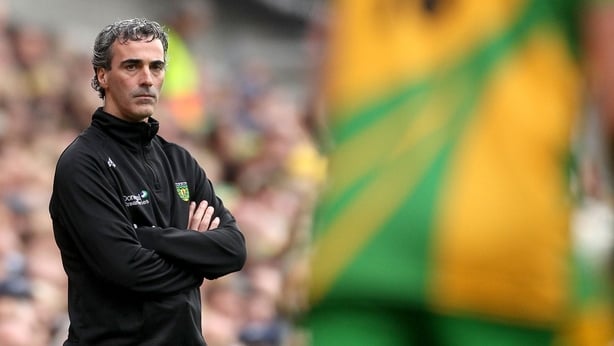 After decades of grudging progress, Gaelic football has finally leapt forward in tactical terms in the last decade. The playing rules of the game have always been ripe for harvesting with a counter-attacking approach, but until Jim McGuinness was single-minded enough to focus on performance before plaudits no one was prepared to go all in.
Jim's initial template has spawned mutations of all kinds and – most crucially – opened the door for more creative thinking with and without the ball. Of course those who can't appreciate the revolution of our game for what it is can only see frustration in what comes before the counter attack – if it comes.
Understanding the evolution of how you can attack and defend strategically as part of a team is now Priority 1 for any coach who is charged with going beyond basic skills and preparing a team to play football.
We are living in interesting times and contrary to the hollow shrieks that the game is dying, it is actually in a steady state of flux – one which will plateau like all dynamic field sports with a formula for success that is built first and foremost on the absolute execution of skills under pressure and secondly on game intelligence within the best game plans.
For the time being we are witnessing a wave of players coming into adult football who have been failed by our own coaching. They are not prepared for the tactical traps that are now laid at the very highest level and what is left is paralysis and indecision.
Responsibility now lies with coaches working from the crucial early teen years up to adapt their approach to develop players with the type of strategic thinking that the next incarnation of Gaelic football will require.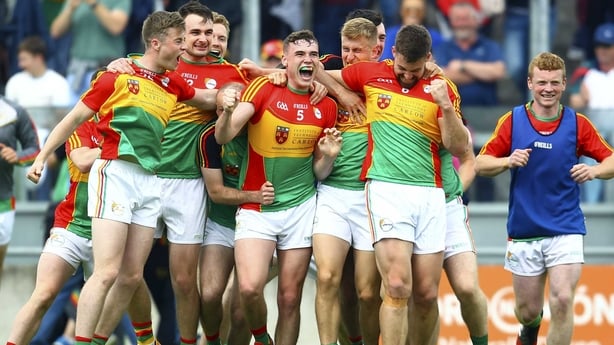 As always, there are coaches and teams that are ahead of the game. Carlow are an example of what can be achieved in a relatively short development cycle – or crash course – in how to build a gameplan around your strengths and how to coach players with little or no exposure to the required type of thinking to adapt and make decisions that benefit the collective.
They have a basic template of restarts, attacking patterns and of course defensive structure off which the players continue to learn how to improvise effectively.
These are the basic requirements to play football at anything approaching a competitive level today and the coaching achievement to equip players coming from a low experience base with the decision-making tools to perform as they are is phenomenal.
It is easy to say that Ciaran Kilkenny is a superb footballer and shouldn't be compared to an aspiring but ultimately under developed 16 year old – easy and true. However, the point illustrates the challenge facing counties and clubs everywhere to consider seriously the type of player they want to produce consistently.
Kilkenny has exceptional skills of course, but the hidden components of his value as a footballer were incubated as he honed those skills in diverse environments with his club, school, college and county.
Can it be a coincidence that Dublin produce so many players with a very high IQ in terms of game intelligence?
Can it also be a coincidence that Dublin produce an unusually high number of very young players that are already equipped with a high level of game intelligence before they even enter Jim Gavin's finishing school for footballers?
I would suggest that there are no coincidences on this scale in coaching.
Read Aidan O'Rourke's coaching column every Monday on RTÉ.ie/sport and the News Now app.