Kildare manager Cian O'Neill described his team's loss to Carlow in the Leinster SFC quarter-final in Tullamore as "catastrophic" and "humiliating". 
His side became the first Kildare team to lose to Carlow in 65 years after succumbing to Turlough O'Brien's outfit on a scoreline of 2-14 to 1-10.  
Kildare have now lost 12 games on the trot in all competitions since demolishing Meath in a provincial semi-final eleven months ago. 
Speaking to RTÉ Sport after the game, O'Neill described his team's performance as "shockingly poor" and said that everyone involved with the set-up - and first and foremost himself - would have to look at themselves.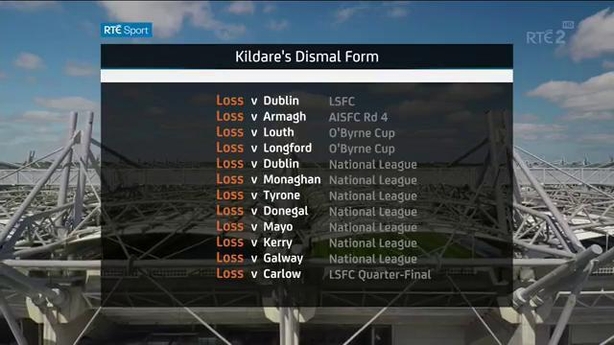 "It's hard to know what to think about that. It's hard to know what you're doing, what we're doing, what any of us are doing in a set-up when you come out with a performance like that," he said after the game.  
"It was just catastrophic - that's the word I would use. 
"We just never got going. What obviously happened was we had some great opportunities. We were 0% from placed balls, including a penalty, in the first half and we were only 30% from play. So our shooting and our execution was way off and that can seep into a team.
"It's a team that's lost seven in a row in the league and got relegated and we needed a good start to get that confidence up. 
"It wasn't there and it progressively got worse, let's be honest about it. We were never flowing. It was almost like we played with a pressure on us. 
"It was just a shockingly poor performance. And every one of us, starting with me, management, backroom, ultimately players, we're all going to have to have a look at ourselves."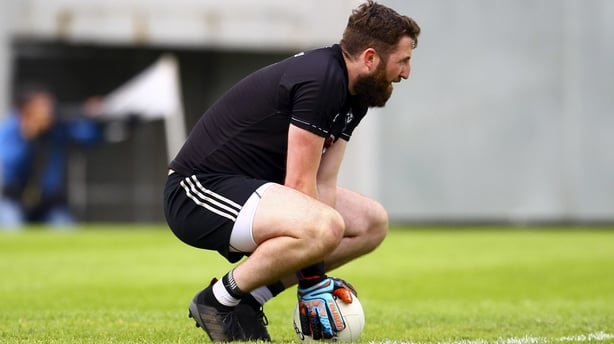 The word 'humiliation' was being bandied around the ground by Kildare supporters following the loss. O'Neill says he can't dispute the term. 
"We're all human. Nobody likes to hear these things. But ultimately that's what that performance was. I can't disagree with that term. That was humiliating. We have to look at ourselves. We have to look at ourselves very closely because that's not where Kildare football should be at. 
"There needs to be some serious introspection now, starting with me as a manager. Every one of us needs to say, 'what happened there and how can we fix this?'
"We've only thirteen days before we play a team we don't know in a venue where we don't where it's going to be. It's going to be a huge task to get this group back together again. And they need a few days to think about it themselves before we get back together and go at it again.   
"The lads are in shock. They're devastated. They don't need me to tell them or they don't need to read it in the papers tomorrow that that was just a shocking performance." 
Kildare were promoted to Division 1 in the spring of 2017 and reached the Leinster final for the first time in eight years after their destruction of Meath last June. 
The team were, at that time, tipped as one likely to break into the elite. O'Neill struggles to pinpoint what's gone wrong since then. 
"You go on a losing streak like this. It's difficult to keep rising and going back it. After the club month, we had a great period the last four weeks, training hard, working hard, there's a great mood in the camp. We'd a plan for today and we didn't put it into action. And that's the gutting thing. Those guys are way better than that.  
"Full congratulations to Turlough (O'Brien) and his men. I can only focus on us. It's not the level we can play at. And that's the hurting thing, you know."