Longford were roared to victory at Glennon Brothers Pearse Park as home advantage had a huge part to play in their Leinster SFC quarter-final triumph over Meath.
Denis Connerton's side were hungry and clinical.
Longford's inside line looked lively considering the defensive congestion. James McGivney was the game's most prolific scorer with four points and he led the line superbly.
The sides were level on seven occasions in the first half, the heavy summer's afternoon making the game flat with energy conservation the aim of the day.
Debutant Paddy Kennelly opened the scoring the scoring for Meath, Rian Brady replied.
Michael Quinn retreated to the edge of his own square to track Graham Reilly all afternoon. The attention they paid each other meant the game suffered as a whole.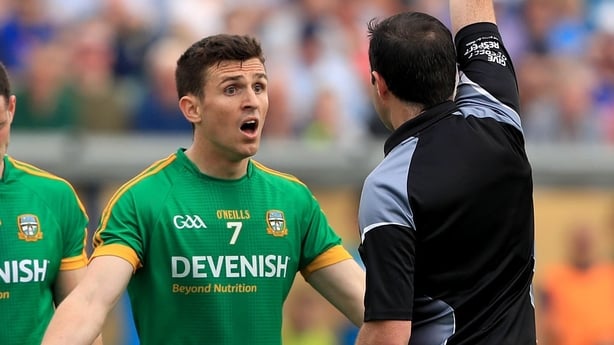 Reilly did manage a brace either side of a James McGivney goal chance - he blazed it over the bar.
Paddy Collum, yet another goalkeeper to get on the scoring act, stroked over a 45.
On the forty, Ben Brennan's movement and link-up play glued Meath attacks together. He got a point his industry deserved.
Donal Lenihan got the first free of the day on 19th minute and that would be Meath's last for 12 minutes as they spurned two goal chances from Donal Keogan and Cillian O'Sullivan that would prove costly down the stretch.
Darren Gallagher notched the first of his three points from distance after what felt like a leisurely stroll in the build-up and Brady then gave them a brief lead.
Kennelly and Gallagher added to their tallies and another midfielder Bryan Menton got in on the act, to round off an even half seven a piece.
Longford gained breathing space right from the start of the second half through Dessie Reynolds and Gallagher's third. Andy McEntee's charges never gained parity after that.
Graham Reilly got loose to respond again, but David McGivney replied with Longford's only free of the game.
Robbie Smyth, on the back a game defining turnover from Quinn on Reilly, put Longford four ahead. The turnover alone lifted the crowd, but in the midst of the counter attack Andy's McEntee's son Shane was given a red card after tangling with Rian Brady.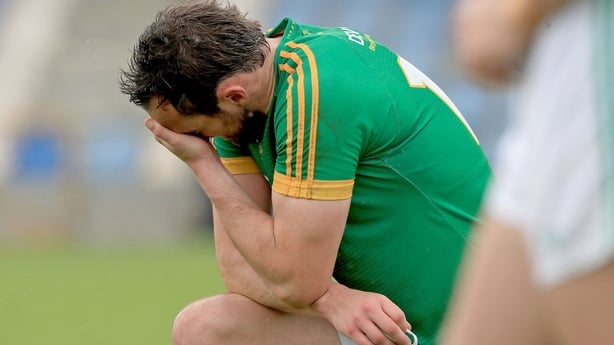 When Conor Berry's shot from distance bounced over the bar to make it five points between the sides soon after, the outcome was never in doubt.
Meath did rally with four in a row, Lenihan (free), corner-back Sean Curran and both Wallace brothers coming off the bench to score. However, it wasn't enough.
Sean McCormack sealed the win and Longford now face Dublin on 10 June in the Leinster SFC semi-final.
Longford: Paddy Collum (0-01 0-0145); Pádraig McCormack, Michael Quinn, Patrick Fox; Donal McElligott, Diarmuid Masterson, Daniel Mimnagh (0-01); Darren Gallagher (0-03), Conor Berry (0-01); Dessie Reynolds (0-01), Ronan McEntire, David McGivney (0-01, 0-01f); Robbie Smyth (0-01), James McGivney (0-04), Rían Brady. (0-02)
Subs: Sean McCormack (0-01) for R Smyth (66), Liam Connerton for R Brady (72), Peter Foy for D McGivney (72), Barry Gilleran for D Mimnagh (74).
Meath: Andrew Colgan; Seamus Lavin, Conor McGill, Sean Curran (0-01); James McEntee, Donal Keogan (0-01), Shane McEntee; Bryan Menton (0-01), Paddy Kennelly (0-02); Cillian O'Sullivan, Ben Brennan (0-01), Mickey Burke (0-01); Bryan McMahon, Graham Reilly(0-03), Donal Lenihan (0-02, 0-02f).
Subs: Daniel O'Neill for P Kennelly (46), Joey Wallace (0-01) for B Brennan (54), Eamon Wallace (0-01) for C O'Sullivan (58) Thomas O'Reilly, for B McMahon (68)
Referee: Sean Hurson (Tyrone)