Longford GAA experienced a significant turning point in 1964. History might record things differently and place a bigger emphasis on the county's first ever National League and Leinster titles that followed in 1966 and 1968 respectively, but this was the year that the foundations for those successes were laid. 
The senior footballers had just been dumped out of the first round of the Leinster championship by Westmeath, which, in an era that predated qualifiers and second chances, meant their campaign was over.
That result came just four years after Longford found themselves on the receiving end of a 10-13 to 3-8 drubbing in Mullingar, which was also in the first round of the Leinster championship.
The players were fed up of early exits from competitions and could sense that there was potential within the squad to compete for major titles. But they felt their efforts weren't being facilitated properly by the higher powers in the county board.
Séamus Flynn was a key player on that Longford team and he recalls how the team mobilised itself to demand better treatment, which resulted in the appointment of three-time All-Ireland winner Mick Higgins from Cavan as the new Longford boss.
Players were annoyed over the effort that was put in at county board level.
"The players got a bit upset," he tells RTÉ Sport.
"We had a bit of discussions or arguments with people at the top and that's what developed into bringing in Mick Higgins.
"There was dissatisfaction among the players because we were only called into training about a week before that first round of the Leinster championship. That certainly wasn't good preparation for a championship game.
"Players were annoyed over the effort that was put in at county board level. We all contributed to it about our dissatisfaction, we all had a comment to make but everyone was in agreement that we weren't getting a fair crack of the whip."
Along with the recruitment of Higgins, Longford also added Fr Phil McGee to the coaching team, a brother of the prominent sports journalist Eugene, who was in charge of the Offaly footballers that famously halted Kerry's drive for five All-Irelands in-a-row in 1982.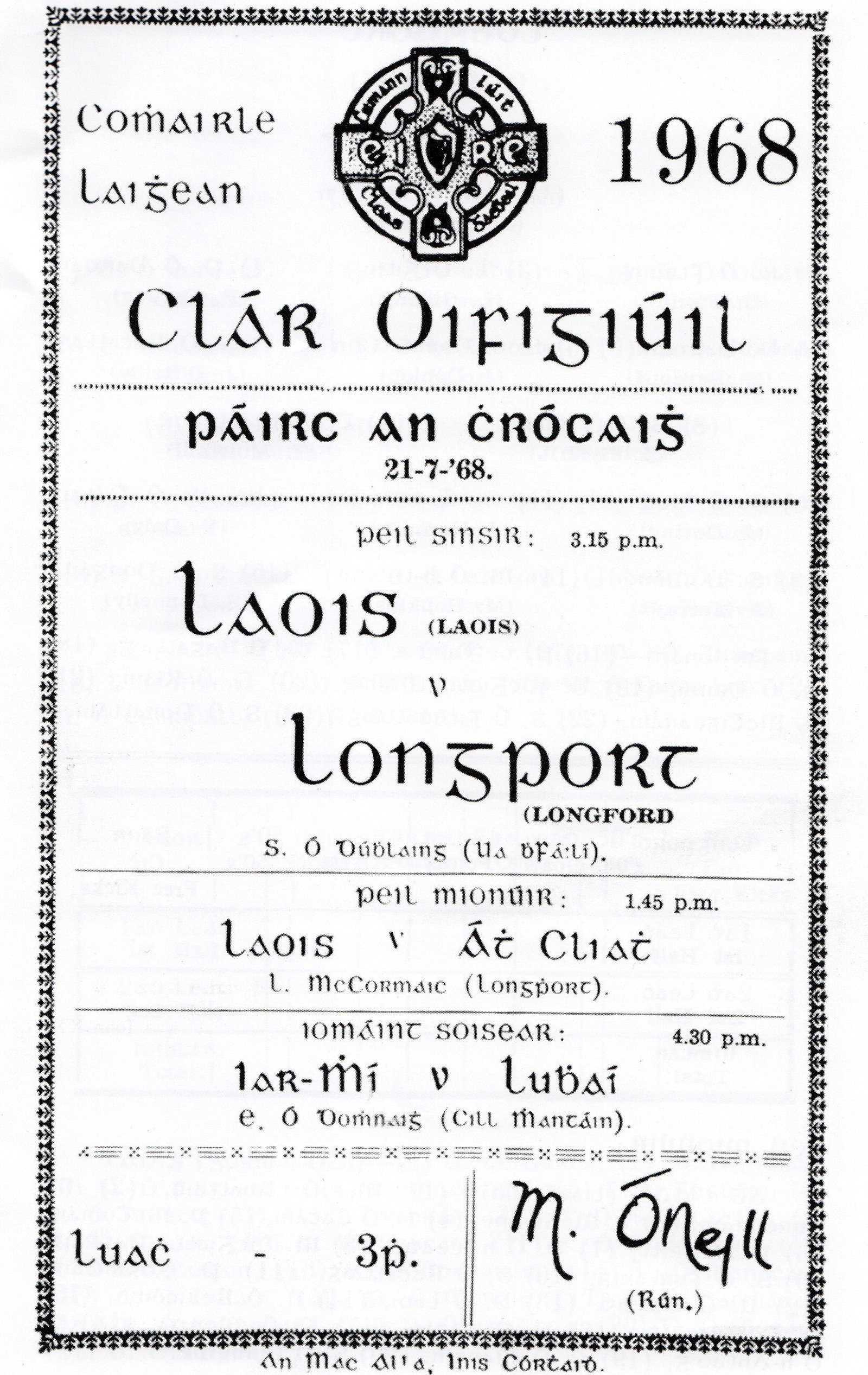 Flynn explains that the pair focused their energies on improving the organisation of the team, which in turn led to better preparation for matches. Higgins' experience along with his haul of All-Ireland medals also ensured that the players respected him and his methods.
He was still linked with the Cavan footballers during his spell with Longford, and when the teams clashed in a game in Carrick-On-Shannon, Higgins parked his loyalties to Longford to patrol the sideline for his native county.
According to Flynn, Higgins got a bit 'high' when some of the refereeing decisions didn't go his way, but any contentious incidents from that match were put aside at the next Longford training session.
"There was a bit of craic alright," he laughs.
"It was all taken in good spirits and Mick was well able for it, no matter what kind of a slagging he got. He always had an answer for it. He was a gentleman in many ways but he was hot-headed and fiery when it came to football."
They couldn't understand how the GAA was so strong in Ireland with all the comings and goings.
Longford's fortunes improved considerably the following year and they went on to contest their first ever senior Leinster final against Dublin. Flynn believes that Longford could possibly have gone on to enjoy even more success had they prevailed that day.
They were breaking new ground, and prior to the start of that campaign the team agreed to fully immerse themselves in training, although they had to break the rules in order to do it.
"Before the Leinster championship in 1965," Flynn remembers, "we all took a week off work and we trained, which was supposed to be illegal at that time but it was all under closed doors no-one knew about it. It was called collective training. It was supposed to be barred at the time but we didn't say anything about it.
"We got paid from our job for annual leave and that was the commitment that was made. It was a fairly stiff commitment. I think everybody was there for it.
"The fact that we were moving well and we were given every opportunity."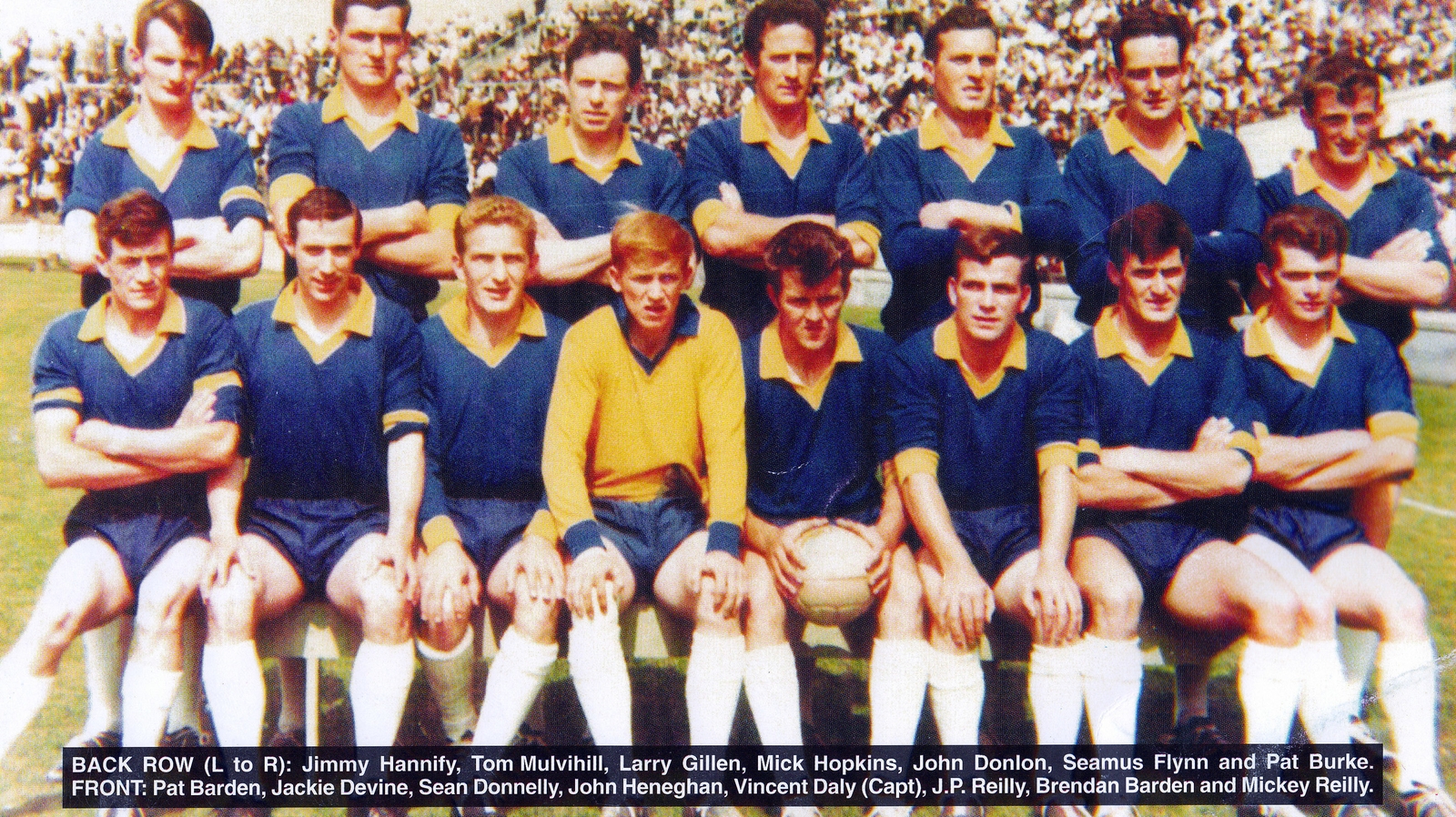 This was a time of mass-emigration in Ireland and it peaked in the late 1950's, with over 42,000 people leaving each year to make a living elsewhere. Longford native Jackie Devine was a talented footballer but he relocated to London in 1960 for work, and was no longer eligible to play for his home county.
He continued kicking ball while living in England and was in action against Cork when some members of the Longford County board approached him and asked him to declare for Longford again.
Devine agreed and began making a regular commute between Ireland and London .When Longford eventually won the Leinster crown in 1968, he travelled over and back more than 20 times during that year. The county board covered the travel expenses despite the financially strained times they were in.
He was unable to get the time off work for that famous week-long training camp in 1965, but his employers were always understanding about his need to return home for football.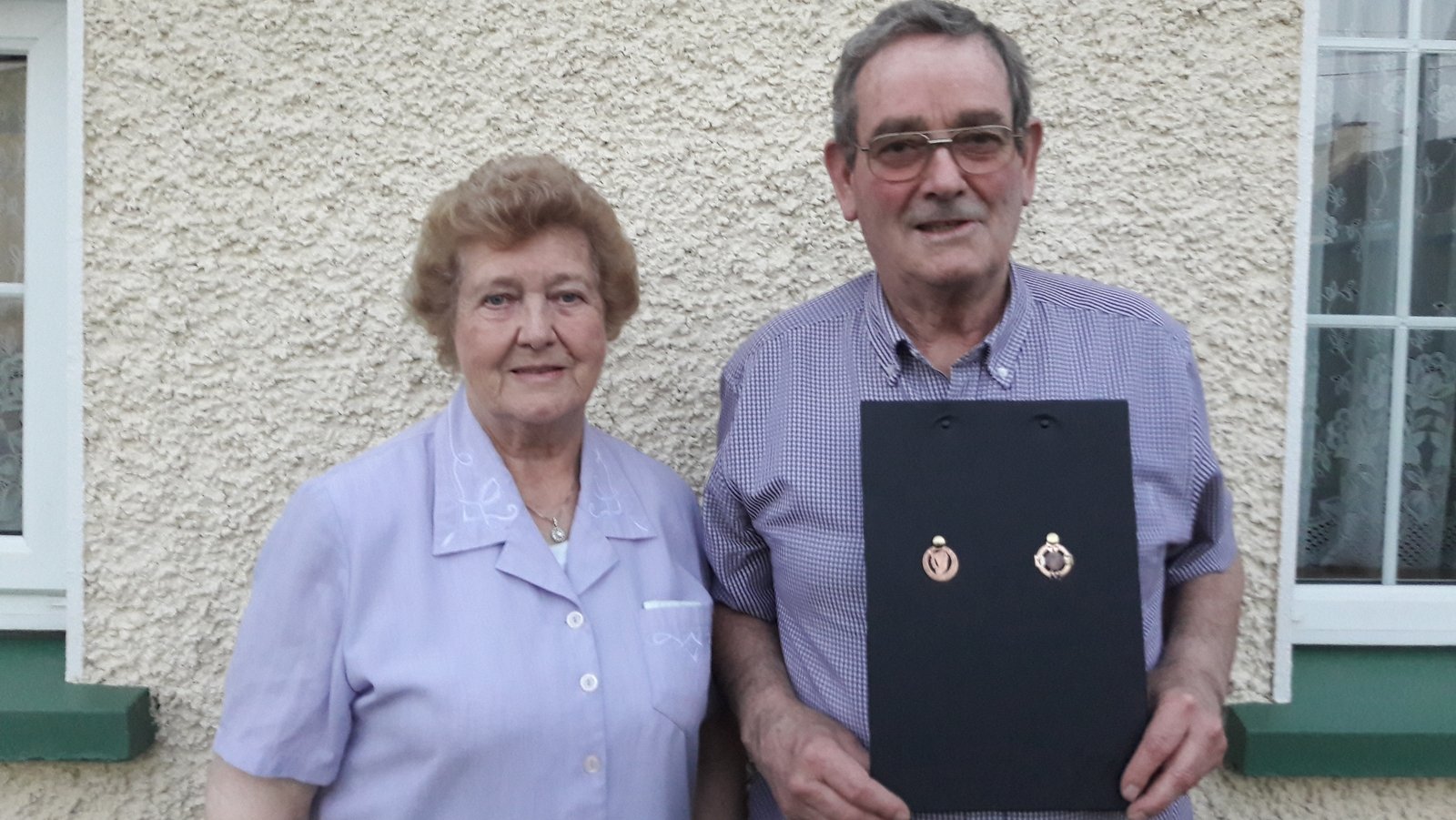 Seamus Flynn and his wife Mary pose with two of his medals
"They couldn't understand how the GAA was so strong in Ireland with all the comings and goings.
"I couldn't get the week off because I was taking so much time off to train and play matches. You could only get so much time off.
"I did train on my own in London. I was always training, running and different stuff. I always kept myself fairly fit."
Longford landed their first significant title in 1966 when they won the National League after defeating a Galway side who were seeking a third successive All-Ireland crown that year.
The structure of the league was slightly different in those times however, and Longford were later required to play New York over two legs in a separate final in order to secure the title. The second of those legs was played in Croke Park.
But it was the victory over Galway that was the more significant result given the pedigree of the opposition, and the team had the support of the entire county behind them.
"There was practically nobody left in the county," says Flynn, "Everybody was up for it. The reception we got was out of this world and we travelled in on the Glennon Brothers lorry. People were just overcome with joy and crying with glee. Longford town was jammed with people on our way down.
It was only a couple of weeks after that it really sunk in that it brought so much joy to the people.
"I don't know did it register with us for a while, what we had achieved which was something that never happened in the county before. It sunk in later because there were people coming and congratulating you no matter where you went. Everyone around you all wanted to talk about the game and it's only then that you realise what it meant to the people of Longford.
"It was only a couple of weeks after that it really sunk in that it brought so much joy to the people."
Flynn often travelled to Longford training along with fellow defender John Donlon of the Newtowncashel club, who first joined the senior panel in 1964. They also did their own training together on nights off from the collective sessions.
Donlon left school at a young age to take over the family farm, and on the evenings when he paired up with Flynn to do some running and other drills, there was plenty of space to cover in the fields surrounding them.
Drinking bans didn't exist in those times and players were trusted to socialise within their own limits. If they did converge on a local pub for a few pints after training, both Flynn and Donlon arranged to meet up for training the next night to rid themselves of the toxins.
John's younger brother Tim has always been proud of what John achieved in sport, and he saw the efforts that the men put in to become Leinster champions.
"I had been in Dublin for a while and I found myself back down in Longford in 1968 and I saw them several times going for training.
"Once they got on the county team, both John and Séamus knew after a few games that there was something there. They wanted to keep fit and keep their place. And within three years, they were Leinster champions.
"I was in Dublin around 1966 when they came good in the league and those were different days. You could wrangle your way into dressing rooms around that time and many's the time I did it.
"I got to know the players and the whole lot."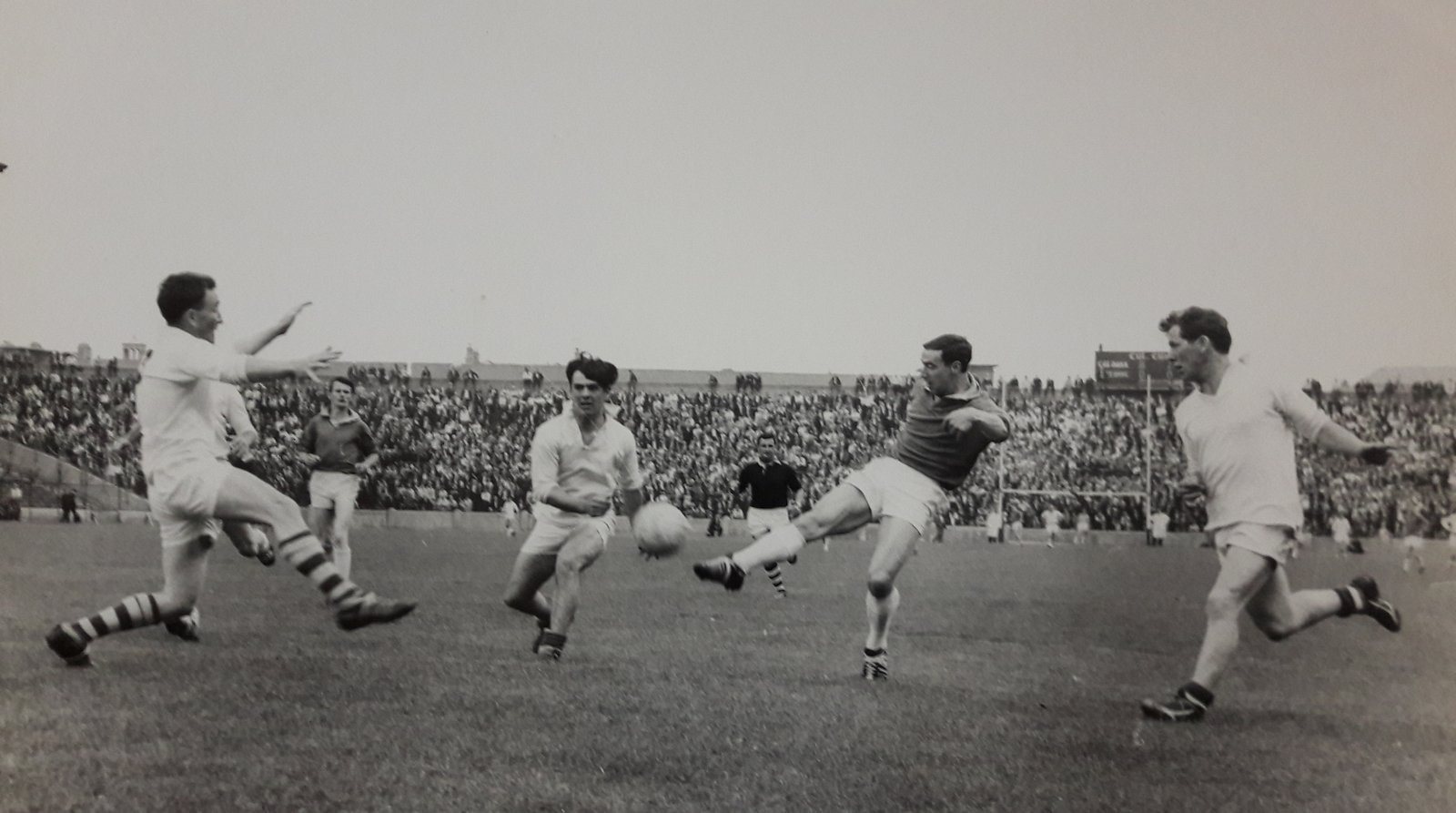 After clinching the National League title in 1966, Longford failed to maximise that momentum in the Leinster championship, crashing out to Louth in the first round. Many people felt however, that the game should have been postponed due to an apparently waterlogged pitch.
"There was no need to play it so soon after the league final" says Flynn. "There was panic on it because Louth didn't have to go out for another four or five weeks after that. You'd have to say that probably the same thing is going on still. 
"There's not much regard for the small counties and the way things are changing with Super 8s and all the rest, it's all geared towards the big counties and the strong counties."
Longford reached the Leinster semi-final the following year but they would have to wait until 1968 before winning what remains to be Longford's only ever senior Leinster crown.
Their journey to the summit of the provincial competition that year started out with a clash against Dublin in Tullamore.
Mick Higgins' charges came through that fixture with a three-point win thanks to a decisive goal from a Jackie Devine penalty.
"I was after being in New York the previous two weeks," Devine recalls, "because I had been selected to play for a team that was playing in Boston and New York. I only arrived back the Friday before that Dublin game.
There were lads in Croke Park who had never been to Dublin before in their lives.
"I did a lot of travelling in my time. My last game for Longford was in 1970 against Offaly in the Leinster semi-final, I travelled back from New York. I was working there at that time.
"That was a good Dublin team because they had Paddy Cullen in goals and he won a few All-Irelands. Jimmy Keaveney was a young lad and he was playing for Dublin that day."
The reigning Leinster and All-Ireland champions Meath awaited Longford in the semi-final, but they too crumbled under the weight of the relentless midlanders, who powered through to the decider against Laois.
It was a comprehensive 11-point win in the end for Longford, with the final scoreline reading 3-9 to 1-4.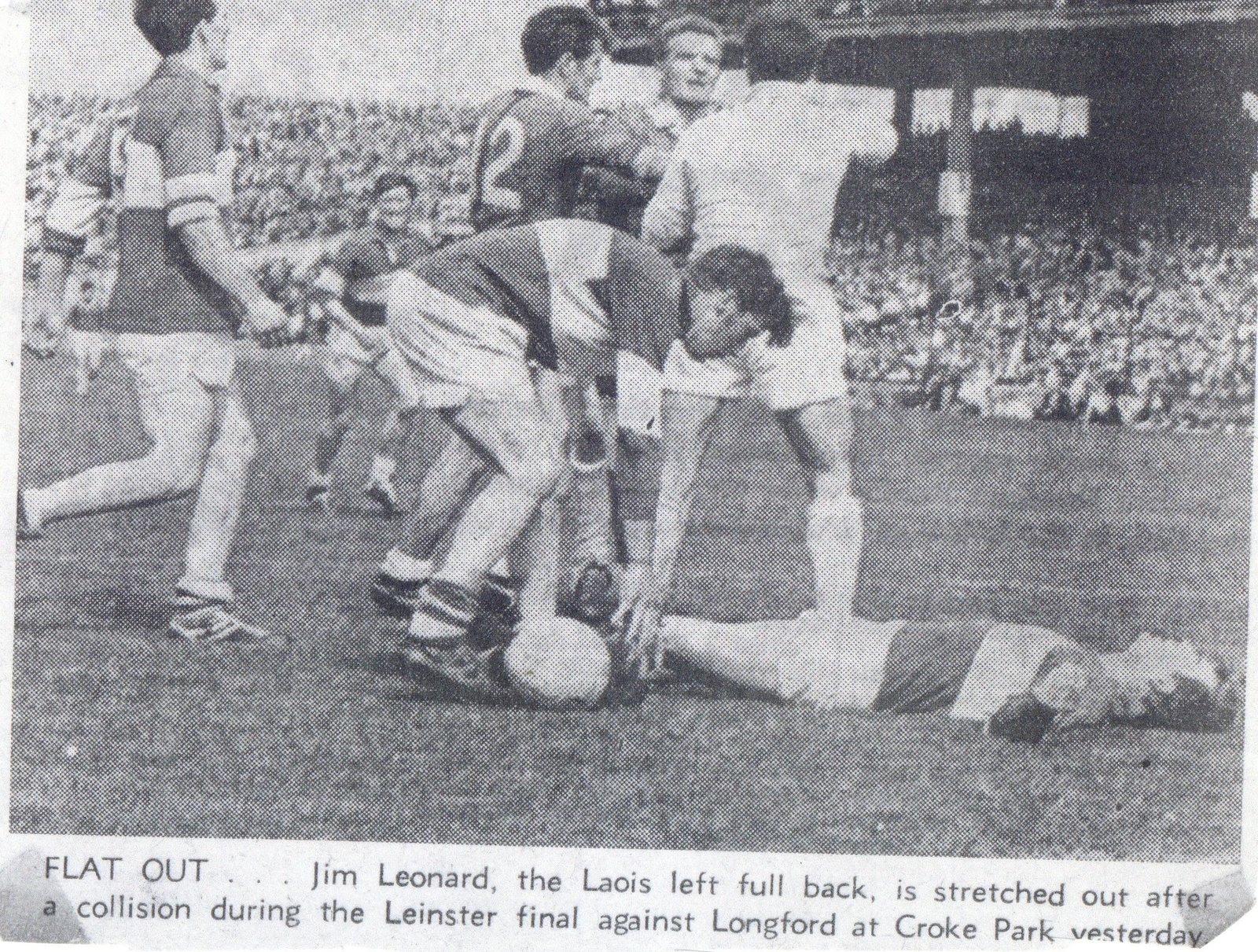 Devine was privileged to be part of a team that ended a long famine for Longford supporters.
"The support was brilliant," says Devine. "It was probably the best team they probably ever had in Longford and they got huge following. They were starved for success down through the years and never had a journey to Croke Park.
"There were lads in Croke Park who had never been to Dublin before in their lives."
The first person that threw their arms around me at the final whistle was my sister and she came out of nowhere. She jumped up on top of me to congratulate me and I was hit harder than I was during the game
Crowd invasions at the final whistle were a common sight during those years, although modern times dictate that they can no longer take place in the interest of fan safety.
Flynn however, enjoyed that element of the game and how it integrated spectators into the celebrations.
"The first person that threw their arms around me at the final whistle was my sister and she came out of nowhere. She jumped up on top of me to congratulate me and I was hit harder than I was during the game.
"There was a huge turnout, much the same as the league final. I think everyone felt fairly confident that we were going to do it. We were playing well.
"It's a huge occasion to play up there [in Croke Park]. You feel great, even at that time it was a terrific stadium."
Longford had little time to savour the win as they were facing into an All-Ireland semi-final two weeks later against a Kerry team who featured football legends such as Mick O'Connell and Mick O'Dwyer.
In addition to having little time to fully recover and prepare for that crunch tie, Longford suffered some crucial injuries in the Leinster final. Midifelder Jimmy Flynn was ruled out, and he was deemed to be a match for the all-conquering Mick O'Connell.
They also lost Séan Murray to an ankle injury, who was a big loss to the Longford attack. Coming from a county with a small population, Longford simply did not have a sufficient depth in the panel to deal with situations like this.
Their chances suffered a further setback when Murray's replacement Pat Burke dislocated his elbow with the first ball that was delivered into him against the Kingdom.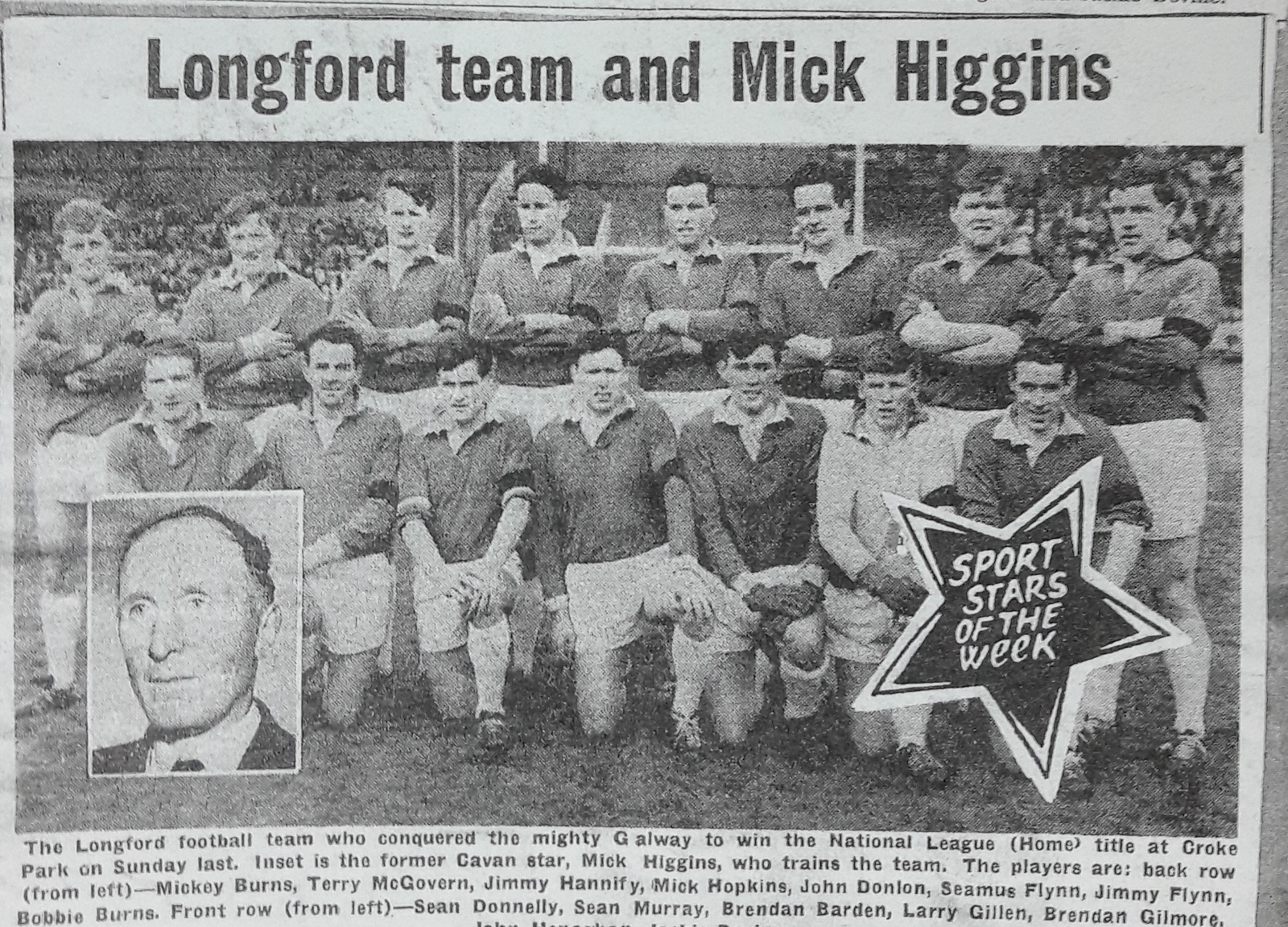 Longford didn't fear Kerry but the casualty count was too much for them to handle. John Donlon lined out that day but he was carrying a rib injury into the game.
"John couldn't even train following the Leinster final so it wasn't nerves or anything else," says his brother Tim, "it was that he didn't have the match practice coming up to the All-Ireland semi-final.
"He did start but he got a rib injury against Laois and he hadn't recovered. It wasn't fear of the opposition that caused them to lose the match against Kerry. We just didn't have a sufficient panel to bridge the gap after the injury crisis.
"Overall, Kerry had the experience and the bigger panel. They didn't win the All-Ireland that year but they won it the following year."
As expected, Longford struggled to match Kerry's challenge in the first half and trailed the Munster side 2-7 to 0-6 at the break.
"We were very down because we didn't do ourselves justice but we just had to go out and do our best and give it a good shot," says Devine.
Longford responded emphatically after the restart and cut the deficit to two points before they were awarded a penalty. Devine converted the spot kick to nudge Longford into a one-point lead but Longford's attempts to revive their challenge left them exhausted and Kerry finished out the game as two-point victors.
Flynn was delegated the unenviable task of tracking Mick O'Dwyer's movements that day, and the one point he did cough up to the Waterville legend haunted him for a while after.
"I was playing on Mick O'Dwyer, he got a point and I didn't sleep well for a month after it. He was a top-scorer in the country for a few years around that time.
"He was a good, strong physical player but he accepted if it was a hard-hitting game. He never complained and was a gentleman on the field really.
"He was a very accurate kicker of the ball and if he got an opportunity he'd score and he got the one that day and he put it over the bar."
That turned out to be Longford's last senior All-Ireland semi-final appearance, and they were dethroned as Leinster champions in their opening round in 1969, following a defeat to Wexford.
Bowing out to Kerry on such a narrow margin is no shameful memory for those players to carry, but they knew at the time that they could have won the game.
I have four daughters and they all got a medal apiece. My second eldest daughter really wanted the National League medal.
50 years have passed since Longford were kings for a brief time, and the players from that squad continue to meet up when they can, although some players have passed away in the intervening years.
They often meet fans who also lived through those glory years and have their own memories of those famous victories.
"The only thing I feel embarrassed about," says Flynn, "is everybody seems to think that I know them. They know me so well from playing football and you have to sort of pass it off as best you can and pretend that you know them because maybe they feel that you should know them.
"But it still goes on. If you go in for a pint, it's always talked about. It's still a topic." 
The local newspaper the Longford Leader ran a poll earlier this year to determine Longford's greatest ever sporting moment, and that triumphant team from 1968 was the winner after claiming just under 25% of the votes.
Devine would love to see another Longford side come along to reach those heights and displace the achievements of his own crew. But his legacy as a Longford footballer will live on through his daughters, who have been entrusted with the medals he won during that time.
"What I did was when my daughters got married I gave them all a medal each. I gave one the National League medal and the second one that got married, I gave her the Leinster medal and one got the O'Byrne Cup medal.
"I have four daughters and they all got a medal apiece. My second eldest daughter really wanted the National League medal.
"They put them on chains and they wear them occasionally out. It's a bit of a memento for when I'm gone and passed away. Just the week before the wedding, I gave them the medals privately."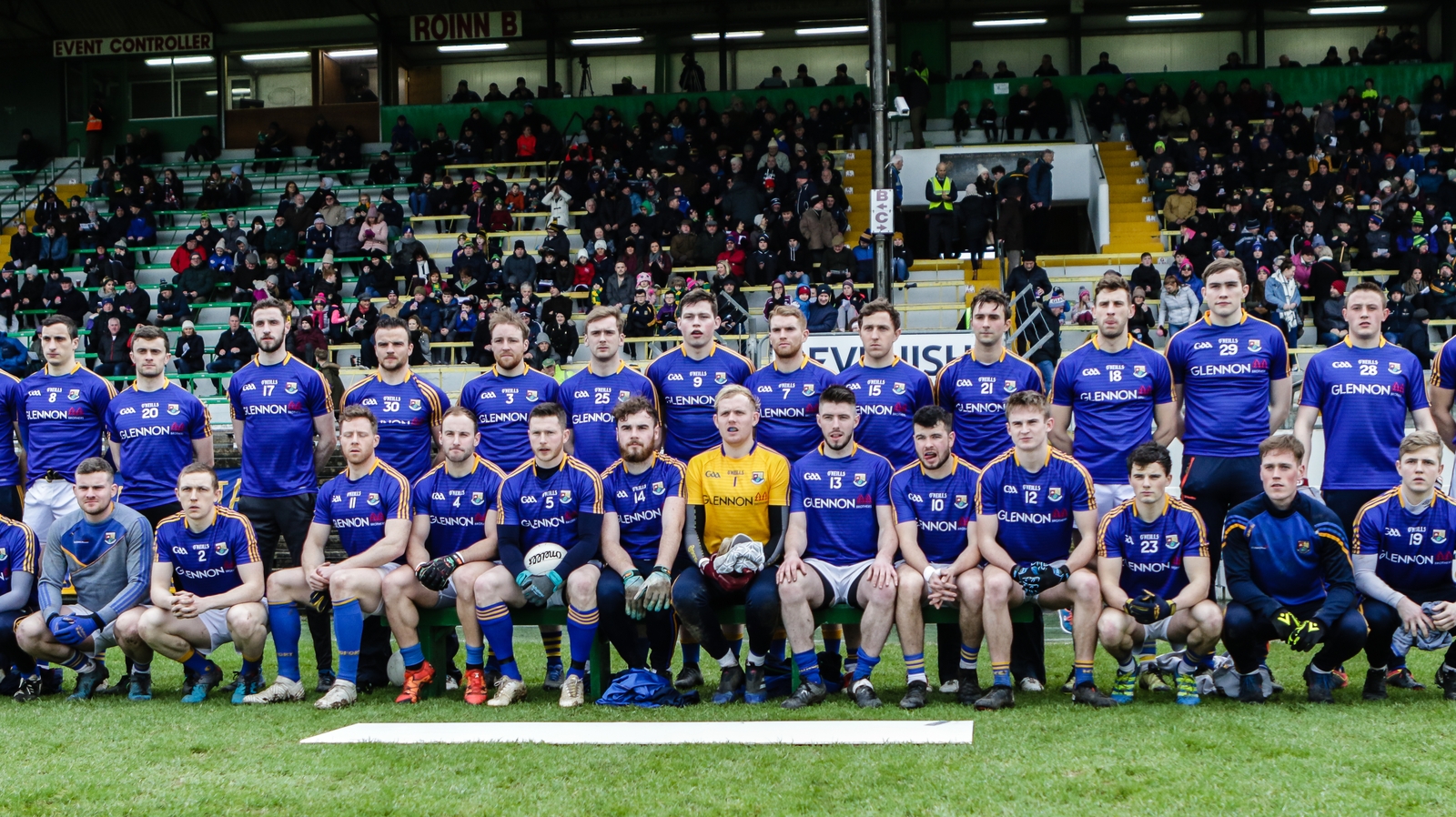 John Donlon became ill in his later years and has since passed away. He developed cancer of the gums and subsequently suffered a brain aneurysm, which led to a stroke. He received chemotherapy treatment, but it never fully left his system.
There was always excitement at home during John's successful years with Longford, but it was only after his passing that Tim discovered the true impact that his brother had on others during his life.
"It was only at his funeral that we realised the esteem he was held in the parish and in the surrounding parishes. He was playing during Longford's only successful spell in all competitions. The football support all over the county, you just cannot describe it.
"He was just the ordinary person's hero for the parish of Newtowncashel at the time.
"The amount of people coming around the place and the amount of people that were there at the funeral on the day. The amount of work that Cashel club member's put in to help down around the house just had to be seen to be believed.
"The attendance was absolutely phenomenal."
Longford commence their 2018 Leinster championship today with a quarter-final clash against Meath at home in Glennon Brothers Pearse Park.
The first step towards hopefully becoming kings again starts at the 3pm throw-in.
Follow Longford v Meath and all the weekend GAA action via our live blogs on RTÉ.ie and the News Now app, or listen to live and exclusive radio commentary on RTÉ Radio 1.