Just over a half an hour into Sunday's Cork-Clare clash in the Munster hurling championship and the Banner's John Conlon is booked for sticking a forearm/elbow into Daniel Kearney's chin after he himself caught a high ball.
In real time, the incident did not look great in light of what happened a week earlier when Diarmuid O'Connor was shown a red card for raising his elbow in the direction of a Galway player with some degree of force. Armagh's Niall Grimley also saw red on Saturday night for a similar strike.
So, should the Clare centre-forward have also been giving his marching orders?
Striking with the elbow is a red-card offence according to Pat Doherty, the GAA's Games Administration and National Match Officials Manager.
However, taking that rule into account, a rule that is applicable to both football and hurling, former football referee Pat McEnaney feels the decision by ref Seán Cleere to award a yellow card to John Conlon was the correct one.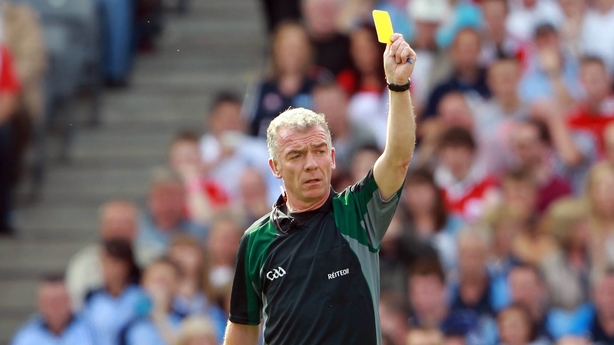 On viewing the footage from Páirc Uí Chaoimh, McEnaney told RTÉ Sport: "The question you have got to ask yourself is, did John Conlon deliberately strike with the elbow? I believe, no. Did he lead with his forearm? Yes, he did. I have no major issue with the ref's call on this incident.
"I also spoke to Brian Gavin (former hurling ref) who was quite emphatic in saying that hurling referees would not issue red in such instances.
"Quite simply, it wasn't a striking action, more of a leaning in. Yellow card was issued, incident dealt with."
The Monaghan native, however, did feel that a straight red was the correct action in the Diarmuid O'Connor incident.
"There was intention and there was definite force in what O'Connor did and a sending off was justified," he added.