For Diarmuid O'Keeffe's point in Wexford Park last Sunday, he was just outside his own 45-metre line when Aidan Nolan picked up the ball behind O'Keeffe, in the middle of the Wexford defence, and drove it into the full-forward line.
When Conor McDonald won possession in the corner, and stepped inside Cian O'Callaghan and Seán Moran, he handpassed the ball off to O'Keeffe, who was now inside the Dublin 45-metre line, and who careered past O'Callaghan and Shane Barrett before slotting the ball over.
It took O'Keeffe just under eight seconds to make up that ground. When O'Keeffe set up Harry Kehoe for the insurance point in the 73rd minute, he picked up the ball 29 metres from his own goal before taking off on a mazy and pacy solo run that took him to within 35 metres of the Dublin goal.
With a number of Dublin players after him, and more in front of him, O'Keeffe still covered that ground in 10.4 seconds. O'Keeffe is an outstanding player, one of the most underrated in the country, and certainly one of the most effective scoring defenders.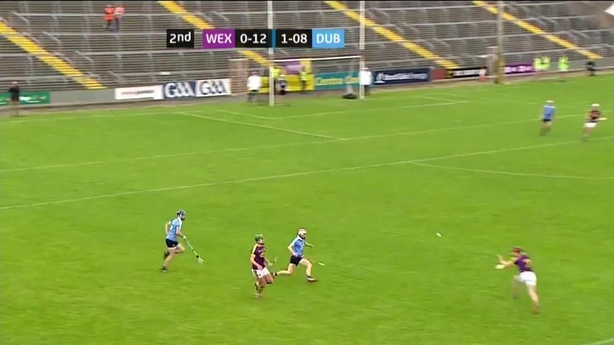 In his last 19 league and championship matches, O'Keeffe has clocked 3-20 from play, registering at least one score in 16 of those 19 games. O'Keeffe was a forward under Liam Dunne before Davy Fitzgerald turned him into a nominal wing-back.
Most of the top teams now have a tactical fluidity but defenders have even more licence to get forward in Fitzgerald's system, especially on the counter-attack.
Playing a sweeper like Wexford do allows for that scope but it also encourages such adventure, especially in the space Wexford look to vacate in their attack.
Each player clearly knows their role in that system but it takes an incredible level of fitness to carry it out. And lightning pace for defenders to execute it in the way O'Keeffe does.
Attacking space and off-the-shoulder running has become a key part of the modern game
Attacking space and off-the-shoulder running has become a key part of the modern game. With teams attacking in waves, support runners are liable to come from anywhere. When Clare's David Reidy picked up a ball in his own half on Sunday, Seadna Morey, who was about ten metres behind Reidy, took off on a sprint.
When Reidy tried to offload the pass to Morey just inside the Cork 45, Morey had sprinted around 50 metres in just over six seconds. Reidy's pass was just in front of Morey but if it had gone to hand, Morey – who is one of Clare's fastest players – would have been straight through on goal.
"The key to success is speed," said Pep Guardiola a few years back. "If you want to win in sport you need to be just a little faster than all the rest. It's not so much about strength and power. It's about speed."
Speed has different connotations in soccer and hurling than in, say athletics, but the term always seemed less relevant to hurling, primarily because the ball could always travel faster than any player.
That will always be the case but in a possession dominated game now, where the tactics of denying possession are dominating how the game is largely evolving, speed has never been more important.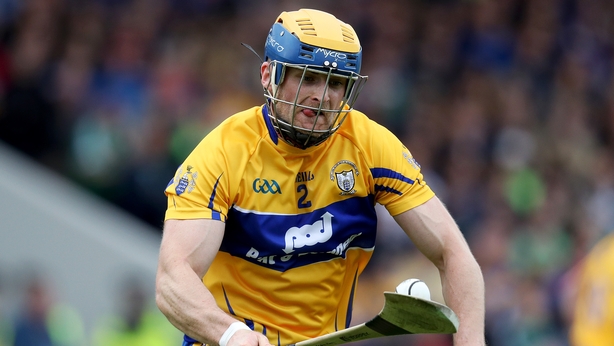 Defenders now almost have to be like Olympic sprinters. Some are. When Shane O'Donnell put Reidy through on goal in the first half on Sunday, the entire Cork full-back line – Colm Spillane, Damien Cahalane and Seán O'Donoghue - were immediately on his heels.
By the time Reidy got inside the 13-metre line, Cahalane and Spillane were within hooking distance of Reidy but Mark Coleman had sprinted across the line by that stage and got the block on Reidy's shot.
When Cork lit up the championship last year, the emergence of their three youngest players – Coleman, Darragh Fitzgibbon and Shane Kingston – was central to Cork's new energy, verve and confidence.
All three had long been signposted as the future of Cork and while they are all brilliant players, one of the standout features of each individual is pace. Lightning pace.
Speed is a key skill now but one of the most well-worn phrases in sport is that 'you can't coach speed'. It is difficult but that doesn't mean it can't be developed.
When Jackie Tyrrell was in his early 20s, he wasn't rated in Kilkenny because he was deemed too slow. Seánie McMahon had the same accusation levelled against him as an underage player in Clare but, like Tyrrell, he worked extremely hard on developing his speed.
With so many skills in hurling, coaches often only have a short window in those sessions to focus on developing athletic ability. And speed
Their class and intelligence may have compensated against faster players but both McMahon and Tyrrell were two of the greatest defenders of any era. Some players are born more athletic and agile than others but the best time to coach speed is when kids are really young, especially when there is a window of opportunity to develop speed between the ages of 7 and 8.
Since the range and style of motions is more or less set for life by the age of 12, there are a number of training practices that are very effective with young kids that are not nearly as effective with teenagers.
By that stage, it is much harder to have an impact on certain aspects of speed. For hurling coaches working with young kids, concentrating on the basics and fundamentals of hurling technique is the obvious priority.
But it is just as important to work on developing those kids athletically. There are any number of methods worth focusing on; flexibility, mobility, plyometrics, drills with reaction work. It's important not to over-focus on cone, ladders and hurdles drills but they certainly have their place.
And all should be done in a fun environment. For kids involved in any sport, parents can also play an important role by setting up similar exercises at home. With so many skills in hurling, coaches often only have a short window in those sessions to focus on developing athletic ability. And speed.
But with the way hurling is going, speed (not just speed of hand and thought) is becoming one of the game's key skills.
Read Christy O'Connor's new skills and coaching column every Monday on RTÉ.ie/sport and the News Now App.