Fomer Donegal footballer Martin McHugh thinks that Mickey Harte is 'really under pressure' after his Tyrone side suffered a two-point defeat to Monaghan in the Ulster Football Championship quarter-final.
In what was a gripping game, Monaghan sent Tyrone crashing into the the qualifiers and McHugh doubts they will find a way back.
The former Cavan manager was extremely impressed with the performance of Malachy O'Rourke's Monaghan team and also the attention to detail the management team showed in preparing for the game.
"For the first time ever I think Tyrone are under pressure, I think Mickey Harte is really under pressure," McHugh told RTÉ's Morning Ireland.
"The home work the management has done has been great. Malachy O'Rourke and Ryan Porter weren't going to games in Monaghan to look for players. They went to Tyrone club matches to see what they could pick up instead.
"That's the level management has gone to. They won the battle on the sideline hands down by doing things like that.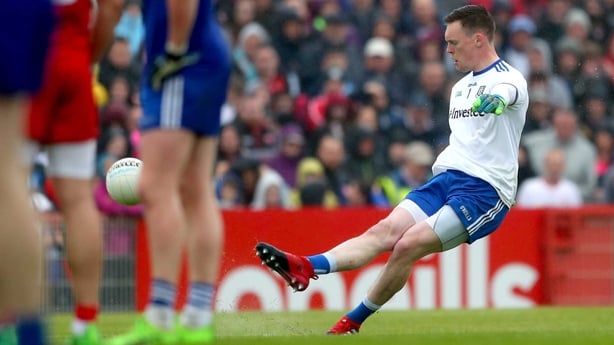 "They got their substitutions right and they got the marking of their main Tyrone players right. You feel the best chance you have in the Super 8s is winning your provincial championship."
"Monaghan definitely have a stronger squad looking at them, the bench made a big difference yesterday and it will from now on considering games are at least 80 minutes.
"The other thing is their physical strength and conditioning is up there to match the Dubs or the Mayos of this world."
Monaghan's goalkeeper Rory Beggan played a vital role in Monaghan's win. He fired over two long range frees and also converted two '45s.
"He is goalkeeping coach for the under-17 team aswell, he was in Omagh during the week with the under-17 squad on the pitch practicing his frees. Looking at him he has changed the style of free-taking.
"Most keepers kick around the corner, he kicks straight on. He only takes a few steps back from the ball which makes it more accurate, the further back you go from the ball to kick it the less accurate you will be.
"That makes a big difference. We will see more players taking frees of the ground and practicing the way he does.
"One time in the past you were putting your worst player in goals at all levels in Gaelic football. Now the goalkeeper has become very important and he has taken it to another level now."