"A mathematical proof should resemble a simple and clear-cut constellation, not a scattered cluster in the Milky Way" - GH Hardy, A Mathematician's Apology
Defining the tackle in Gaelic football has remained one of the great illusive proofs for decades now. How any player competes to retrieve possession from the control of an opponent for his team is a mix of convention, mystery and the referee's view.
The rules, though they try, do not come close to defining what an acceptable tackle is and so for many coaches, the tackle and how to develop it has become a game of chance. It is also one of the great frustrations.
How can you coach one of the game's most fundamental skills when no one can tell you any more accurately than "roughly" what is within the frame of legality on any given day?
A quality tackle executed at speed is a thing of beauty and one of the most difficult skills of our game to master
Referees who take control of inter-county games in the All-Ireland series from the quarter-final stages on – most definitely if they are in Croke Park and on TV – will stay roughly within the following parameters for players attempting to slow and dispossess a ball carrier:
Contact around the neck or above will be blown
A closed fist in the tackle will be blown
Jerseys pulled or obviously gripped will be blown
Obvious torso contact significantly away from the ball will be blown
Those are at least guidelines that coaches can diligently prepare their teams for above and beyond the other natural technical and overtly physical indiscretions we might expect. Otherwise, use your body to control your opponent and attack the ball in contact.
The reason for this approach is that it is the best fit for producing the type of flowing physical football that we want to see our best teams play at the very highest level. This is the same type of football we wish for our children's teams and for our club to represent. Tough, aggressive, fast, and skilful under pressure. Like the games hurlers are allowed to play in.
Because this is our fairytale understanding of how every game will be officiated and ultimately played, that is exactly what coaches build a mindset and skillset for. Footwork, handspeed, aggression, strength, power and above all timing; a quality tackle executed at speed is a thing of beauty and one of the most difficult skills of our game to master.
Most people are unaware that there is now a "definition" of the tackle courtesy of an incarnation of the Rules Advisory Committee, but that is to be welcomed as it offers nothing in the way of clarity.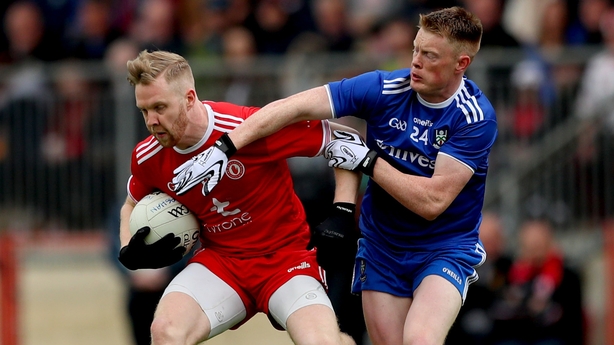 Unfortunately reality bites very early in most games as we quickly come to realise that most officials have another layer of their own unique interpretation of what they will allow, and frustratingly, that can change from minute to minute. That this is accepted at all levels of our games is an indictment of us all and that it goes unspoken has contributed significantly to the deterioration in Gaelic Football as a spectator sport.
In Ulster this weekend we had two contests that promised much in their own way but were distinctly different in many facets of how the games transpired. Saturday's quarter final between Fermanagh and Armagh was the 2018 trilogy game that came after two evenly-pitched league encounters, while the meeting of recent provincial heavyweights Tyrone and Monaghan had all the pre-watershed warning stickers of a no-holds-barred rodeo.
The contrasts were stark and while some of the defining characteristics were obvious, one in particular was more subtle but continues to shape games until All-Ireland quarter final time annually.
Sunday afternoon in Omagh overflowed with game management on the pitch. Players on both sides knew and understood their roles comprehensively – particularly without the ball.
A broad malaise of bodies behind the ball alone doesn't build a platform to compete in Dvision 1 nor for honours in any of the four provincial championships. Monaghan and Tyrone defend with purpose.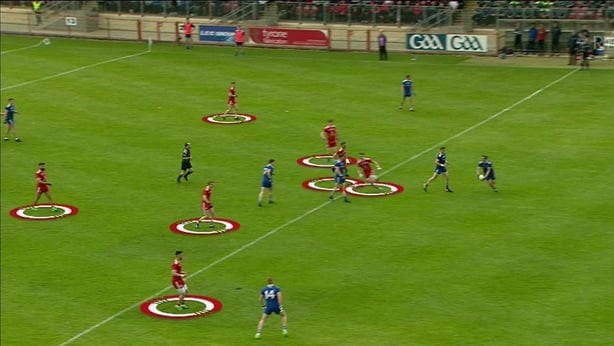 They had identified each other's strengths and worked diligently to minimise them in every attack they faced. In addition, the poise of both teams in building attacks was at times excellent.
This is where Monaghan were better though – they added explosiveness and a change of angle when half a gap appeared far more consistently than Tyrone were able to do and ultimately created better quality chances for their finishers because of it.
Saturday evening's game lacked that quality of thinking on the pitch, with and without the ball. Numbers in defence are a fact of football life now but if those numbers are not organised with a clear purpose they can create softness and a complacent outlook.
That Tyrone and Monaghan were able to conjure 17 and 19 scores respectively against ultra-efficient rear-guards summarises the quality gap between the weekend's two contests in the north
Fermanagh's counter attack running was distinctly better rehearsed and when they took away Armagh's Plan A – to get early ball to their inside line – they edged the slow, laboured attack contest that the game became. After all, that is what Fermanagh had prepared diligently for.
Of course the layered defences we now see regularly are not a fait accompli and can be broken down with a collective mindset that probes for weakness and has an awareness of its own strengths.
That Tyrone and Monaghan were able to conjure 17 and 19 scores respectively against ultra-efficient rear-guards summarises the quality gap between the weekend's two contests in the north.
A further distinguishing feature of these two provincial quarter-finals was the approach of the respective referees to contact and the contest for the ball. Our old friend the tackle.
The Division 1 foes had the hugely experienced and widely-respected David Coldrick marshalling the troops and he was a key component in what played out as a pulsating attack and counter-punch game of high quality football.
The number of examples in the opening 10 minutes of defenders on both sides scrambling to adjust and put their bodies in position to repel attacking runners were plentiful. It made for a brilliantly aggressive spectacle where a fitting lesson was clear – you were going to have to be smart, brave and skilful to create openings and the match unfolded accordingly.
Coldrick's proximity to these contests was exceptional in its closeness but then how else could you be expected to adjudicate the collision of offensive and defensive skills at high speed?
The opening exchanges in Brewster Park indicated a different contest was ahead. Free kicks were arbitrary, dictated by the referee's whim and whatever angle his positioning had presented.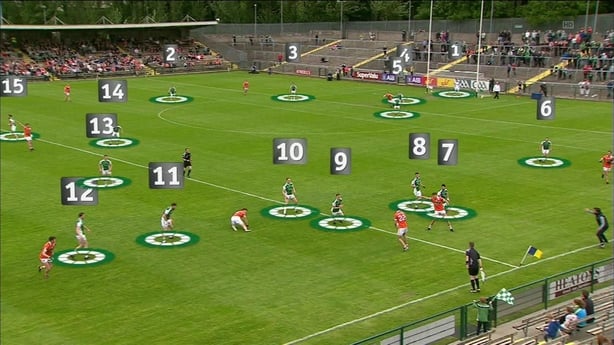 What followed was 70 minutes of shadowing and constant attempts to smother the player in possession because both teams – as they must – adapted to the unpredictability for what Paddy Neilan might blow.
Examples of players committing to the tackle and going after the ball were virtually non-existent and so the game deteriorated away from the contest people want to see.
Of course this isn't a commentary on the result – football dictated that – but rather on the spectacle that we all had to endure on that slow journey to the final whistle.
Coaching the tackle in Gaelic football has become a futile exercise for most coaches and the ever increasing lean towards "smother by numbers" is a direct descendant of the majority of referees not having an appreciation of what players, coaches and fans want to see on the pitch.
Crucially, by extension, many referees do not have the same understanding of what everyone else defines as a fair tackle and value within the game as a physical contest.
The guidelines around tackling in Gaelic Football are loose and vague – that much everyone can agree on – but we know what we want to watch.
This vagueness has long since been accepted as a problem for everyone concerned when in fact it could become a great opportunity as it presents the possibility of interpreting those guidelines to create the fast, physical and skilful contest that our games should be.
If we cannot create a consensus on what is a crucial component of the game then referees will continue to dictate the style of games we are force fed – and not for the better.
Read Aidan O'Rourke's coaching column every Monday on RTÉ.ie/sport and the News Now app.