Monaghan manager Malachy O'Rourke says his side deserved their victory against reigning Ulster SFC champions Tyrone, despite playing out a tense final few moments in Omagh.
In what was a compelling affair, Tyrone substitute Michael McKernan struck a late goal to leave just two points between the sides at the death, but the Farney managed to come through with the victory after putting in a dominant display.
Monaghan will now contest the Ulster SFC semi-final against Fermanagh, while Tyrone must head for the qualifiers.
"We're just delighted to get through the game," said O'Rourke after the game.
"We always knew it was going to be a very tough battle coming down here to Omagh and Tyrone obviously won the last two Ulster championships.
"But we knew if we got a good performance we'd hopefully be in with a good shout and that's the way it turned out and we made it nerve-wracking at the end but I think we deserved our victory."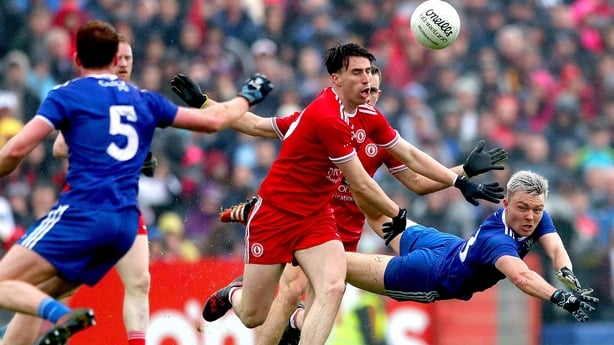 "The boys were preparing well and preparing hard. We knew we had to do that to be in with a chance. Look there was nothing between the teams, we were just glad we came through in the end."
Monaghan defender Vinny Corey scored a goal just before half-time to help his side into a two-point lead at the break, and along with Conor McManus haul of six points, it proved to be a crucial score in the end.
"Tyrone had just got a point before that. It was a good move, good hands and Vinny finished it. It gave us that wee bit of breathing space and we started the second half well. We went to sleep [for] a wee while and Tyrone came back at us.
"We were just glad to be able to finish it out."