It's not that long ago that Limerick footballers were competitive on many fronts.
Who remembers Darragh Ó Sé plucking a ball from underneath the crossbar to deny the Shannonsiders a long overdue Munster title.
Earlier in this decade, Limerick reached an All-Ireland quarter-final, but were unable to scare the daylights out of the Kingdom on that occasion.
Recent seasons have not been good to the Munster county, with early championship exits following on from life in Division 4, where they haven't pulled up too many trees.
This evening, they welcome Clare to the Gaelic Grounds in the Munster SFC quarter-final.
The Banner's flag has definitely been flying higher in recent seasons, though when the sides met last year, only a point was the difference as Colm Collins' men squeezed through.
Limerick captain Donal O'Sullivan is hopeful the county rediscover those better days but admits it will be tough, given the current footballing environment.
Speaking to RTÉ Sport, he said: "It's a bit of a cycle, we are arguably at the lower side of the cycle at the minute and we know the level we must attain.
"Those games when Limerick were going well would have been great games to go to growing up and would definitely have started my interest in playing for the county.
"We are definitely a work in progress. It takes lads a couple of years to get up to speed, develop their strength and conditioning, fitness, valuable game-time and experience.
"It's arguably getting more difficult with the demands that people have outside of football.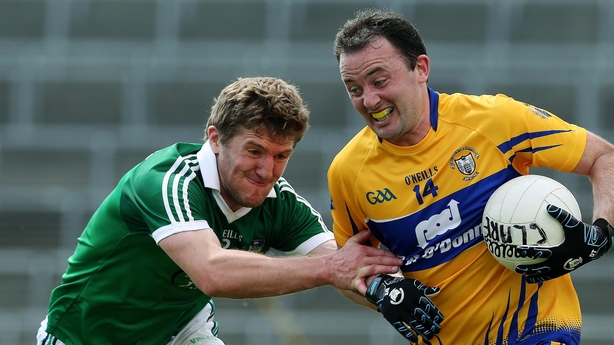 "And then you see the big Division 1 teams pumping so much money into it, there is a bit of a gap. But it's something to try and aspire to, I guess."
This will be the fourth year on the trot that these neighbours will have met in Championship.
O'Sullivan adds: "That brings up the argument then about other formats of the championship, whether or not a Champions League style would be better, but obviously the Munster Championship, traditionally, is a big competition.
"There is great history in the competition."
They may be underdogs on their own patch but, not surprisingly, the Limerick custodian is looking forward to this provincial opener.
"One aspect of it is that it's a derby game and form goes out the window," he highlighted.
"But the other side of it is they are a Division 2 team and were challenging for promotion, so it's a huge challenge. They are favourites, but these are the challenges you like to pit yourself against as a footballer.
"We are looking solely on the first game, then you are looking individually for the development of the team, you are looking for performances, looking at still being involved in early July and seeing what you come up against."
Live blog on Limerick v Clare on RTÉ.ie and the RTÉ News Now App from 6.30pm.
Follow Limerick v Tipperary and Cork v Clare this Sunday via our live blog on RTÉ.ie and the News Now App from 1.30pm, watch live and exclusive TV coverage on RTÉ2 or listen to exclusive radio commentary on RTÉ Radio 1.