As the clock ticked through the 74th minute of an enthralling Connacht clash of styles between Mayo and Galway, the score that would ultimately define the game and separate the teams was about to be executed.
The goal showcased a full array of the basic attacking skills you might expect at this level but two very quick contributions in particular under pressure created the match winner.
Ian Burke was central to everything. His movement allowed Adrian Varley to produce that most precious of commodities: a kick pass to the inside line that allows forwards to attack off.
Most crucially, Burke was able to hold the ball at top speed and find the perfect offload to Sean Kelly's well-timed cut across him. Johnny Heaney's timing was also impeccable as he lost Colm Boyle in traffic to crash onto Kelly's offload before steadying to finish Mayo.
GOAL! Galway look like they've snatched it deep into injury time with a terrific goal. Watch the full highlights tonight on The Sunday Game, @RTE2 9.30pm #RTEgaa pic.twitter.com/AEJCkuKG0W

— The Sunday Game (@TheSundayGame) May 13, 2018
Watching the goal on a loop later with a nine year old who always wants to know why players did what they've done, the focus of the conversation was one skill in particular: first touch under pressure.
If Heaney wanted the goal opportunity after the rest of the move unfolded in front of him he had to take the ball first bite, whatever way it came to him, and as it happens the final pass wasn't perfect.
He had to reach back one-handed to collect the ball en route to goal. If he either fumbled or needed to slow down to collect then the opportunity would have been lost. That piece of handling in an instant with space closing everywhere around him would have graced any field sport in the world at any level.
Before all of that though, Ian Burke built the platform that supported the rest of the attack. He showed hard in front to offer himself as a springboard and never came off the accelerator until after he had collected and offloaded Adrian Varley's pinpoint kick pass.
The execution of that handling skill at top pace and without breaking stride is often overlooked but with the ever decreasing amount of space now available in attack it cannot be underestimated in its importance. A timely reminder that effective target men don't all have to look like Michael Murphy.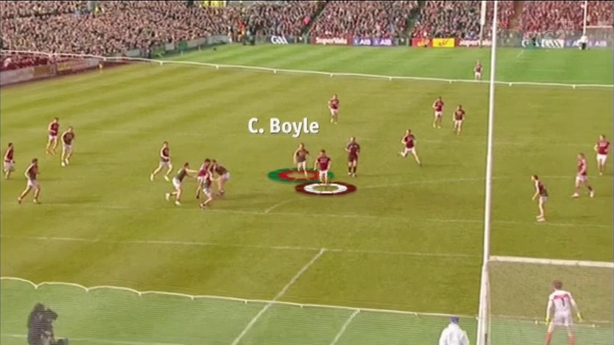 It is essentially a defender's job to interfere with a forward's handling skills if they cannot win clean ball themselves. And so, sitting in a review room somewhere this week, Brendan Harrison will wonder if he could have done more to insert a stick into the spokes of this Galway attack as Burke was able to make the play that won the match.
There was a presence but just not enough to make a difference.
The move that won this game was overflowing with the clinical execution of high quality skills under pressure but those two pieces of handling were the difference makers and can easily be under appreciated. Anyone who spends time trying to build these basic blocks at any level will immediately recognise the detail.
Players who get the opportunity to showcase what Burke and Heaney did yesterday have spent many hours developing these skills – initially under no pressure and often unaware of exactly why they are doing it.
Starting at the very youngest age, as coaches we must give players the basics of consistently efficient handling before exposing them to pace or pressure and years before anyone starts shouting "First touch!" after the fact.
Handling at speed and under pressure is the gateway to everything else within Gaelic football. Once you have that, so many things can be built around it but without it you are playing a different sport.
TALKING TACTICS
On the evidence of yesterday's opening skirmish of the year, Galway have successfully built a defensive and offensive platform that the players believe can sustain a challenge for Championship honours this season.
There is always a question around whether teams taking a bounce from organising numbers and shape into a strong defensive barrier can then create something really tangible when it counts – under pressure against a quality opponent.
Evolution through the league has been reinforced by the game plan holding fast in two acid tests; first against Dublin in the National League final and now through stern resistance against one of the leading teams in the country.
Galway are not a flash flood – they are here to stay as challengers at the top table. Good players and a properly thought-out game plan deliver sustained quality and that is now where Galway are. Their gameplan requires discipline in the tackle, the very highest levels of athleticism and quality in the final third. They are lacking only the former but it can be steadily built as they go.
How do you deal with the Galway approach? First and foremost you must defend their strengths properly, which Mayo failed to do in the first half. The Tribe setup their now familiar defensive structure with two auxiliary defenders amongst their man markers at the back and the remainder bar two players in a tackling layer outside their own 45m line.
"The sending off saved Mayo from a beating in this game"
The invitation was clear to Mayo: "Break us down if you think you can" and the home side invested more and more eager bodies in support of achieving just that.
All the while Galway were coiling the spring to counter attack when they could create a turnover. This is the purpose of inviting any team on – the best form of attack is often great defence if you are prepared for winning the ball back.
Because of their opponent's keenness to take the game to them, Galway had space to exploit when their opportunities came and they injected immediate pace into their breaks. Crucially, they were able to get key men in possession in damaging areas while Mayo scrambled to recover.
Compounding Mayo's problem with space in defence in the first half was the only occasional effectiveness of their covering defender. Usually it was Keith Higgins and he rarely reacted quickly enough to create a double up on the key Galway attackers – particularly Damien Comer, who will not be curtailed singlehandedly this summer by any man.
I do not subscribe to the view that Higgins played well. Certainly he got on a lot of ball and broke forward to better effect in the second half but in his primary role as the insurance policy for Mayo's key markers, he was off the pace.
The sending off saved Mayo from a beating in this game. They were forced to default as most teams do to condensing space inside their own 45 whilst a man down and happened upon the approach that removes Galway's attacking oxygen – space to unleash their runners into.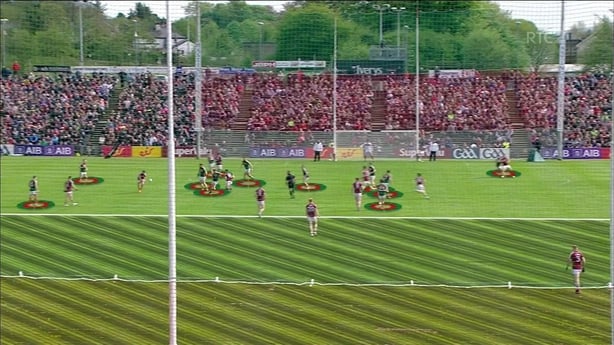 In any sport, the answer to an opponent who wants to counter punch is rarely to bring a full press to them – unless you carry a vastly superior armoury. Mayo demonstrated in the second half in Castlebar that they have the perseverance and skillset to pick the defensive lock once they are secure at the back – even with 14 players. Surely if they had defended responsibly in the first half they would have won this game.
Galway will have to demonstrate they have the same capacity to create scores without space very soon because that is the question that opponents should be asking of them in the face of the counter-attacking trap they obviously want to set. Any serious team with the time to prepare will not leave prairies in their defence for Galway's potent strike runners.
Having spent the winter perfecting their demonstrably effective attacking patterns off a stubborn defensive foundation, Kevin Walsh and his support team should be busy in the coming weeks preparing for the next challenge; breaking down a mirror of their own approach and doing so off slow possession.
It might seem like an alien concept having been afforded the opportunity to play their preferred game through the Allianz League and up until half-time on Sunday but championship football at the sharp end has a habit of asking questions just when you thought no one was paying attention.
This Connacht first round encounter was a first salvo only in what may see a renewed rivalry later in the summer but it succinctly demonstrated the importance of preparation and a game plan tailored to the challenge in front of you.
Mayo have a better group of players still – despite all of the talk of age and miles – but they lost this game by sleep walking into Galway's tactical trap in the first half.
Assuming they can recognise this themselves and shake off the presumed mentality that their race is run, Mayo will be in the championship longer than Galway.
They may not meet it in Connacht but Galway have now to prepare for the inevitability that no team in the last eight will allow them to attack with plan A. That question always comes for the nouveau riche and how it is answered will be the determining factor on how to assess this Galway revolution.
Read Aidan O'Rourke's coaching column every Monday on RTÉ.ie/sport and the News Now app.