Winning Leinster in 1980 was the start of Offaly's rise within the hurling ranks. For the twenty years that followed they maintained that push, as evidenced by four All-Ireland and further Leinster titles.
The new millennium saw the fall - a sharp fall at that.
A league campaign that saw them push Kilkenny all the way in this year's Division 1 quarter offers some hope that Offaly hurlers can emerge as a force again. It's a long road back, though.
Ahead of the midlanders' participation in the inaugural Leinster championship round-robin format, manager Kevin Martin is realistic as to county's present standing, but is not without hope that his troops can deliver a big performance this summer.
Speaking to RTÉ Sport at the launch of this year's campaign, Martin said: "We are improving, there's no doubt about it. The lads have bought into it. We are a long way off the top and our intention is to make that climb.
"It's not going to happen all in one season. While we are optimistic, we know we have to be realistic as well. We have to keep our feet on the ground. This summer is going to tell a tale. We know what the lads are capable of doing on the big day, whether they are capable of doing it that's the next question that has to be answered.
"I say it to guys, you go out to win every game. We've Galway in the first game and no one gives us a chance but we'll be going out to beat them, do our best to beat them and see where it takes us.
"You can't be looking to come third or fourth, it's not the way to approach it. If you reach for the top you might get there some time."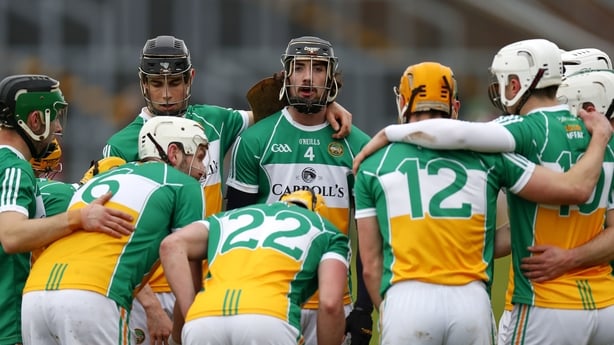 Martin took over as Offaly manager last November and so became the fourth boss in as many years. His arrival coincided with the opening of the brand new centre of excellence, 'The Faithful Fields'.
The development, just outside Kilcormac, boasts four full-size training pitches with floodlights, along with a top-of-the-range gym and six modern changing rooms.
"It has been a huge help, badly needed," says the current boss.
When reflecting on his days as a player, Martin added: "You'd go for training and you wouldn't know what pitch you'd be training on. It was a nightmare trying to get decent pitches.
"The Faithful Fields is a major contribution to our set up. During the snow we were able to go into the gym and do a bit of work."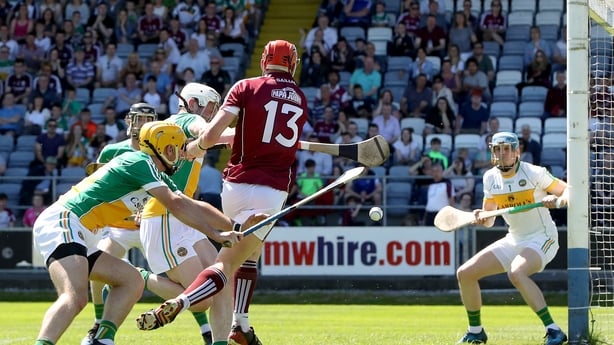 After hosting Galway in Tullamore on Saturday, consecutive games against Kilkenny, Wexford and Dublin will follow for Offaly. Martin admits that it's a tough schedule and injuries will play a part.
"To be honest I think it's (schedule) a bit mad. Possible they should have had two rounds, a break of a week, then another two rounds because players are going to get injured.
"My thing about it was if a player tore a hamstring in the first round, they are gone for the next three. It's a tough one but it is what it is and we're going to have to face into it.
"The games are going to be intense but if things don't go right for teams as regards injuries it'll be the team with the biggest, strongest panel that going to come out at the end of it.
"We are the minnows of our championship, it's going to be hard on us if we do pick up a lot of injuries, fingers crossed."
Live blog on Offaly v Galway from 6.30pm on RTÉ.ie and the News Now App or listen live to Saturday Sport Extra on Radio 1 from 7pm.
Highlights of all the day's action on The Sunday Game on RTÉ2 from 9.30pm.