By Frank Brady in New York
Leitrim survived a massive scare to escape from New York with a one-point win after extra-time in the Connacht SFC quarter-final.
The Division 4 side hit four points in the final five minutes of extra-time, including two in a minute of added time at the end of the second period to beat the hosts by the minimum Gaelic Park.
"Absolutely gutted," said former NY player Pat Donohue on RTÉ Sport.
"If there was ever a day that New York were going to take it and go to the championship, today was that day."
Although Leitrim opened the scoring with a Keith Byrne point, New York totally dominated for the next 15 minutes with Shane Hogan and David Culhane winning the midfield battle.
The hosts jumped ahead after three and a half minutes with a brilliant goal from Shane Hogan after Jamie Clark did the support work.
His midfield partner David Culhane soon added another point and they led by 1-02 to 0-01 after Neil Collins set up Clarke.
Then after a patient build-up, Collins added his own score.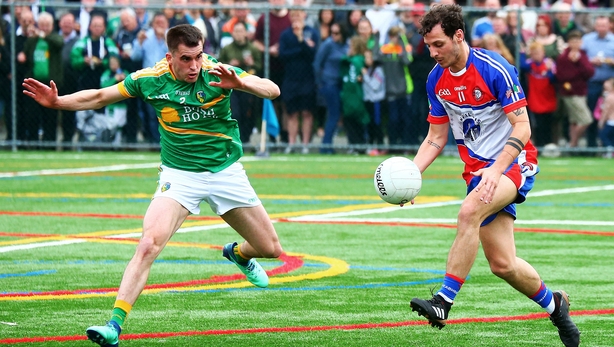 Clarke was creating havoc in front of the goals as he drew a free for another score.
Leitrim soon found some rhythm and Emlyn Mulligan and Keith Byrne fired over fine points.
Tony Donnelly replied with a point but it did little to slow the Leitrim momentum and the visitors finished the period with a point from Ryan O'Rourke and Dean McGovern to go in leading by slenderest of margins at the break 0-09 to 1-05.
AS IT HAPPENED: Leitrim survive scare in America
Justin O'Halloran's charges started the second half strongly with three quick points from Luke Kelly and Tony Donnelly (2).
However, Leitrim responded with three consecutive points of their own.
The intensity of the game dropped considerably as both sides missed opportunities.
But midway through the half, Clarke levelled up after a good pass from Aaron Cunningham.
New York looked to be cruising with further points from Clark and Kevin Grady put them two ahead with 10 minutes left.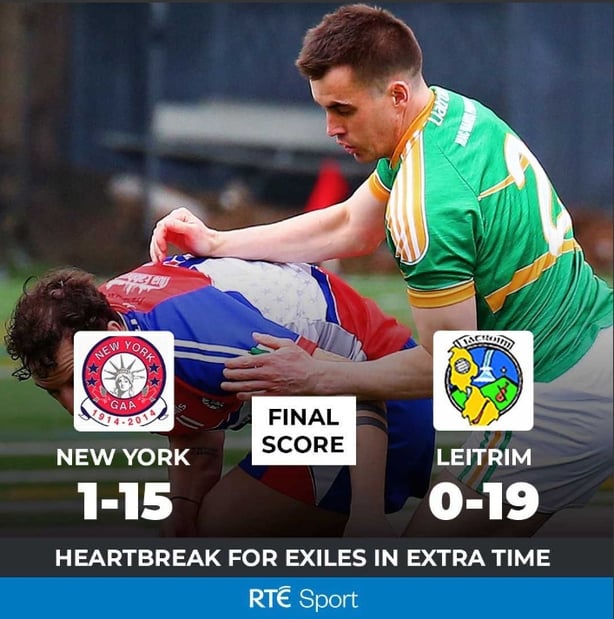 Leitrim upped their game again with a point from Keith Byrne and a brilliant effort from Mark Plunkett plus Shane Quinn rode several tackles to put Leitrim ahead by one with four minutes left.
Daniel McKenna then came off the bench to land equalising score.
In the first period of extra time, Leitrim looked to have kicked the game away as they had four wides, a shot dropped short and blocked effort.
O'Grady put the Americans ahead and Clark landed a superb effort to put New York two up as the first period finished.
On the turnover, the exiles looked set for victory as O'Grady increased their lead to three.
However, Leitrim never gave up and battled back ferociously.
Aiden Flynn landed a point that was quickly followed by another from Darragh Rooney to leave just the minimum between them.
Then Shane Quinn burst through the middle, went for goal, but Vinny Cadden deflected the shot over the bar to tie up the game with just one minute left.
Just as it seemed that a replay would be required to find out Roscommon's oppenents in the semi-final up popped Noel Plunkett to decide the tie.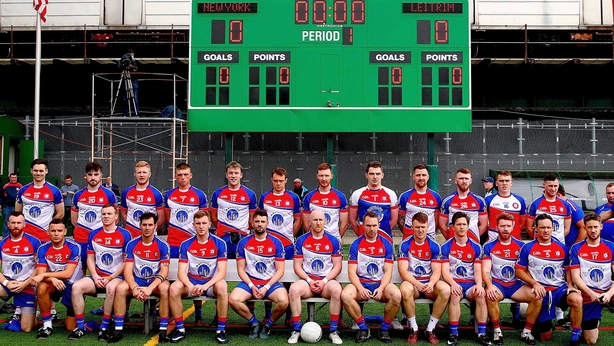 Leitrim: D McKiernan, P Maguire, M McWeeney, O Madden, J Rooney, D Wyrnn, S Quinn (0-2), M Plunkett (0-1), D Flynn, J Heslin, E Mulligan (0-3), R O'Rourke (0-2), D Rooney (0-1), K Beirne (0-7), B Gallagher
Subs: D McGovern (0-1), A Flynn (0-1), C Gaffney, R Kennedy, N Plunkett (0-1)
New York: V Cadden, N Collins (0-1), D Ward, M Creegan, E Williams, T Cunniffe, M Queenan, D Culhane (0-1), S Hogan (1-0), T Donnelly (0-3), J Clarke (0-5), L Kelly (0-1) , K O'Grady (0-3), D McDonagh, D Freeman
Subs: J Collins, D McKenna (0-1), JJ Matthews, P Boyle, M Boyle, K Scally
Referee: Derek O'Mahoney (Tipperary)