Wexford stalwart Mary Rose Kelly was at the centre of a goal that went in viral in 2013 and led to Republic of Ireland's Stephanie Roche getting nominated for the FIFA Puskas Award.
Roche's effort for her former club Peamount United was pitted against James Rodriguez and Robin Van Persie for the accolade, and she drew praise from football royalty around the world. While many marvelled at her technique, balance and skill, there was also a lot of debate about whether or not her goal was worthy of inclusion in the Puskas shortlist.
Video clips of the moment have appeared on Youtube and other social media platforms, gathering millions of hits and shares to make Roche a household name across the country.
But back to Kelly's role in the goal, or her inability to prevent the goal to be more precise. You might not find the famous clip if you put her name into a Youtube search, but she was very much involved as she was the unfortunate player who was standing between the sticks for Wexford Youths that day as the ball flew into the net.
"I was blaming the girl who was marking her," she laughs as she reluctantly remembers the moment five years on.
"There was a line of defence, you kind of were assuming that it would probably come off somewhere. It was just, sure it was sweet spot, wasn't it, she caught it at.
"But sure look, isn't it fabulous for ladies sport? For soccer and for Stephanie, like. She's gone from strength to strength on the back of it, which she should have. It's promoted ladies sport.
We need your consent to load this YouTube contentWe use YouTube to manage extra content that can set cookies on your device and collect data about your activity. Please review their details and accept them to load the content.Manage Preferences
"Like, to think that a goal scored in a women's game in Ireland can contest for that award, you know like, it's insane and it had to bring the profile of women's sport up. You can never complain because it's so hard to build that up."
Kelly was never a dual player in the GAA sense, but managed to combine her commitments to Gaelic football and soccer for one season due to having two understanding managers who were willing to compromise in Kelly's best interests.
It turned out to be a successful year for Kelly on both fronts as she won the Women's National league with Wexford Youths at the end of the 2014/15 season, and also helped the footballers win a first ever women's All-Ireland title.
The veteran keeper executed a number of crucial saves that day and was largely credited for Wexford's narrow victory over New York in the junior final. Reflecting on the occasion now, she says it was an entirely different experience compared to how she performed in the previous year's All-Ireland decider.
"I had a good day but the previous year I'd had a bad day so it's just how it goes on days and I suppose there's no bigger stage than Croke Park and when you have a good day there, it's always highlighted that bit more but it always takes 30 players of a panel to make a team and your management," she says ahead of Wexford's Lidl Ladies NFL Division 3 against Meath later today.
"Everyone stood up that day and we knew what we had to do."
"That was the first for the county. We were there in 2007 against Leitrim and we lost. We seemed to lose a bit of momentum after that and camogie excelled and we had a lot of dual players. A lot of those went to camogie and went on to win four All-Irelands after that.
"We seemed to have to regroup a little bit and we lost a lot of players that had given so many years. They bowed out after that day."
Kelly made her inter-county bow in 1995 by her estimations, although she can't be sure. There's not many survivors still in the squad from the older years apart from perhaps Fiona Rochford, who was involved when Wexford featured in the 2007 All-Ireland intermediate final.
'Stupidty' is the first answer she laughs off when asked about what has motivated her to keep her going through the years, before adding it's simply a case of her having a deep love for the game.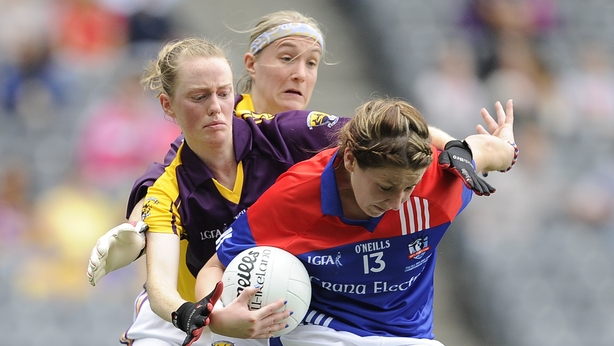 Wexford came agonisingly close to defeating Tipperary in last year's All-Ireland intermediate quarter-final, who went onto win the title against Tyrone. Tipp also won the Division 2 decider on Sunday afternoon in Parnell Park following a marginal win over Cavan.
Kelly never played camogie for Wexford but many of her teammates did, and some of them chose to stick with the small ball game when Wexford became successful in camogie.
This depleted the footballers somewhat, but they have since regrouped, and Kelly believes they have been heading in the right direction over the past few years.
Silverware in a league decider would be a first step towards winning an All-Ireland intermediate crown and continuing on the progressive path.
"It means everything. It's what you set out for at the start of the year to have some silverware. If you want to compete at senior, you have to be playing in Division 2 football at least. That's the first step on a journey for us this year please God."