Mayo women's football manager Peter Leahy was trying on the new gear he received during his time with the Westmeath minor footballers, when he was daunted by the image reflecting back at him in mirror.
Following a cancer diagnosis in 2005, he experienced significant weight-gain and as he was trying to put on the clothes, he was confronted by the sheer extent to which his body had improved.
Thyroid cancer was one of the most treatable types of cancer he could have suffered from and following a four-month course of chemo treatment and radio therapy, along with having his full thyroid gland removed, he was free of the condition.
But it was the loss of his thyroid which left him vulnerable to the weight-gain, and considering the experience of what he had been through, he allowed the slide to continue.
"I put on an awful lot of weight because I had no thyroid. I kind of used it as an excuse," he told RTÉ Sport.
"As a sports scientist myself, I knew probably too much - without a thyroid, it's very, very difficult to lose weight. I used it as an excuse for quite a long time. I took over the minor men in Westmeath as the manager. I remember getting the gear and they got me 4XL - XXXXL - O'Neill's gear and it didn't fit me.
"From that day, I changed my whole lifestyle. I changed what I was doing. I run every single day now, I run between three and five kilometres every single day.
"I watch what I eat. I dropped nine stone. I wear a size medium to large now from XXXXL. It's simply because, the way I looked at it was, as a strength and conditioning coach, it's very hard for people to believe in you when you look in the mirror and you're very big.
"What I needed to prove to myself and to everybody else is that with willpower you can do anything, and with willpower, the thyroid was a lot slower to lose weight, it was a lot harder, I had to do twice as much as everybody else, but like anything, it's always good when it's hard."
Following an extensive interview process and ratification by county board delegates @Mayo_LGFA are delighted to announce that renowned Westmeath native, Peter Leahy, will be taking up the reins as manager of the Ladies Senior Team. Read in full via: https://t.co/nCL3oVC0f0 pic.twitter.com/OFioHcSYCp

— Gaelic View (@Gaelic_View) November 27, 2017
Leahy has integrated his new regime into his daily routine without taking it to a extreme level, and since he started this endeavour to lose weight, he has never relapsed. He put on 10 pounds during the Christmas festivities, but he simply strapped on his runners once again to undo the damage.
Running has never been his favourite activity and the pre-season training he did during his rugby and GAA playing days was something he despised. But the positive feeling he gets in the aftermath of a run is what makes the whole process worthwhile.
"It's a never-ending cycle," he continues. "As people, we're creatures of habit so now it's a habit for me. I still to this day, the minute I put on my runners - I ran this morning - the minute I put on my runners to go out for a run, I bring my dog with me, I hate it.
"I hate going to run. I never liked running. Even when I played rugby and GAA at the highest level, I hated running, I hated pre-season.
"I still hate running, I put my runners on but I know after that 20-minute run or 30-minute run that I'm going to feel good. I started up a club there two years ago and I put over 200 people through 5k, from zero to 5k. I'm big into getting people out exercising, it's huge."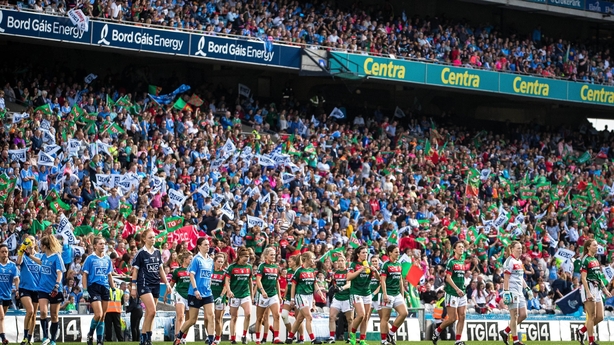 Leahy guided the Westmeath women's football team to All-Ireland intermediate glory in 2011, and he's hoping to spread that success to Mayo, who lost out to Dublin in last year's senior All-Ireland final.
The sides will renew their rivalry in Parnell Park on Sunday to battle it out for the Lidl National Football League Division 1 crown and establish themselves as early contenders for the Brendan Martin Cup.
Mayo have been without some of their stalwart servants during this league campaign, including four-time All-Ireland winner Cora Staunton, who has just returned from Australia after distinguishing herself in the Australia Football League Women's (AFLW) with the Greater Western Sydney Giants.
Leahy's charges have managed to navigate their way to the final despite her absence, and after dumping the reigning champions Cork out of the competition at the semi-final stage, they will have considerable momentum behind them coming into this clash against the Dubs.
"Can't wait for it to be honest. It's another top quality match against the best team in the country, the All-Ireland champions," he said.
"For us, it's to match up against them and see how we go against them. Our girls are excited, they love training. It gives that extra buzz. For the last two weeks, it's been brilliant. The buzz there's been in training, girls love being in a final. Who doesn't want to be in a final? It's exciting."