The Tipperary footballers are hopeful they will have an extra player for their Lidl Ladies NFL Division 2 final against Cavan on Sunday.
She's a player who wore their colours against the same opposition in the 2013 All-Ireland intermediate final, but she won't be carrying her gear-bag into the Parnell Park dressing-room this time around. She was in the Croke Park stands last year when the Premier County won the intermediate decider against Tyrone, but that sadly, is also a role she can no longer play for this team.
In truth, Aherlow's Rachel Kenneally probably shouldn't have been attending that All-Ireland final according to her teammate and close friend Samantha Lambert, who captained Tipp to glory that day.
"She couldn't get down to us and to be honest I think she was sick the week before and her Dad was adamant she wasn't going to go to it," she told RTÉ Sport at the launch of the 2018 Lidl Ladies National Football League finals earlier this week. 
"He didn't really want her to go but she was adamant she was going to go. It was a pity she couldn't get down, she was up in the stands waving down at us. She was so happy.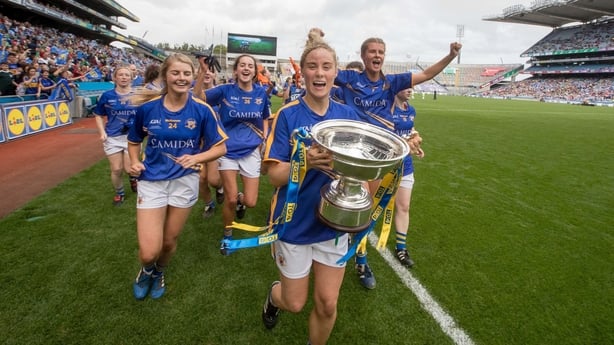 "I was after visiting her the week before and bringing her up flowers from the team and she was saying, 'I'd give anything to be playing with ye next week.' I was telling her I'd give anything to have her beside me in corner-back."
At just 25 years of age, Rachel was diagnosed with breast cancer on 26 June 2017. A lump was discovered while she was living in Dubai and she was instructed to have it inspected when she returned to Ireland. The early prognosis was positive and she exuded a natural determination that she was going to overcome this illness.
Lambert says that her friend even chose to wear a cold cap while undergoing chemo, such was the strength of her intent. This prevented her from losing any of her hair as is often the case when going through that treatment, and it also helped to distract her from the realisation that she was sick.
Rachel didn't always show her suffering to others when the symptoms were affecting her, and she tried to keep as much normality in her life as possible.
"She didn't look one way sick at all even though she went through so much chemo"
"She was always so positive no matter what news she got because she went in there time and time again and they were telling her, 'it's after going here, it's after going there. It's after spreading here.'  She was always determined that she would beat it.
"While she was alive, she did so much [cancer] awareness and you wouldn't even think looking at her, in a million years, that she had breast cancer. She had a cold cap and she was one of the only ones in Ireland [wearing it], you'd never hear. It's all in Northern Ireland, and they asked her to be in an ad because she kept all her hair.
"She didn't look one way sick at all even though she went through so much chemo."
Lambert was previously part of a group of five Tipperary players who were thrown off the panel in 2014 by then manager John Leahy, which was an experience she recalls as 'one of the worst years of my life.' 
Jennifer Grant, Mairead Morrissey, Kelly Hackett, and Patricia Hickey were also removed from the team, along with a distraught Lambert.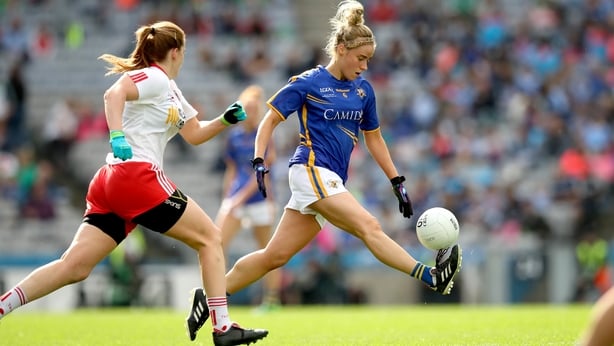 Leahy called the Ardfinnan defender at the time to say she was being axed from the squad for failing to reach the right fitness levels and for not committing herself to the team.
"The words couldn't even come out of my mouth because I was balling crying," she explains.
The secondary school teacher was teaching in Dublin at the time and decided to link up with the Na Fianna club for that year, with a view to battling her way back onto the Tipperary panel.
She recovered from that troubling setback in her football career to get back to Croke Park last year for another shot at an All-Ireland title, but some advice from her father ensured she would have some perspective regardless of the result.
"I suppose my own father said, 'if you don't come out the right side of today, you know what to think of.' There's more to life than losing All-Ireland finals. There's other battles going on in people's lives and you need to think of that too."
Rachel went on holidays shortly before St Patrick's Day earlier this year, and still appeared to be in good health when she came home and bumped into Lambert on a night out.
"It's still a bit raw but I've visited her grave. It's still a bit surreal that it's happened to such an unbelievable, kind girl"
But it was later discovered that the cancer had spread throughout her body, and Rachel, who was now 26, was told that she had only a short time left to live. 
Tipperary lined out against Clare just two days after her funeral at the end of the month, and as her month's mind approaches, Lambert is just beginning to adjust to life without her friend.
"It's still a bit raw but I've visited her grave. It's still a bit surreal that it's happened to such an unbelievable, kind girl. Her parents shouldn't have to go through something like that, burying their own daughter.
"But they can be very proud, the amount of people who were there [at her funeral]. It's a testament to who she was. She touched so many people's hearts and played football so many different clubs - she played in Dubai, played for Tipp, Aherlow and Mary I. The amount of people who were at the funeral, it was something I'd never seen before."
Lambert isn't used to winning the coin toss before matches, and since earning her appointment as the Tipperary captain she has never managed to guess the fall of the coin correctly. But since Rachel's passing, she has noticed that her fortune has improved slightly in those stakes.
It's not something that she places a considerable amount of stock on, but it could be an indicator that Rachel's spirit is never too far away.
"Hopefully we'll have an extra player in the skies playing with us. She gave us such commitment when she was with us. She was a ferocious player and a phenomenal defender. She'll help us I'm sure on Sunday."