Former Wexford hurler PJ Nolan's Wicklow career will only last for the 2018 season, but he is determined to make the most of his return to inter-county action.
Twelve years after making his Wexford debut, the Wicklow-based primary school teacher will line out for the Garden County this year. The rangy forward will swap the Leinster Championship for the Christy Ring Cup, but more than anything, he is eager to make up for lost time after an injury-plagued three years.
So how does an experienced Wexford player – Nolan has made 57 appearances for the Yellowbellies since making his debut in 2006 – end up throwing his lot in with Wicklow?
In short a combination of injuries, circumstances and use of the residency rule.
Wicklow hurling manager Séamus Murphy knows full well what Nolan can offer as a player having given Nolan his Wexford bow 12 years ago. 
After a string of injuries, Nolan found himself outside of Davy Fitzgerald's plans. The Coolafancy primary school teacher is now based in the county and Murphy was keen to introduce the Kilrush-Askamore club man into the panel, even though it will only be for the calendar year.
"A player can play for his county of residence in the interest of promoting hurling, provided that county isn't competing for the Liam MacCarthy," Feargal McGill, GAA head of games, explains of the rule which has been in place for the past 20 years.
"The change in Congress this year, which only comes into play from 1 January 2019, has extended this also to counties competing in the Joe McDonagh and Christy Ring Cup. So PJ wouldn't be able to play next year"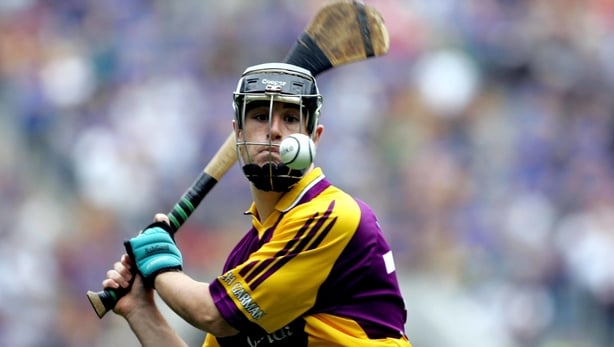 Nolan admits that the residency rule hadn't occurred to him until he spoke to Murphy.
"I was surprised to get the phone call from Séamus," Nolan told RTÉ Sport. "When he suggested it, I didn't even know it was a possibility."
Nolan's last game in the purple and gold was in 2014, the season Wexford edged out reigning All-Ireland champions Clare before exiting to Waterford. Two years later he struggled to get back to full fitness as he was carrying an injury and Dunne let him go from the panel. Surgery was the obvious solution, but that would have meant missing championship action for Kilrush-Askamore, and decided to put it off.
"In hindsight, I probably should have had the operation, but you try to do all you can for your club."
When he finally did go under the knife at the Mater Hospital that November, and it wasn't just one operation, but four. Nolan had developed a defect called Gilmore's Groin, and had also ruptured adductor muscles.
The road to recovery was a challenge both mentally and physically, but he was soon back to where he wanted.
After starring for the club last year, he was recalled to the Wexford fold in November, but had little chance to impress Fitzgerald before tearing his calf. He missed a crucial chunk of the training programme, and a second tear earlier this year compounded matters.
While Wexford motored along nicely in the League, Nolan found himself outside the tent watching on.
"It's tough watching them, your old team-mates. You'd love to be there yourself. Wexford have been going very well and Davy has his panel pretty much picked for the year and best of luck to them."
There's no bitterness in his voice, more a realisation that after so much time on the sidelines, others had overtaken him in the pecking order.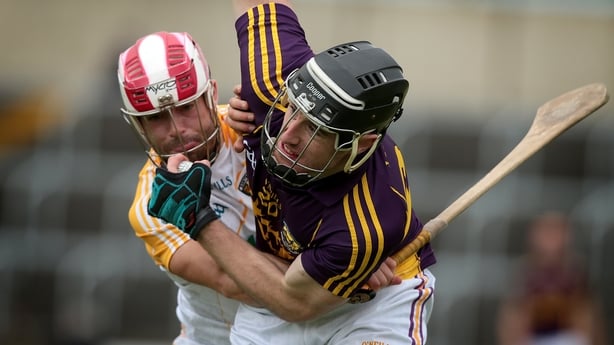 Murphy however has offered an olive branch with the Garden County.
Before agreeing to the switch, Nolan made sure a change in county allegiance wouldn't impact his club commitments. The first round of Championship took place over the weekend, while the next round isn't scheduled until Wexford depart from the Championship.
"I don't know what the future holds, but I'm here to help Wicklow this year in the Christy Ring"
He hasn't spoken to Fitzgerald about his decision, but the focus now is very much Wicklow as they prepare for their Christy Ring opener against Mayo in Aughrim on 15 May.
"I'm looking forward to the challenge. You want to play at the highest level that is available to you.
"I want to take it as it comes now. I'm very disappointed with the calf injury I got last year that didn't allow me to play or train with Wexford in January and February this year. I don't know what the future holds, but I'm here to help Wicklow this year in the Christy Ring."
The general reaction has been one of support. Former Wexford team-mates have wished him well, while Kilrush-Askamore have given their backing.
Nolan's first training session with Wicklow earlier this month was a little surreal. A whole team of new faces, but he has settled in quickly, and insists that it's not all that  different from what he was used to with Wexford.
"Wicklow are going to be competing every bit as hard of Wexford, even though obviously they are in different competitions. The training approach and set-up would be similar."
Above all else, he is simply looking forward to a run of games and hoping to challenge for silverware on two fronts in 2018.
"We're hoping to go all the way in the Christy Ring, and at club level, we're looking to push for an intermediate title. I just want to get through as many matches as I can this year and make a contribution."