Dublin will want to add a first ever Division 1 title to their cabinet, but must be cautious of the threat posed by Galway in their upcoming Division 1 semi-final, says former All-Ireland winning Dub Sorcha Furlong.
Mick Bohan's side are the reigning All-Ireland champions and while Dublin have previously triumphed in Division 2, a top-flight crown still eludes them.
Victory over Galway on Sunday brings them one step closer to correcting that, and allows them to set up a decider against either Mayo or Cork.
The table toppers will carry a favourites tag into this tie, having won six of their seven outings in the National League so far. That one defeat, however, came at the hands of Galway last month.
Furlong was there to witness Dublin's two-point loss at the National Sports Campus in Abbotstown, and was impressed by Galway's application, although she also feels that Dublin possibly unperformed that day as well.
"Galway have always been a really good team, they'd be quite physical," Furlong tells RTÉ Sport.
"They never shirk away from any tackles and they've kind of lacked that bit of experiences mixed with youth the previous couple of years, that's maybe why they haven't gotten a little bit further than they would have liked in the All-Ireland series. There's a good crop of players now who are coming to the age where they've been around a few years and they have had that extra bit of experience.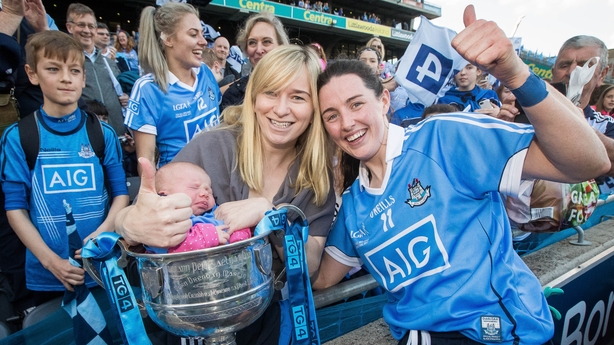 "It could be a good year for them. Their manager has tried out a huge number of players in the league, around 28 players so they're obviously working towards the championship and being being in a league final will be advantageous for them."
Furlong was part of the Dublin's All-Ireland winning class of 2010, but never managed to emulate that success in Division 1. While more silverware is obviously an incentive for Mick Bohan's side, Furlong emphasises the need for Dublin to play as many competitive games as possible before the Leinster championship commences.
Dublin have become quite dominant in their province, having collected their sixth consecutive Leinster title last year, and will want to remain in the league for as long as they can.
"Anyone who said they wouldn't want to win the league would be lying. It's an added bonus when you do win it but getting to the final is a really important part of that.
"If you look at Cork over the last 10 years, they've been playing in league finals all the time and winning the majority of them and then going on to win the All-Ireland series after that.
"It is great preparation for them (Dublin) to get. There is a bit of a gap but there is a lot to be said for finishing the league on a high. When you're in a league final you're playing against top quality opposition, so it's great to have games.
"We can sometimes get games in Leinster that aren't as high quality as you might be getting in a league semi-final or final, playing against the likes of the Galways, Mayos or Corks."
Furlong identifies the forward line in both sides as being a key area that could determine the outcome of this fixture. Dublin's ability to manufacture goal opportunities through players like Nicole Owens, Lyndsey Davey and Sinéad Aherne will be an priority for Galway, while the All-Ireland holders must ensure they are disciplined in defence to avoid gifting scoreable frees to the accurate Galway captain Tracey Leonard.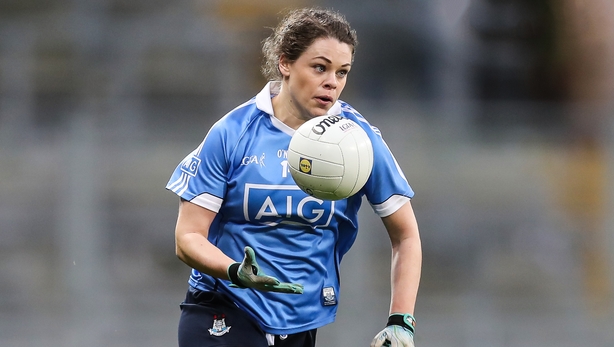 The performance of 2017 Players' Player of the Year Noelle Healy could also have a major bearing on proceedings, and has been named to start at full-forward for the showdown on Sunday.
Furlong is Healy's clubmate at St Brigid's, and knows exactly the kind of damage she can inflict if given the opportunity.
"We've been playing together for 10 years or more and she's one of those players that when she's on form and playing well, she's next to impossible to stop.
"if you let her get a run on you at all, there are very few players in the country that can keep up with her so that's something that Dublin have utilised quite well. They've been looking to get her on the ball and burn past that first tackle and play the ball in quickly. And then she's on the shoulder again ready for the return pass. She's playing great this year and got a couple of player of the match performances already so it could be a big day for her.
"I do know Galway have a couple of speedsters in there that can try and keep up with her and they did that in the last game so Dublin will be looking for a big performance from her as well this time around."
Verdict: "Dublin will just about edge it because they will want to rectify the game that they had the last time against Galway. They'll know themselves that they probably didn't play as well as they could have. To give themselves the best chance of preparation going forward for the Leinster championship, I would pick them to pip it."
Teams:
Dublin: C Trant; M Byrne, D Murphy, L Caffrey; S McGrath, S Goldrick, N Collins; L Magee, O Carey; N Owens, N McEvoy, L Davey; O Whyte, N Healy, S Aherne.
Galway: D Gower; F Cooney, S Lynch, S Burke; C Cooney, N Ward, L Walsh; L Gannon, O Divilly; Á McDonagh, T Leonard, A Davoren; M Seoighe, S Conneally, L Coen.
Time/Venue: Dublin v Galway, Coralstown/Kinnegad - Throw-in, 3pm