The Meath football team made the difficult decision to have themselves regraded to the Intermediate championship at the outset of last season.
The Royals have established a strong reputation in women's football over the years, and contested the Leinster senior final as recently as 2013.
But after a particularly difficult 2016 championship, their decline in recent years could no longer be ignored, and they made the collective choice to drop down a grade and try to regenerate their forces.
When current team captain Niamh O'Sullivan first joined the senior panel as an 18-year-old in 2008, she came into a much different environment. Meath were a promising side who could muscle it at the top end of the senior ranks and O'Sullivan appeared to be joining the team at an exciting time for football in the county.
@meathladiesMLGF Captain & Vice Captain named for 2018

Follow the link to find out more! https://t.co/MIptUtgr4d pic.twitter.com/vmlIdd2ZtW

— MeathLadiesFootball (@meathladiesMLGF) January 22, 2018
"I remember I played in a game and it was being televised," O'Sullivan tells RTÉ Sport.
"I couldn't believe it. I'd never experienced that before but they were really good, they gave you tips and saying not to worry about being on television to just go out and play your normal game. It's just a game at the end of the day.
"It was fantastic but it was scary at the same time."
O'Sullivan's enthusiasm, however, was short-lived, and she brought the first chapter of her senior inter-county career to a close a few years later. A combination of injuries and being omitted from first-team selection prompted her to step away from the set-up and regain her confidence with her club Royal Gaels.
She was recalled to the panel two years ago and is now part of the charge aiming to steer Meath back to the top flight. Their debut season in the Intermediate competition was a prosperous one, and yielded a provincial title for the Royals. They later bowed out at the All-Ireland semi-final stage to eventual champions Tipperary.
This weekend, they will look to continue their bid for promotion to Division 2, as they prepare to take on Down in the Lidl Ladies National League Division 3 semi-final.
Meath won the previous meeting between the sides in Round 1 of the campaign, but the Ulster side have recovered in the interim and are joint-second with Meath, who have a better scoring difference.
Down team to face Meath @LMFMRADIO @HSmeath @MeathSports @LadiesFootball pic.twitter.com/y15XQTbAJs

— MeathLadiesFootball (@meathladiesMLGF) January 28, 2018
Meath have gathered considerable momentum from their achievements to date and are closing in on a return to the senior championship. But the decision to submit themselves to relegation was not a straight forward call.
"Morale was low," says O'Sullivan. "[There was] tension in the camp and girls just weren't happy. It was the right decision and we'd be hoping this year to get back up, and if not in the next two years.
"At the time, when we were deciding to go down to Intermediate, it was a really hard decision to make. We kind of weighed up the pros and cons and a lot of people were afraid if we went down, we mightn't get back up. We knew that with the talent coming up in Meath at the moment in the underage in is amazing, they've no fear.
"We knew with those girls coming up and with the right management that we could go well in this intermediate championship. We knew it was a rebuilding phase, girls had lost confidence. Girls weren't even interested in playing with Meath, we knew we needed to re-energise it by dropping down and make it more appealing for girls to come in from the clubs. It was a difficult decision but it was the right one in the end."
Various factors have contributed to Meath's gradual deterioration over the years, including players dropping off to pursue other projects. Changes in management have not helped their cause either.
Meath are a more settled outfit now, according to O'Sullivan, having come through a difficult period in which they appointed four different managers in two years.
Former All-Ireland winning footballer Diane O'Hora stepped down from the role in 2015 and was replaced by Meath stalwart Jenny Rispin, on an interim basis, for the rest of the season.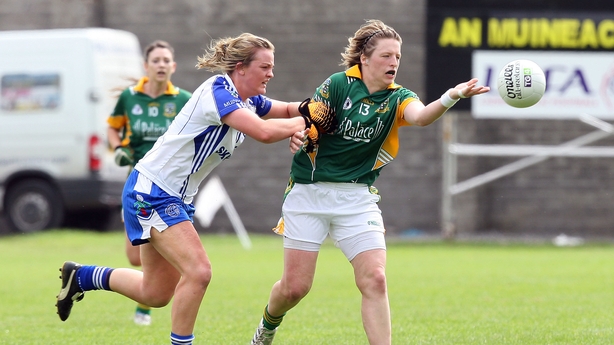 Kilkenny native Eoin Hennessy later took over and was subsequently succeeded by Eamon Murray last year, along with a management team that includes Paul Garrigan, Paddy Dowling and Michelle Grimes.
O'Sullivan insists that the arrival of Murray and his crew has brought stability to the Meath ranks.
"Eamon has been with a lot of underage teams in Meath and has a been very successful manager. The thing about Eamon [is] he seems to bring the youth with him, we've about four or five minors on the team and three of them are starting.
"He's really brought a passion back to the jersey, pride. He's kind of got a joy about the camp. Everyone's happy.
"The mood in the camp has changed significantly since they took over."
Only the Division 3 champions can claim the promotion spot that is up for grabs this year, and Meath are determined to regain their place in the top end of the National League divisions.
The Leinster side have not appeared in a League final in over a decade, which adds another layer of significance to their challenge, and with their Leinster campaign not due to start until June, Meath will want to prolong their stay in the competition for as long as they can.
"The players are really hungry," says the primary school teacher. "Training has gone well, we've girls back from training so we're focusing on this game and not really dwelling on any of the others that we've played and [being] 60 minutes away from a final.
"Meath haven't been in a league final since 2006 so that's another factor to have for the girls to take on.
"We'll be out to win on Sunday, lay down a marker and we wouldn't mind a go at either Kildare or Wexford on the other side."