The GAA's new director general Tom Ryan has rejected suggestions his tenure will have a financial focus and believes that having worked within the organisation previously means he will be better placed to oversee changes.
Speaking to the media for the first time since succeeding Páraic Duffy, Carlow native Ryan told RTÉ Sport he felt that that criticism from certain quarters was premature and that he should be judged on his actions in the job. 
"I think it's probably a little unfair to reach those conclusions before somebody has even started in the position," he said. "But it's up to me to make my mark on the thing while I'm there.
"I am an insider to the extent that I have worked here for the last, whatever it is, 10 or 11 years, but I think that's not necessarily an impediment to getting things done or achieving things or to perhaps changing things. 
"I'd like to think that I have a little bit of insight into how the GAA works and how change can be brought about in an organisation that is, I suppose, of its nature it is inherently conservative.
"I'm honoured and thrilled and privileged to be taking the position I'm taking up. It's not really what I say, it's what I do that's going to count."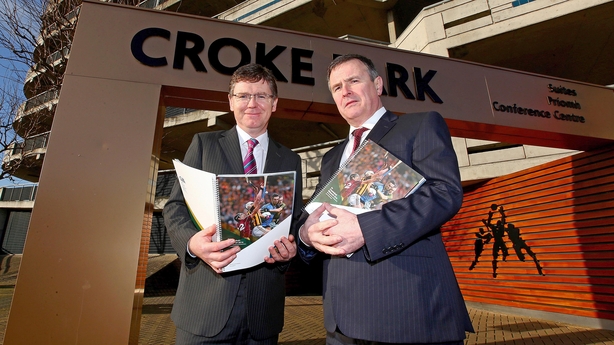 Despite his previous role within the GAA, Ryan is adamant that his emphasis will not be primarily on generating money, which he views as "a means to end" to pursue the Association's aims.
"While I was in what was overtly a financial role, I'd like to think that my thinking wasn't purely financial," he observed.
"It's not even financial at all and I have a little job of work to do to distance myself from that financial debate and those financial questions. You will see that hopefully happening over the course of the next months ahead.
"I think finance and commercialism within the Association as a means to an end is nothing more than that. It's the means by which you try to accumulate the resources in order to further the other stuff that you have to do."
Ryan also confirmed that despite the increased number of fixtures under the new hurling and Gaelic football formats, the GAA would not be seeking an increase on the 45 Championship games to be televised (31 by RTÉ and 14 by Sky Sports) per summer until 2021.
"We're going to stick with the existing structure of things," he said.
"We're happy with how the arrangement has worked up to now and we're not looking at changing the nuts and bolts of the arrangement until that comes up for renewal."