Tipperary boss Michael Ryan admitted his team paid the price for a sleepwalking out of the traps - and into a Kilkenny ambush - at the start of the second half in their of their Allianz Hurling League showdown.
Walter Walsh's goal 30 seconds after the restart triggered a Cats wave that swamped the Premier and ultimately settled the contest.
Brian Cody's men kicked on to a 2-23 to 2-17 success, and Ryan made no bones about where the match was lost.
"Before I got to my position on the sideline there was something like four points of a swing," he told RTÉ Sport.
"But that's Kilkenny at their very best - they hit you and they hit you hard. We paid a fine price in the second half for being slow to get to the ball.
Kilkenny are the champs, but... "the league is over" #RTEgaa pic.twitter.com/K7aihYJeyM

— The Sunday Game (@TheSundayGame) April 8, 2018
"Credit goes to Kilkenny. It's about what they brought rather than what we brought here today.
"The opportunities were there, they were there for both sides. But Kilkenny made much more use of theirs.
"We never play a match where we want to lose. That was a national final and we've come up short. It's very disappointing."
Tipp lost heavily to Galway in the league decider 12 months ago on a day they completely failed to fire. They were far better against Kilkenny this time around, and Ryan said they won't dwell on the loss for long.
"We were here this time last year as well. This time we performed but we didn't perform to the level we wanted to to. It certainly was a good game," he added.
"We immediately look ahead. Our boys are heading back to their clubs for a pretty intense four-week campaign so we'll see how we are at the end of that, how the bodies are. We've a fixture in the diary, the start of the Munster Championship on 28 May. That's our single and only focus right now."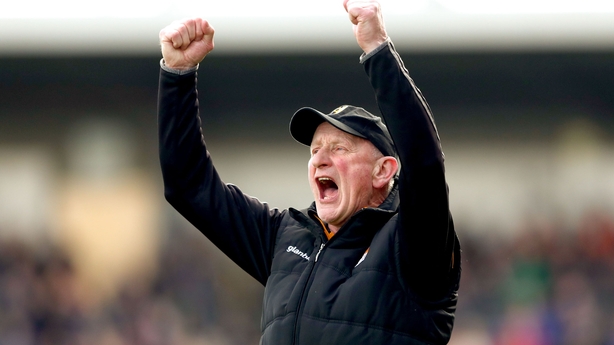 For Cody, it was a day to savour. His men were lean and hungry, though the veteran manager was typically keen to play down the triumph.
"Obviously we got a terrific start to the second half, with Walter's excellent goal, and we drove on well after that," he said.
"It was a very genuine performance. What we got out of the league is the strength of the panel. A lot of players played and contributed to us being here today.
"The league is won, the league is over. Now the championship starts and it's going to be a different kettle of fish in a few weeks' time.
"I've said from day one I had great belief in the players coming through.
"It's a question of going out and playing the next game and the next game and the players have applied themselves very well."