As the 2018 TG4 Ladies Football All-Star Tour departed for Bangkok, there was one player yet to link up with the group.
Kerry's Caroline Kelly – who won a first All-Star award last year – was coming from Brisbane through Singapore, and meeting up with the travelling party in Thailand.
"It was very well planned," she says on the tour. "I met the rest of the group then at the airport so I slotted in nice and quick."
Kelly moved to Brisbane in October and has been working there as a teacher since. It was 'just to try out something new and a (for a) change of scenery,' she explains.
"It's a nice place, the weather helps. It is hard to settle in at the start, it's far away from home which is the big issue with it.
"But look, there's a great Irish community there and football has helped as well. I'm playing with a team over there now so all those things help.
"Even when I was going, I knew that I had this to look forward to. It's been great, it's made the whole transfer just a little bit easier. Meeting up with everyone here, it's just been wonderful. I'm delighted to be here."
The Kingdom defender was central last year as her side lifted the Munster title and reached the TG4 All-Ireland semi-final, where they bowed out to Dublin.
2018 has been a different story on a personal level though, as she tries to keep an eye on their Lidl Ladies National League Division 1 campaign from afar.
"When the girls were playing the first league game, it was definitely hard," she says, admitting that she does miss the inter-county set-up.
"I was struggling a lot that day. I still follow all the games, watch if possible, Twitter and all that and try and get reports.
"My parents would still go to a lot of the girls' home games so I would be still fairly clued in to what's happening with the team and what not.
"It's obviously been hard to make the breakaway but it's probably an important step to take as well. I'll always be following them and that kind of thing, it's just a change for now."
She's happy to ply her trade with Brisbane South at the moment though.
"The standard's actually quite high. I think a lot of it is a social thing. It's a great way to make friends and meet new people.
"I must say the girls there have been really, really friendly and really welcoming."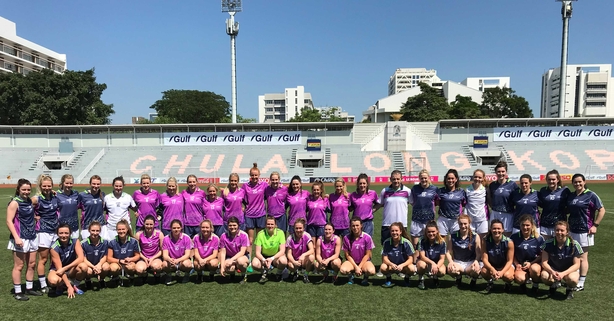 And Saturday's TG4 All-Star exhibition match in which Ephie Fitzgerald's 2016 team claimed bragging rights was one which pleased Kelly.
14 goals in 37C heat capped an impressive display of football between the two All-Star outfits.
"The game was lovely," she concludes.
"It was very hot, the temperature was very, very high but it added to the occasion and the drama of the whole thing as well."