The Clare hurling team met on Tuesday for a pool session, just 24-hours after their crushing defeat to Limerick in the Aliianz Hurling League Division 1 quarter-final.
After over 100 minutes of hurling the two teams couldn't be separated and the game was decided by a free-taking competition.
Podge Collins was introduced for Clare as a second-half substitute in the dramatic encounter and was bitterly disappointed to be on the losing side.
He spent today at work and this evening he will be recovering from his exploits.
"A lot of lads are working today; some of the lads in college might go to the pool during the day but we will all meet later on and go to the pool," Collins told RTÉ Sport.
"There is a plunge pool at the Inn at Dromolond so we will use that. The sea is good too but it's hard to get there with work and everything, we will have plenty of stretching to do too."
Niall Deasy from Clare missed the free that decided the game, like many who gave their all at the Gaelic Grounds yesterday, he had had work today and Collins believes that working will help him get over the loss and the missed free.
"He will go into work today and one of the great things about going to work the day after losing is that it quickly brings you back to reality.
"He will be inside chatting about work and the game and going about his day and he will soon forget about it.
"It's is probably the best way to do because if he was a professional player he would probably be at home on the couch watching it back, getting phone calls from coaches.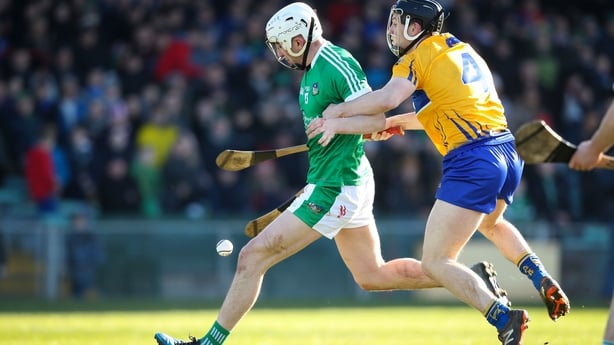 "He's probably better off in work and It's the same for all of us, you don't get bogged down by it, you go into work and you get on with it.
"He was obviously down after the game as anyone who misses an important chance in a game would be.
"When you end up losing you always blame yourself and Deasy would be hard on himself but he will soon realise that championship is just around the corner .
"As soon as the League semi-finals are over, what happened yesterday will be forgotten and it will be just be remembered as a good game to watch.
"Knowing Deasy, he won't be overly down about it, he is an excellent free-taker and it was just unfortunate it went wide.
"There is no one on the Clare team who will be blaming him that's for sure or anyone in Clare."
Collins isn't sure how the free-takers were decided but revealed that there is a core group in the Clare set-up who regularly practice their free-taking at training and it was those players who stepped up yesterday.
"It's similar to a penalty shootout growing up playing soccer, luck of the draw, a lottery but I wasn't nervous really because I wasn't hitting one," he said.
"The lads who were hitting them were probably nervous but they looked fairly chilled out. I wasn't nervous I was hoping we'd win and we didn't so it's time now to focus on the Championship, the League is over for another year."