Roscommon are close to making a swift return to Division 1 in the Allianz Football League.
With the Down-Tipperary game still to be rearranged, things aren't exactly clear cut but Kevin McStay's side will be looking to take a care of business themselves when they host Cork in their final league game on Sunday next.
On the head-to-head rule, the lead the way in Division 2 after victory over Cavan in a see-saw encounter at Dr Hyde Park.
Late scores from Ciaráin Murtagh saw the Rossies home by two points and McStay was pleased with the way his charges dug it out.
Speaking to RTÉ Sport, he said: "It was a terrific game that ebbed and flowed. One minute we looked like we were going to win, the next minute we looked like we were going to lose it.
"There was brilliant body language in the last quarter even when we were behind by one or two, nobody was hiding, everybody was looking for the ball and taking on the responsibility to get the two points and put us top of the division, albeit on the head-to-head.
Overall, it was a brilliant effort in the final quarter against the wind on a bitterly cold day. We could have walked away from it but we didn't.
"We'll take it and see what next week offers."
The manager does accept that his charges have it in their own hands to make it back to the top tier, and called for a focused approach ahead of the final game.
"We're in a strong position now if we don't get ahead of ourselves," he added.
"I don't have a sense that we will. If we can get back to Division 1 that would be the icing on the cake."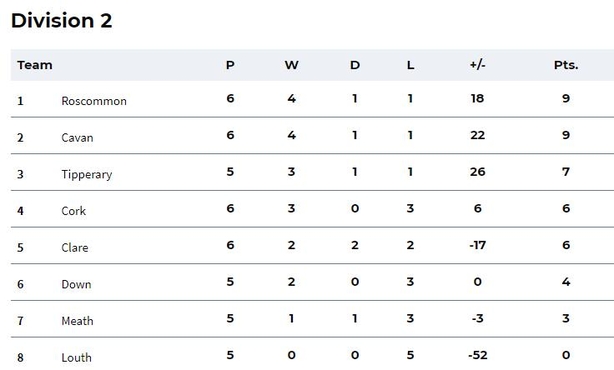 Cavan are also in the mix for promotion and presented a tough nut for the Rossies to crack by way of their defensive formation.
"We are getting more used to the defences that are put out against us," McStay revealed, while also referencing a level of consistency that he hopes his side will achieve come the summer.
The defences we face change from week to week and different things are offered up. If you have the skill and the running ability to take on these defences you will create chances.
"We created a lot of chances that we left behind us today.
"That's a concern and it's that lack of consistency that has been a problem for us in this campaign – the terrific chances we are leaving behind us.
"Hopefully by championship time we'll start executing those. You stick the ball in the net rather than two feet wide all sorts of different questions are asked of the opposition."