Dublin star Niamh McEvoy is relishing the prospect of this afternoon's TG4 All Star exhibition match in Bangkok – before switching her attention to the exploits of boyfriend Dean Rock on Sunday.
The 2016 and 2017 selections are preparing for a glamour exhibition game at the Chulalongkorn University Stadium in Bangkok – with the respective teams under the guidance of Dublin supremo Mick Bohan and Cork's Ephie Fitzgerald.
While McEvoy is thousands of miles from home, 2017 All-Ireland final hero Rock is gearing up for Dublin's crunch Allianz NFL Division 1 clash with Galway in Salthill.
Both Dublin and Galway boast 100 per cent records ahead of the Pearse Stadium showdown – and McEvoy is eager to tune in.
"I'm going to try and get down to one of the Irish pubs to watch it," smiled McEvoy, speaking from Bangkok.
"I'm going to try and get down to one of the Irish pubs to watch it," she smiles.
"That's going to be a cracker. Obviously the two teams are absolutely flying it at the minute, both unbeaten so I'd say it will be a really enjoyable Paddy's weekend for anyone who goes down to watch it!
"It's great that we've had a couple of double-headers over the last while too, it's brilliant."
McEvoy, meanwhile, recognises the magnitude of the task facing Dublin as they aim to retain their TG4 All-Ireland senior crown later this year.
The Sky Blues put three years of heartbreaking decider losses to Cork to bed last September as they beat Mayo by 12 points in Croke Park.
Two-time Brendan Martin Cup winner McEvoy was pivotal on the day, scoring 1-1 of her side's 4-11 en route to lifting the Brendan Martin Cup.
But she feels that defending the title now is a huge, but welcome, challenge. "I was involved in 2010 when we won it but I was quite young," she recalls.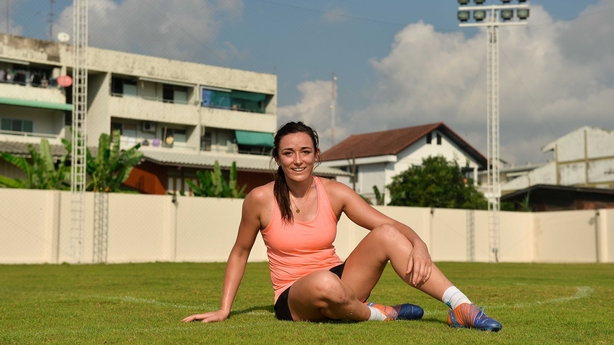 She said: "I definitely didn't appreciate it as much (as the 2017 win). I thought, 'this is the norm now, this is going to happen all the time'.
"We were waiting seven years for another one.
"We're very aware that it's not something that comes around easily. As much as we really appreciated what we achieved last year, we're still very hungry to succeed again.
"We're more than aware of how hard it's going to be. As a competition itself, the senior championship is getting so competitive. There are so many top teams.
"You can tell from the games we've had this year - winning games by one or two points - if that's anything to go by I'm sure the summer is going to be equally as exciting."
Mick Bohan's charges have opened their 2018 Lidl Ladies National Football League Division 1 campaign with four wins from four but McEvoy insists that the bar needs to be raised.
"We've been lucky now with a couple of results," the St Sylvester's attacker continued. "We have by no means picked up where we left off.
"I don't think we've actually performed for a whole match at any stage but we have had 20-minute spells of good performances which have been able to pull us over the line.
"We still have a lot of work to do. We've learned new things from matches that we're working on. What we're doing at the minute isn't going to be enough to win a National League title," said the teacher from Holywell Educate Together in Swords