A 12-point take by T.J. Reid played a huge part as Kilkenny halted their recent bad run of results against Wexford, and charged into the Allianz Hurling League quarter-finals.
The result means the Cats now face Offaly next Sunday, with a coin toss deciding the venue, while Wexford have a home game against All-Ireland champions Galway.
This clash at Nowlan Park attracted a good crowd of 9,793. While the fans were treated to a hard, competitive game on a good, bright day, the action never really exploded into life and some of the play was error strewn.
In a tight finish, a 73rd minute point from Walter Walsh secured victory for Kilkenny, but Wexford kept chasing and chasing in the search for a draw. On 75 minutes, home goalie Darren Brennan had to make a catch on his line with two forwards charging at him, but he held the ball and was fouled.
After the free out the final whistle sounded.
The first half action never really erupted. There were some good individual efforts - most notably from Richie Leahy, who ran midfield for Kilkenny at times - and some delightful scores but it was far from fire and brimstone stuff.
Kilkenny led all the way after T.J. Reid shot the opening two points, one of which was a free. The visitors didn't employ a regular full-forward, and defender Padraig Walsh cleaned up a fair amount of loose ball as Wexford drew back a man and played midfielder, Shaun Murphy as a sweeper.
 Wexford had to wait until the seventh minute for their opening score, a pointed free from wing-back, Paudie Foley, who was to supply four scores in all during this period.
The most sustained bout of scoring was produced by Kilkenny between the 24th and 27th minutes when five different players scored, T.J. Reid, Walter Walsh, John Donnelly, Leahy and Ger Aylward.
That blast took them into their biggest lead of the half, 0-12 to 0-5.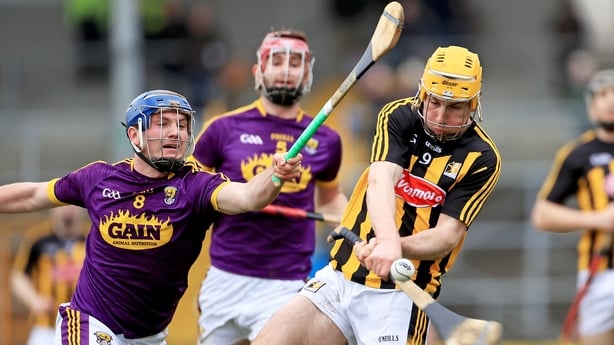 Wexford later put a good run together, when Foley (free), Rory O'Connor (free), Cathal Dunbar and Foley again all registered.
Two late additions for Kilkenny from Reid and Leahy, his third of the half, left the home side leaders by 0-14 to 0-9 at the break.
Wexford upped the ante after the turn and when star defender, Paudie Foley pointed in the 42nd minute the gap was down to 0-15 to 0-13. The losers were hit for a brace of minors by James Maher and T.J. Reid after that as Kilkenny met fire with fire.
Kilkenny upped their advantage to six points when T.J. Reid landed a point from play in the 55th minute  to make it 0-20 to 0-14.
During the closing 10 minutes Wexford stepped on the gas, and a blast of four scores from Rory O'Connor cut the gap back to two before Walsh posted Kilkenny's last point to halt the Cats' three match losing sequence against their neighbours.
Kilkenny: D. Brennan; J. Holden, P. Walsh, P. Deegan; C. Delaney, C. Buckley (capt) (0-1), E. Morrissey; J. Maher (0-2), R. Leahy (0-3); M. Keoghan, T.J. Reid (0-12, nine frees, one 65), P. Lyng; J. Donnelly (0-1), W. Walsh (0-2), G. Aylward (0-1).
Subs: L. Scanlon for P. Lyng 49th min; L. Blanchfield for Keoghan 49th min; L. Ryan for Maher 62nd min; A. Murphy for Donnelly 66th min; O. Walsh for Leahy 70th min.
Wexford: C. O'Leary; W. Devereux, L. Ryan, C. Firman; P. Foley (0-6, five frees), M. O'Hanlon, D. O'Keeffe (0-1); K. Foley (0-3), S. Murphy; A. Maddock, H. Kehoe, J. O'Connor; C. Dunbar (0-2), C. McDonald (0-1), R. O'Connor (0-6, three frees, one 65). Subs - P. Morris for Kehoe 46th min; D. Reck for A. Maddock 53rd min; A. Nolan for O'Keeffe 55th min; E. Martin for J. O'Connor 64th min; M. O'Regan for Dunbar 74th min. 
Referee: J. McGrath (Westmeath).