Who remembers the All-Ireland B football championship?
It took place in the early 1990s. Carlow, Leitrim and Wicklow were among the winners of a competition that was held in late autumn.
There's a better chance the Tommy Murphy Cup impinges on one's consciousness. It had a lifespan of five years from 2004 to 2008. Clare, Tipperary, Louth, Wicklow and Antrim all lifted the trophy at Croke Park in the height of summer.
Both competitions were designed to help the 'weaker' counties – to give them a shot at winning a national title. All told, there was not much of a buy-in from those involved and, as a result both endeavours failed.
At the GAA Congress in 2016, a proposal for another 'B' championship was shot down.
Yet, the idea of a tiered summer campaign keeps coming up. Páraic Duffy will soon be vacating his post as the GAA's Director General, but the idea of a second championship is something he would favour as he goes out the gate.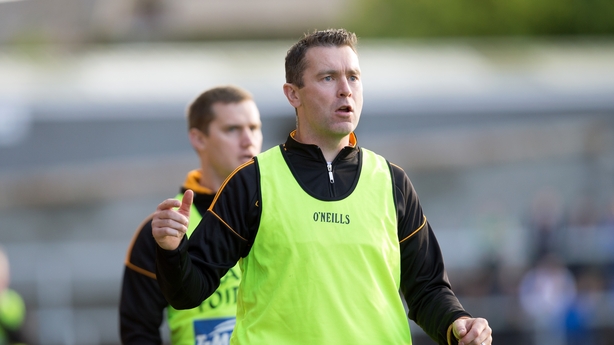 Former Armagh star Oisin McConville is of the same view and he outlined his thoughts on RTÉ Radio's Sunday Sport.
From the vantage point of watching his native county ply their trade in Division 3 of late, he said: "League football gives individuals a clear indication of what they are capable of. Division 3 is very competitive, it's very watchable football.
"But then you head for the championship and play either a a Division 1 or Division 2 side, you then realise just how far behind you are.
"That's the strongest indication that a tiered system is exactly what we need - a tiered system with benefits at the end of it."
McConville cited the example as to how this year's hurling championship is structured and added: "Look at what hurling have done this year with the Joe McDonagh Cup. What an incentive it is to win the Joe McDonagh and then try to get to an All-Ireland quarter-final.
"There is a huge enthusiasm out there for that competition and a few teams can see themselves emerging from that group.
"There is still a stench off the All-Ireland B championship and the Tommy Murphy Cup"
"With the current provincial structure in football, many teams are going to take a bit of a hammering. Automatically, moral goes straight out the window. You lose four or five players to America. It's difficult to build momentum."
On the same programme, former Waterford hurler John Mullane pondered whether 'weaker' teams were "embarrassed" at the thought of playing in a secondary competition. In response, McConville replied: "There is still a stench off the All-Ireland B championship and the Tommy Murphy Cup.
"Both competitions were just thrown together, with no major thought or marketing. It just wasn't sold to the players or managers of the counties.
"As I said there needs to be a benefit at the end of it. Hurling has got it right."
Also joining in the debate was Seamus 'Banty' McEnaney, who also favours a tiered structure. He added: "Division 3 and 4 in the league is competitive.
"There is no reason why a championship involving these teams can't offer something similar, where the prize for the winners in each division would be entry into the 'Super 8'."