For two seasons they have dominated Derry and Ulster in two codes, but Slaughtneil hurling captain Chrissy McKaigue thinks the club must examine their famed dual code philosophy in the wake of the All-Ireland Club Football semi-final defeat against Nemo Rangers.
The Derry side were beaten 2-19 to 1-14 after extra-time, but with 14 members of their squad also involved in the All-Ireland Club Hurling semi-final defeat by Na Piarsaigh two weeks ago, tired bodies and minds appeared to be a factor in extra-time.
Slaughtneil had been chasing a third final appearance in four years, having tasted defeat at the hands of Dr Crokes in 2017 and Corofin in 2015.
"There's a great, almost, romanticism based around the dual component but going forward it's actually very difficult to maintain and sustain"
Having tasted continuous success in both football and hurling at county and provincial level, that final step of All-Ireland has eluded Slaughtneil and McKaigue now feels that it could be time to focus solely on one code.
"As fantastic as it has been in terms of what we have done at Derry and at Ulster level, I just think probably the whole thing caught up with us," he said on 2fm's Game On.
"There's a great, almost, romanticism based around the dual component but going forward it's actually very difficult to maintain and sustain.
"Perhaps going forward next year we going to have to look at how we can do things a little bit more, almost, efficiently."
McKaigue admitted that fatigue was a factor in his side's defeat to Nemo and believes that chasing silverware on two fronts may be leaving the club compromised on both.
"Definitely fatigue in extra-time caught up with us a wee bit and maybe all in all out preparation, for hurling and football, hasn't been as good as what it probably could have been.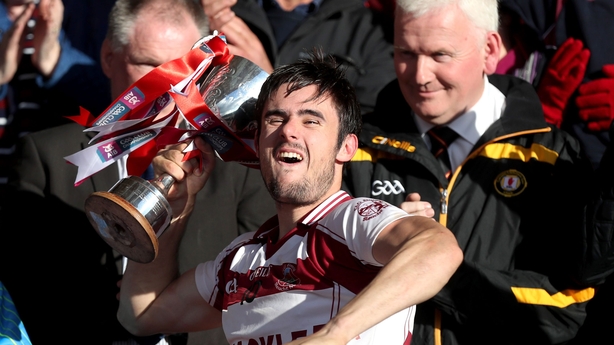 "When you go to play the top sides like Na Piarsaigh in the hurling and Nemo in the football you have to be at your max level and we probably just weren't at our max level in either code to be honest.
"We're not a huge club with a huge playing base and in terms of resources the players are the most important resources in all of this, no matter what anyone says.
"A lot has been asked of our dual players because, dare I say it, a lot of our best hurlers and footballers are dual players and I just think especially in hurling the technical side of things caught up with us because we have to work so much harder."
McKaigue stopped short of calling for a change in the club's approach but did admit that he might have to take a look at his own choices when it comes to playing both football and hurling in the near future.
"We have some fantastic dual players in this club but the reality is, it's very, very difficult to do yourself justice and being the best hurler you can be or the best footballer you can be when you're chopping and changing so much and that's just the reality.
"I have always been a huge promoter for duality because I think as Gaels, that's what we should be about, we should be promoting our national games irrespective of what part of the country we're from.
"But there comes a time where perhaps you might just have to be, dare I say, selfish and say 'look physically, mentally, emotionally, I can't give much more here'. I might have to pick a code or give slightly more to a code.
"Now that's not the Slaughtneil mantra or their way of doing things but going forward for some players that might have to be something."